No Time Like The Present
Getting a physical exam is beneficial even if you are young and healthy
A survey done by the Cleveland Clinic last year demonstrated what moms and wives already know—men don't like going to the doctor. In fact, 72 percent of the men in that same survey said they would rather do housekeeping chores than see a doctor—including cleaning the bathroom.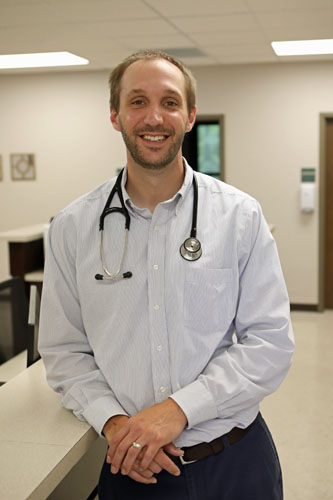 For men in their twenties with no health issues, it's not only that they don't want to go, but that they don't see the point.
"I don't see people in their early twenties and thirties getting yearly physicals, particularly men," says Frederick Harold, DO, of St. Joseph's/Candler's Primary Care on Eisenhower. "I see females more often, given that those are the primary childbearing years."
But establishing a relationship with a primary care physician is actually a smart choice for a twenty-something person, regardless of their sex.
"A physical serves as an important barometer for monitoring long-term health," Dr. Harold says. "I believe firmly in prevention, therefore the ability to detect potential problems before onset is crucial to preventing severe illness. Additionally, it allows patients establish themselves with a regular provider who can learn their personal health history, including other family members' history."
That medical history conversation can be just as vital as the actual vital signs that are checked in a physical, such as blood pressure, heart rate, body temperature and respiration rate. Physicians typically also listen to your heart and lungs with a stethoscope, examine you from head to toe, and yes, ask you to say "Ahh," so that they can get a look at your throat. Your doctor may have additional questions or tests depending on your history or any complaints you may have. Physicals typically take about a half-hour.
Getting a physical every year is not necessary for most young people in good health, but beginning that relationship with a primary care physician is a good way of starting your adult years on the right foot. And if you're an older person who has avoided the doctor most of your life, it is never too late to have a one-on-one visit and start the conversation about illness prevention.
"Establishing a baseline health status with a doctor while you are young allows for more personalized and better care," Dr. Harold says. "Not just for the present time but for the future."