Racing Ahead
Savannah's Michael Carter balances college life with crossing finish lines at high speed
He's been racing cars for almost 17 years.
He's 21.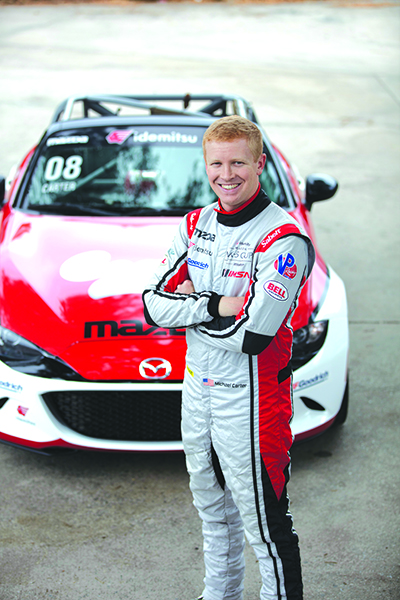 Thanks to quarter-midget cars, which are similar to go-karts but have a roll cage, seatbelts and four-wheel suspension, Michael Carter was able to start racing at age 5.
"I loved it from the beginning," Carter says. "It is a pure adrenaline rush and it will never get old. My dad loves it too. He's been racing since he was 17. This family has six decades of racing in it."
As the 2020 Champion of the Mazda MX-5 Cup, Carter has reached a level he's dreamed about for years. He's aiming to hold that cup again this year while also staying on track for a diploma from Georgia Tech.
Up The Ladder
A big win at 10 years old was when it "all clicked" for Carter and he realized he had the skills to be a serious competitor. The Benedictine Military School graduate also swam and played football but racing became his first priority.
"In my early teens I raced 4-cylinder, front wheel drive dirt cars, primarily out at Oglethorpe Speedway in Pooler," Carter recalls. "I won a lot of races, including a championship in 2014. I love the competitive part of it. Racing is an all-consuming sport."
As he got older and moved into road racing, Carter and his father learned about the Mazda MX-5 Cup Series, which positions itself as a springboard series for professional racing. It was a perfect fit.
"Our race team is me and my dad, basically," Carter says with a laugh. "My dad owns an automotive repair shop here in Savannah, so we do all the work, in-house, on our car. We transport the car ourselves; we work on it there at the track. We have two crew people that we bring in for the races, but it's a small, family-run deal."
The smaller team may have seemed like a disadvantage at first. Carter lost the Mazda Club Racer Shootout on his first try in 2016. But he entered again in 2018 and won. All of his prize money went back into racing, which can be a very expensive sport even after your car is paid off.
"Mazda has what they call a ladder system," Carter says. "It's a way for drivers like me to win prize money, which gives us the chance to race again the next year."
Carter got onto the Mazda MX-5 Cup team in 2019 and ended up winning Rookie of the Year.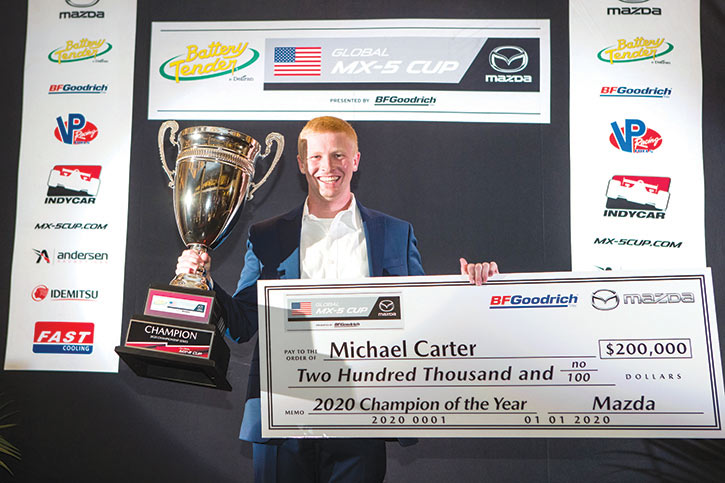 Finish Line
Due to COVID-19, the 2020 series was compressed from six months to three, but the drivers competed in the same amount of races. They even did some iRacing, a form of virtual road racing on several weekends. But Carter had his best performances where the rubber met the road, winning three races and making it to the 2nd or 3rd place podium for several more. In October, at 20-years-old, Carter captured the championship.
"I always have fun racing," Carter says. "I did set goals—win the Shootout, win Rookie of the Year, then win the championship, all in a row—and I actually did that. But the biggest thing for me is to go out and have fun. Racing can be a cruel sport at times, but it's also very rewarding."
True to form, Carter took the $200,000 prize and put it back into participating in this year's series. But one of his biggest goals is not on a race track but at Georgia Tech.
"I'll be starting my senior year studying Business Administration with a concentration in Finance, and also a minor in Engineering," he says. "I should graduate in May. Where I'll go from there, I don't know yet. But I'm content doing what I'm doing. This series is pretty awesome."
One of the most gratifying parts of the championship for Carter is that he and his father did it as a team.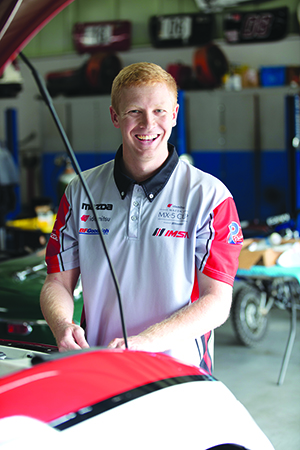 "Us, as a family, running a team…that's rare at this level," Carter says. "We make all the decisions and we've had success. It's definitely been a good run, and we'll see if it continues. I see myself participating in this for years. It is a part of who I am."
A Thirst For Stamina
Michael Carter and other road racers run a powerful machine as part of their sport, but that doesn't mean they don't sweat.
"We're racing for 45 minutes, suit on, all of this equipment in the car with us," Carter says. "And we get in the car early for pre-race preparations, so we're baking in the sun."
Proper hydration is a huge factor in Carter in keeping his body healthy throughout the season.
"I plan my intake before a race, and it's mostly water," he says. "If I have too much of a sports drink I don't feel as good later. The end of a race is when you really see how important it is. I remember a race last year—I was tired but felt okay. The guy that came in behind me could barely talk."
Carter also tries to get his protein from lean meats rather than heavier meals such as a cheeseburger and fries. Coupled with staying hydrated, the lighter diet helps his driving performance.
"You have to have the stamina to keep your focus and concentration," he says. "You don't want to make mistakes at the end because you're exhausted or hot."
Little things like the position of the seat can become big things if your body starts to hurt.
"You need to make sure you're not stretching your neck or straining your back," Carter say. "It's key to keeping up your stamina. If your back hurts, you're not going to drive well."
---
You don't need to race cars like Michael Carter to understand the importance of proper positioning while you drive long distances. Learn our tips for driving comfortably.