Helping Hands
Occupational therapists help people of all ages to regain movement and function
Independence is a powerful word. Everyone aspires to achieve it on some level. People with traumatic injuries or disabilities may worry that they've lost their independence for good. But occupational therapy can help them get it back.
"Our job is to get people back to what they were doing," explains occupational therapist Jennifer Brown Owenby. "People who have suffered from a stroke, people who have suffered burns, someone who is injured at work or in a sport—a variety of conditions can affect your daily life. Can this patient bathe themselves? Dress themselves? Do they need adaptive equipment for getting into the shower? These are the kind of issues we address in occupational therapy, or OT."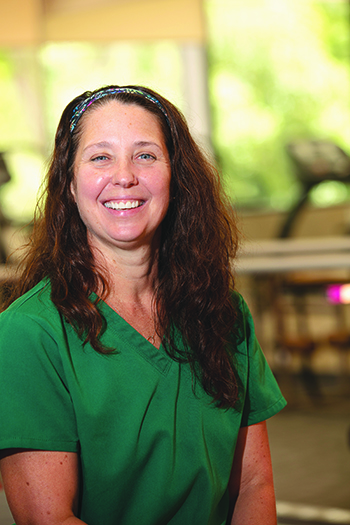 The number of sessions and period of time needed for OT varies on a case-by-case basis. For many patients, it can be six weeks or more. To help the residents of towns like Guyton, Springfield, and even Statesboro to make it to treatment, St. Joseph's/Candler began offering OT at its Pooler Campus.
"As Pooler has exploded, I'd say about half of my patients are coming from the west side of town," Brown Owenby says. "This is much more convenient for them."
Brown Owenby is also a certified hand therapist. With her advanced continuing education, clinical experience and integration of knowledge in anatomy, physiology and kinesiology, she knows this complex body part inside and out.
"There are a lot of things that can go wrong in the hand," Brown Owenby says. "Especially with wrist injuries if your carpal bones are not moving efficiently. That's an example of when just pure exercises could do more harm than good."
Brown Owenby has a variety of therapeutic methods to match the different injuries and conditions of the hand such as arthritis, fractures, burns, scars, tendinitis, nerve compression and more.
"From the fingertips to the shoulder, certain problems occur in certain areas," Brown Owenby says. "We can pinpoint where the problem is. These issues could affect a basic need, such as bathing or getting dressed, but also your ability to play sports or enjoy a hobby such as painting or writing. We will get you back to doing what is meaningful to you."
---
Occupational therapy—including hand therapy—is now available at St. Joseph's/Candler's Pooler Campus. To learn more call 912-737-2270. Visit www.sjchs.org/OT to learn more about OT options at St. Joseph's Hospital and Candler Hospital.