Knowing You Well
Regular visits to your primary care physician can make a life-changing difference
When Dave Legasse woke up from his transcatheter aortic valve replacement (TAVR), he was tired from surgery but overall he felt like a new man. He quickly jumped on social media to thank the team at The Heart Hospital at St. Joseph's/Candler and excitedly told his friends and family that he'd be heading home the next day.
But he also had a message of thanks to his primary care physician, Dr. Mesrobian.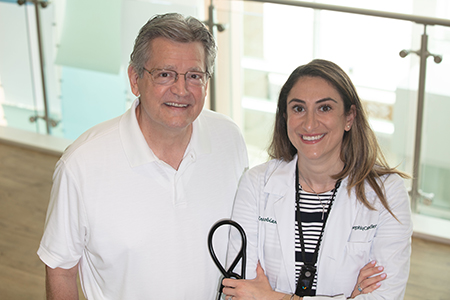 "It was her keen observation that 'something wasn't quite right' during my recent Pooler Campus checkup," he wrote. "Her referral to the heart team may have very well saved my life."
No One Else
Knar Mesrobian, DO, practices Family Medicine at St. Joseph's/Candler's Primary Care in Pooler. Legasse—who, along with his wife Carol, owns The Salt Table shops—began seeing Dr. Mesrobian for his general health and for help with his type 2 diabetes. He also knew that he would be setting benchmarks that would allow him to keep track of his health going forward. What he didn't expect was a doctor who listens as well as Dr. Mesrobian does.
"She pays attention," Legasse says. "I know she's incredibly busy and treats all her patients the same, but when I'm there I feel like I'm the only thought on her mind. Like there's no one else in the office but me."
Dr. Mesrobian has seen that as she gets to know her patients, she is often able to pick up on both significant and subtle differences in their health. Sometimes the patient doesn't realize there is a problem.
"I've had patients come to simply establish care, but in their preliminary screening, we'll find diabetes," Dr. Mesrobian says. "And they'll have no idea because they feel fine."
In Legasse's case, he didn't feel totally fine—his usual high energy had given way to lingering fatigue—but he didn't know why.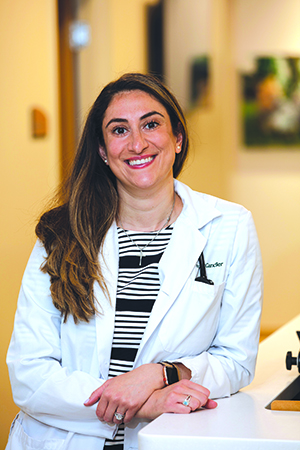 "She listened to my heart and didn't like what she heard," Legasse recalls. "I've had a heart murmur my whole life and I had told her about that, so she wasn't surprised. But she didn't like the way it sounded this time."
Home Base
Dr. Mesrobian knew that fatigue was an unusual thing for Legasse, and when his blood work came back fine, she wanted to focus on his heart without delay.
"I told him I thought it was a really good idea to get a specialist involved, especially since the risk for heart disease goes up as you age and we didn't have much historical information on that murmur," Dr. Mesrobian says. "We were able to accelerate his cardiac work-up at Cardiology Associates of Savannah, he got his ultrasound, and they discovered moderate-to-severe valvular disease."
The team at The Heart Hospital made sure Legasse would be able to make an informed decision about what to do next. They were encouraged to see that he was a good candidate for TAVR, the most advanced and minimally-invasive procedure available for replacing damaged heart valves. But Legasse needed one more opinion to be convinced.
"We offer the patient portal to everyone, and he is very portal savvy," Dr. Mesrobian says. "He would ask me questions through the portal after seeing a specialist, and he also messaged me his concerns about the surgery. I asked him to come in so we could talk about it. I'm not a cardiologist or a cardiothoracic surgeon, but I could help him understand why he needed the TAVR and what to expect."
That level of trust is part of what makes the relationship between a patient and their primary care physician so important.
"Patients want to know they have a home base, somewhere they can check in," Dr. Mesrobian says.
On Top Of Your Health
Legasse felt like his general health was continuously going downhill and that doing nothing was not an option. So he went through with the procedure, and after just a few days of recovery he was able to take long walks through his neighborhood. After a week he was back at work.
"The Heart Hospital team was absolutely fantastic," he says. "I don't think you can find better medical help anywhere."
It's a team of people he may have never known he needed to meet without the advice he received from Dr. Mesrobian.
"Make a point to go to your doctor, make it regular, and establish a good relationship," he says. "You're going to end up probably living longer and having a healthier life if you do that rather than just waiting for something bad to happen."
Dr. Mesrobian agrees that preventative care with a primary care physician is a great way to stay on top of your own health. And the case of Mr. Legasse emphasizes the benefits of both the patient and the doctor truly listening to each other.
"Had he just continued on, not worrying about getting his heart checked, who knows what sort of consequence that might have had," Dr. Mesrobian says. Legasse thinks he has a pretty good idea what might have happened.
"I don't know that I'd be sitting here today," he says. "I feel like I owe my life to her."
---
Do you or a family member need a medical home with a physician who knows your medical history? St. Joseph's/Candler Physician Network – Primary Care has several practices serving Savannah and its surrounding region and the Lowcountry of South Carolina. Visit www.sjchs.org/primary to learn more.