A Summer Flop
Sandals and flip-flops are part of everyone's summer, but should only be a small part
Prianka Sharma, DPM, is a podiatrist and a realist. She knows people in this area will wear flip-flops no matter what. Not only that, but our Southern coastal weather inspires residents to wear them a lot longer throughout the year than, say, people in Michigan. But Dr. Sharma, who treats patients at St. Joseph's/Candler's Physician Network – Podiatry, also tells them the truth: there is no support in most flip-flops or sandals, and too much time in them will be taxing on your feet.
"You're not helping yourself by wearing those," she says. "There is no arch support. No shock absorption. And no heel cups, so you're not stabilizing the heel in any way."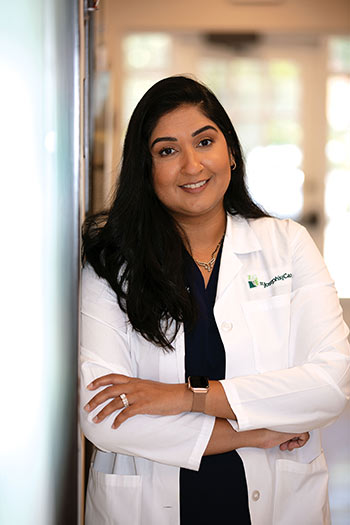 Keeping What You Have
Sandals, flip-flops, thongs, slides, slippahs, etc. They have a lot of different names but were all designed for a similar purpose—protecting your feet from hot sand or pavement on the short trip from your chair to the water. In fact, most podiatrists do recommend these types of shoes for the public pool or beach, where walking barefoot can make your soles susceptible to plantar warts, athlete's foot, glass and other kinds of injury.
Problems arise, however, when we leave flip-flops on while we spend the afternoon shopping or taking the family on a longer outing.
"If you know you are going to be walking for more than 10 minutes, put a pair of tennis shoes on," Dr. Sharma says. As a podiatrist, she sees the big picture and wants patients to understand that it's not just about this summer but all the summers to come.
"Everyone's feet are different, and we all have varying levels of arthritis and foot issues, but our goals are the same," she says. "You want to keep what you have. You want to keep your tendons preserved. And if something is already bad, you need the support to keep it from getting worse."
Support Yourself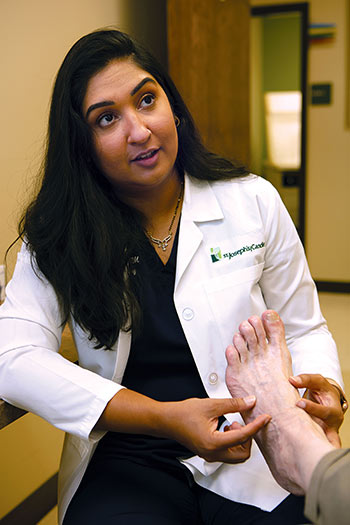 It may seem like if all the bones and muscles in your feet are in working order and you can get from Point A to Point B, then that is the end of the story. But proper support and shock absorption are what prevent issues down the road. Ineffectively supported feet may start to get tired more quickly; the strained ligaments and muscles may start to hurt. Stressed feet also can lead to stressed knees and hips.
With painful feet, you risk losing enjoyment of healthy activities like taking a walk, playing a sport or sightseeing. If you become more sedentary, now you're more at risk for other diseases such as obesity, high blood pressure and diabetes.
So there's no summer vacation from proper foot support.
"There are some brands such as Orthofeet and Vionics that will engineer arch support within their sandals and other products," Dr. Sharma says. "So not all flip-flops are created equal. However, in general, there's no support and as podiatrists we typically don't like them."
A Short Walk
Dr. Sharma is also a realist about women's shoe options overall. In terms of foot function and health, many women's shoes just aren't that great, but sandals and flip-flops are among the worst. Dr. Sharma will educate patients on support and shock absorption, but she won't say what you can't wear.
"As long as you wear them for a very short period of time, you can avoid damaging your feet," she says. "And I understand that sometimes we just want to look good."
---
More steps to take this summer:

Look for higher-quality, soft leather sandals. Soft leather can help lower the chance of irritated or blistered skin.
Before buying, very gently bend flip-flops to ensure they bend at the ball of the foot. They shouldn't be able to fold in half.
Don't wear flip-flops for yard work. This leaves your feet exposed to dangerous injury from the yard equipment.
The toe thong in many flip-flips can lead to blisters. Don't ignore any irritation developing between your toes.
Don't play sports in flip-flops. You could twist your ankle!
---
Dr. Sharma's office is located at 352 Commercial Drive in Savannah. She also sees patients on St. Joseph's/Candler's Pooler Campus on Wednesdays and in Bluffton (10 Oak Forest Road, Suite B) on the second and fourth Tuesday of each month. Please call 912-354-3668 for availability.