Ask A Magnet Nurse
It's More Than Okay To Ask Your Nurse Questions—We Encourage It
Alicia Powell RN, PCCN
Clinical Nurse Educator, Progressive Care Unit, St. Joseph's Hospital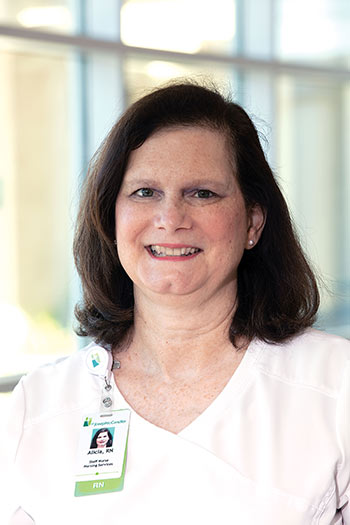 Smart Living: As a nurse who was worked at the bedside for more than 30 years, you have probably heard every kind of question there is. But you have also encountered patients who weren't comfortable asking questions. How do nurses strike the right balance that helps keep patients informed?
Alicia Powell: We often can pick up signals about how vocal or reserved a patient might be when we first meet them. We put them at ease as we fill out their board and ask them what their goal for the day is. That starts a discussion about their recovery, and simply talking about their care will often encourage a patient to bring up more questions. We always want patients to let us know what their needs or concerns are.
If it is a question that should be addressed with the physician, I will usually say, "Let's remember to ask your doctor," and may write it on the board to help us remember to ask. After they have spoken with the physician, I will ask them if they are clear about what was said and offer to address any further questions they have.
SL: What if the patient is shy or hesitant to ask questions?
AP: As nurses, we tend to see concern, pain, or reluctance in unspoken ways as well, such as facial expressions and other non-verbal cues. Then it's my turn to ask questions: "You seem a little confused about what just happened. How can I help?" or "I see that you're upset right now. Is there anything I can do?"
SL: What effect does this open communication have on the patient?
AP: It's empowering! When patients and family members are fully informed, they feel like they are actively participating in the healing process. And often they will feel comfortable asking even more questions. That level of comfort and trust is what I love about nursing—I will treat you as I would treat my own family.