Healing Up
A variety of advanced treatments can help with the variety of common (and not-so-common) wounds
Nearly 7 million people in the United States have wounds that won't heal. But fewer than 300,000 will seek professional treatment.
"Wound care is an under-utilized part of medicine," says Charles Leewood, DO, in St. Joseph's/Candler's Center for Hyperbarics and Wound Care. "I would rather have people come in to be evaluated, even for something they think is insignificant, than have them deal with the frustration, uncertainty and possibility of having a wound for months or even years to come."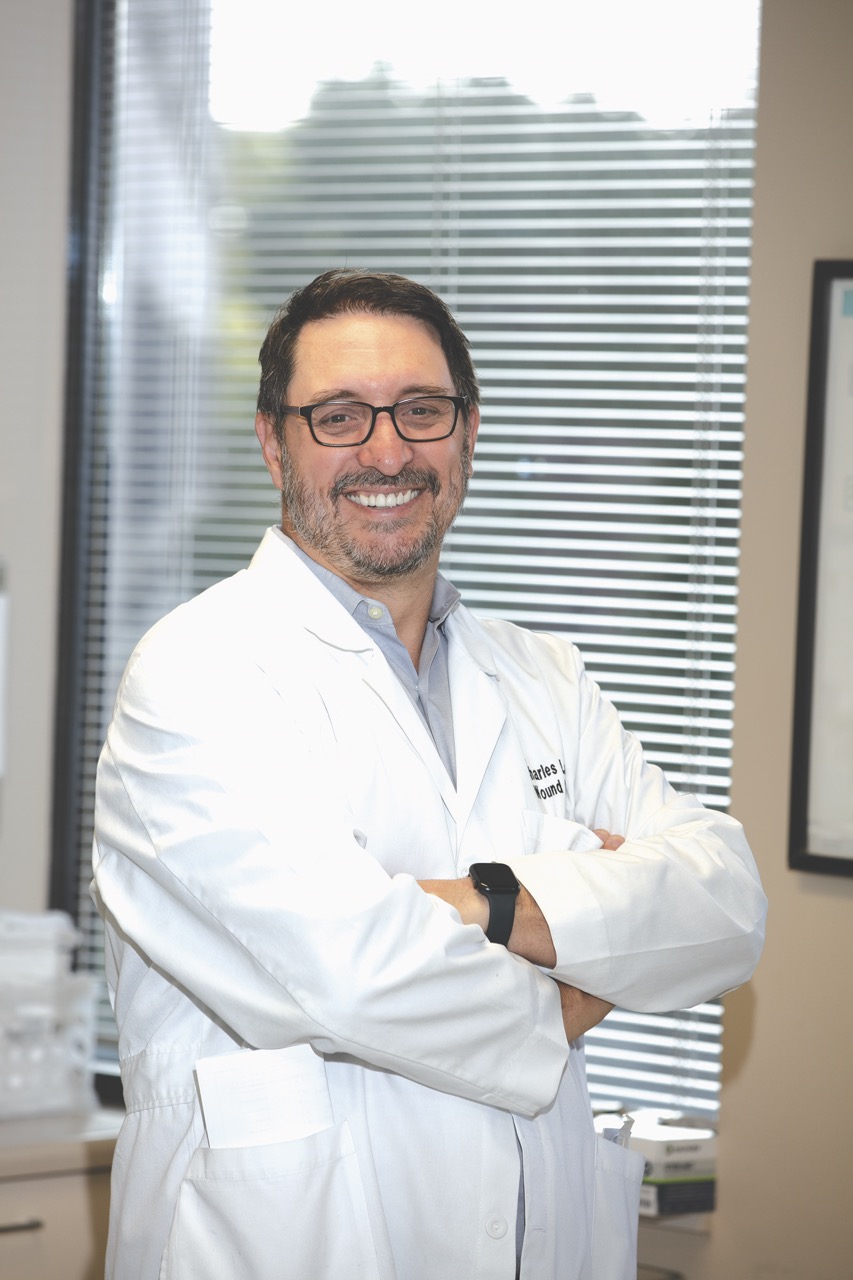 Large or small, simple or complex, Dr. Leewood's goal for all wounds is the same: to employ the most advanced wound care options to get healing happening as quickly as possible.
"The beauty of wound care is that we are optimizing the body's ability to heal itself," Dr. Leewood says.
Starting The Investigation
The Center for Hyperbarics and Wound Care specializes in the treatment of acute and chronic non-healing wounds and their causes including:
Pressure ulcers
Non-healing surgical wounds
Diabetic ulcers (commonly a wound on the foot)
Traumatic wounds
Burns
Chronic venous insufficiency
Lymphedema
"Wounds require thoughtful investigation to determine which factors are inhibiting the healing process," Dr. Leewood says. "Our evaluation can tell us which advanced modality is needed to optimize healing."
Even the dressings in the center are advanced: Dr. Leewood will sometimes use dressing with silver in its structure, which provides antimicrobial action against infection. He may also use a wound vacuum device, which helps control drainage and encourages blood flow to the healing tissue. Many wounds require weekly debridements to remove devitalized tissue, and to stimulate the healing process.
"If clinically appropriate, we may use advanced skin substitutes," Dr. Leewood says. "This is a whole classification of wound treatments, along with medications, that help enhance the healing process."
Depending on the location or severity of the wound, Dr. Leewood and the staff of the center work closely with vascular surgeons, plastic surgeons, infectious disease physicians, orthopedic physicians and podiatrists. Even dietitians may get involved.
"The body needs a good amount of protein to heal well," Dr. Leewood says. "We sometimes have patients consume protein drinks to get them kickstarted on increasing their level. Low protein levels are one of our biggest challenges."
Hyperbarics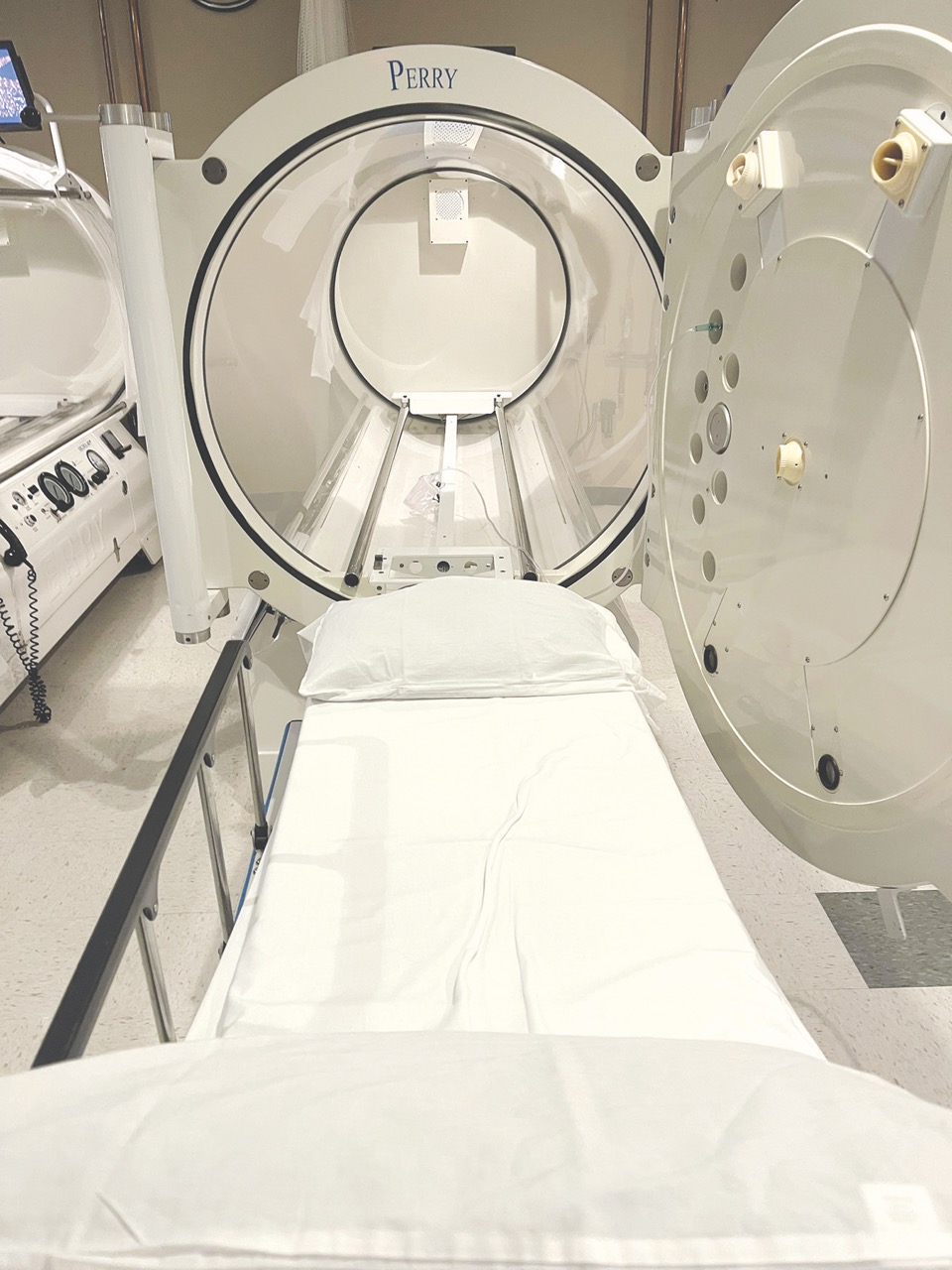 The reason blood flow is so important to wound healing is because it delivers the needed oxygen and nutrients to the wound bed. For certain patients, hyperbaric oxygen therapy can greatly aid this process. With hyperbarics, the patient lies comfortably in a clear chamber. (You can even sleep or listen to music during the treatment.) The hyperbaric chamber floods the blood supply with oxygen at an atmospheric pressure that is greater than normal. This influx of near 100 percent oxygen enhances the healing process and encourages the development of new blood vessels.
"The patients we treat most often with hyperbarics are those experiencing delayed effects of radiation," Dr. Leewood says. "For example, radiation to treat skin cancer on the leg may damage the blood vessels, decreasing blood supply to the tissue. If a wound occurs, we would use the hyperbaric chamber to reverse that damage."
Other common conditions treated with hyperbarics are chronic bone infections, diabetic foot infections, blood in the urine or stool associated with radiation treatment, and select cases of arterial disease.
Summer Shorts
Wounds from chronic conditions such as diabetes are only part of what is treated at the center. Unexpected, traumatic injuries can be severe enough to need long-term care and observation. This can be especially true in the summer, when our skin is more exposed to the elements and we are spending a good amount of time outdoors.
Firework accidents, grill burns and lawn equipment mishaps have all sent people to the emergency department and then to physicians like Dr. Leewood. Spider bites, such as those from the venomous brown recluse spider, can cause necrotic (death of cells) tissue, and everyday insect bites can cause a risk of infection if they break the skin.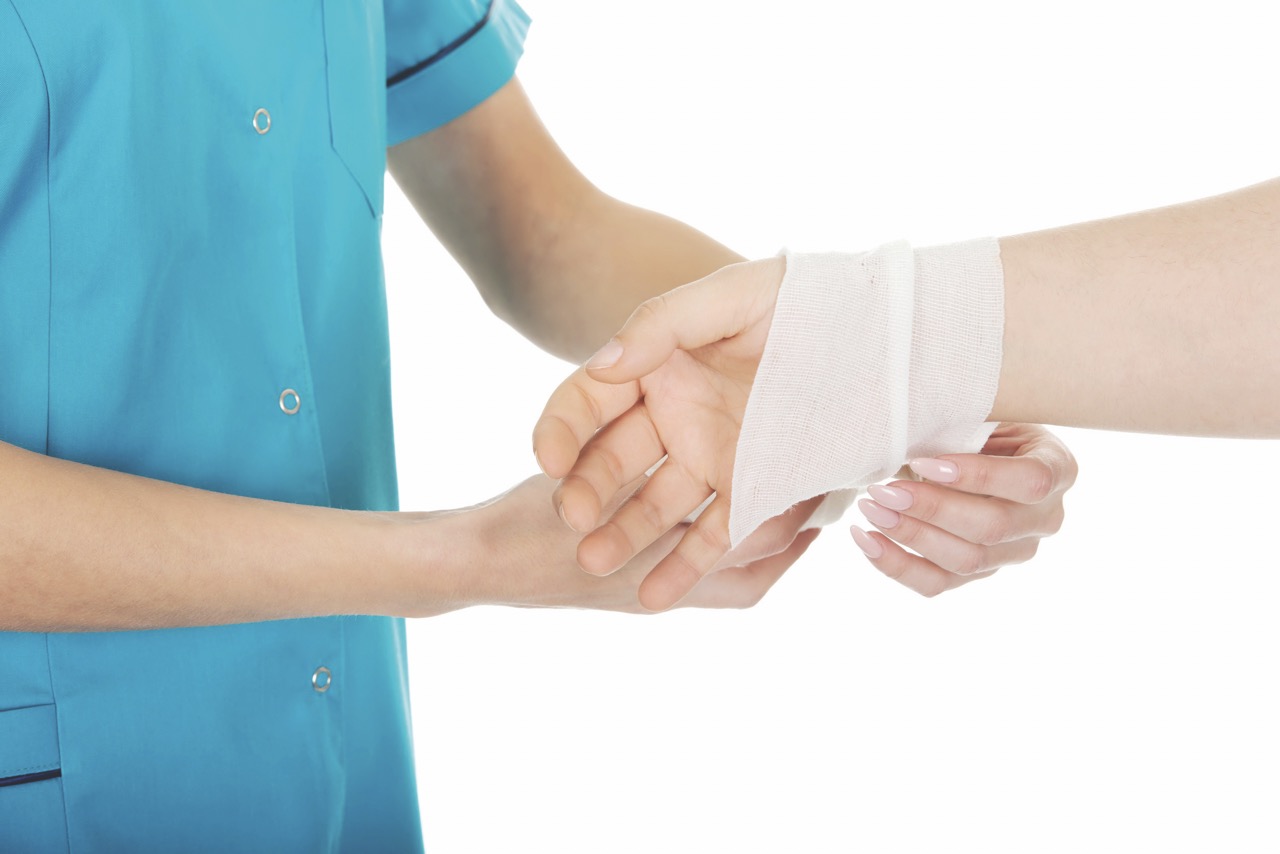 "No matter the cause of the wound, we are always looking for the same culprits, so to speak," Dr. Leewood explains. "Is there proper blood flow? Are there any signs of infection? What hindrances might keep this from healing?"
Dr. Leewood hopes patients in coastal Georgia and South Carolina aren't part of those millions of people who simply cover up their wounds that don't heal. Especially since he knows how they will feel after their chronic wound is finally healed.
"It's amazing how thankful people are after being treated here," he says. "Patients are frustrated. They want to give up on the wound, but are also embarrassed by it. If it is on their leg, they might wear long pants all of the time, even if it's 100 degrees outside. But once they get on our treatment plan, even their friends and family members can see how much they've improved."
---
The Center for Hyperbarics and Wound Care is an outpatient, non-emergent care facility with three locations across the region. A physician referral is not needed for a wound or hyperbaric evaluation. Contact us to learn more:
Candler Hospital
Heart and Lung Building, Suite 201
5353 Reynolds Street
Savannah, GA 31405
912-819-8187
Hinesville
103 East General Stewart Way, Suite B
Hinesville, GA 31313
912-332-5621
Bluffton/Hilton Head
19 Moss Creek Village, Suite B4
Bluffton, SC 29926
843-837-9000