Creating A Peaceful Stay For Patients And Visitors
Sarah Thompson, BSN, RN
Patient Advocate, St. Joseph's Hospital
Smart Living: Patients who are in the hospital can benefit from good rest and a peaceful environment. What practices are in place for nurses at St. Joseph's/Candler who want to create such an environment for patients?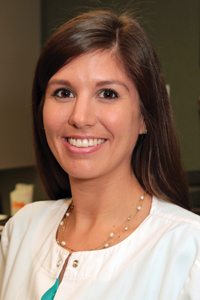 Sarah Thompson: Our nurses and patient care team strive to maintain a comfortable and healing environment. Our nursing theoretical framework is based on the tenets of Florence Nightingale, who stated that nursing "ought to signify the proper use fresh air, light, warmth, cleanliness, quiet, and the proper selection and administration of diet—all at the least expense of vital power to the patient."

We have several practices in place that provide for reduced noise levels. Many of our units have designated a "Quiet Time" where hall lights are dimmed and appropriate doors are closed to ensure that our patients are able to rest comfortably. All patient rooms have the C.A.R.E. (Continuous Ambient Relaxation Environment) Channel on their televisions that provides soothing images and relaxing music.

Although there are challenges, we do our best to avoid any unnecessary noise and decrease inconvenience to our patients and visitors. We find that advance communication to patients and visitors regarding unavoidable noise helps gain their support and understanding.

SL: What are some of the little things nurses do to help with noise in the hospital?

ST: All nurses act as patient advocates. Our role is significant in providing little things because they often make a big difference. We often bundle our care, meaning we group tasks and activities to limit interruptions to our patients' rest. If a PCT is going to draw lab work we can often obtain the next set of vital signs and administer medications at the same time. Keeping the lights lowered in the afternoon and night, decreasing hallway conversation and designating the nurse's station for most communication are other ways we work to help with the noise in the hospital.

SL: St. Joseph's Hospital has a unique noise situation in that it is going through a major renovation. What challenges have arisen because of this, and what has the hospital done to minimize the impact of the construction on patients?

ST: Yes, there is major renovation in progress at St. Joseph's Hospital and our patients and visitors may hear construction noise during the day as we work to improve our facility. As I mentioned before, communication is key during a project of this magnitude. We have created inpatient and outpatient admission packets that include our patient/visitor guide, a letter to inform our patients of our project and what to expect related to noise, a booklet with pictures detailing the project, and earplugs for convenience and comfort.

Each patient has a different level of noise tolerance. Some patients report it does not bother them at all and others are unable to tolerate the lowest level of construction noise. We start by providing earplugs and graduate to AM/FM headphones for the more sensitive. As a construction liaison, I support our patient care staff by communication with patients and visitors to minimize any inconvenience for them during their stay with us.