Honoring The Mighty Eighth
A unique Savannah museum tells the 75-year-old story of courage at 20,000 feet
January 28, 1942. Fifty-three days after the attack on Pearl Harbor.
The Mighty Eighth was born.
The Eighth Air Force was activated in Savannah, GA—our corner of America was chosen for its newly improved airport, thanks to Works Progress Administration funds applied for by Savannah Mayor Thomas Gamble. Eventually, the Eighth became the largest air armada in history. At its peak it was able to dispatch 2,000 four-engine bombers, 1,000 fighters and over 20,000 airmen in a single mission. As America's main strategic bomber command, the Mighty Eighth brought Nazi Germany to its knees with an aerial assault from 90 bases in eastern England.
World War II could not have been won without the B-17 Flying Fortresses and B-24 Liberators flown by the heroes of the Eighth. Now, seventy-five years later, there is a place where all of those heroes are honored, where the history of their mission comes to life, and where you can actually stand under one of those Flying Fortresses: the National Museum of the Mighty Eighth Air Force in Pooler, GA.
Stories Of Heroes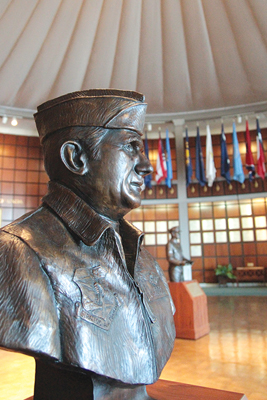 The Mighty Eighth museum was created to educate visitors about the character, courage, valor and patriotism of the brave individuals in the Eighth Air Force. This includes what's known as the story museum, which demonstrates to visitors the high cost of war. Twenty-six thousand Eighth Air Force men lost their lives, more than all the Marines in WWII. An additional 28,000 were taken prisoner.
The museum boasts films, exhibits, artifacts and archival materials telling the stories of the individuals who served in the Eighth. One of the most popular highlights is the multi-media "Mission Experience," which includes an immersive simulated mission in a special theater utilizing actual combat footage.
The experience is designed for the young (more than 25,000 school children from around the Southeast visit each year) and old alike, including the very men whose stories are being told within its exhibits.
Gunners With A Job To Do
Ninety-one-year-old Colonel William Meharg lives in Florida but has enjoyed coming to the museum and seeing younger generations learn about what he and his fellow Air Force members endured.
"There's a nose turret in the museum just like the one I flew in," he says. Meharg was drafted in 1943 and then picked to go to gunnery school. Like all members of the Eighth, he faced enemy fire from well-trained German forces, but also had to deal with the circumstances of being 20,000 feet in the air.
"Frequently up there during the winter of '44 into '45, it was 50 to 60 degrees below zero," he recalls. "That still lingers with me, how we were so dadgum cold all the time!"
Henry Hughey, who is also 91 years old and was a staff sergeant in the Eighth, recently visited the museum during a special Veterans Day celebration. He too vividly remembers the brutal sub-zero temperatures and how he had to wear special gloves if he needed to work on his gun.
"If you touched a piece of metal with your bare hand while you were up there, you were gonna be part of it," he says.
Meharg actually suffered from frostbite on his hands and around his face after a mission. He also couldn't get in the nose turret with his parachute on.
"That kinda worried me," he says with a laugh.
The level of danger faced by these men starting their 25-mission tour of duty was well-known. Both men recall how the Germans' anti-aircraft fire, called flak, could quickly and terrifyingly turn a clear blue sky to a thick black.
"They could have an awful lot of shells exploding around you in a hurry," Meharg says.
"There was a saying in the Air Force," recalls Hughey. "A gunner today was a goner tomorrow."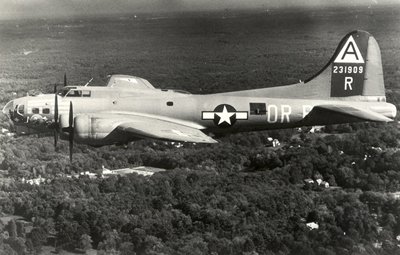 But both Meharg and Hughey only considered themselves men with a job to do, and nothing more.
"As I see it, the real heroes are the guys that came back with severe wounds, and the guys who didn't come back at all," Meharg says. "Those are the guys that should be recognized. The rest of us were just lucky."
Both men also consider themselves among the museum's devoted fans.
"I got the biggest kick of my life getting in that nose turret," Meharg says of his most recent visit. "I had my daughter with me. I said, 'Okay you get in it and see how tiny it was!'"
History For The Future
Today the Eighth Air Force is based at Barksdale Air Force Base in Louisiana and continues with impressive operations throughout the world.
The National Museum of the Mighty Eighth Air Force was founded by Major General Lewis E. Lyle, who flew over 70 bombing missions during World War II. After receiving more letters from the families of those killed than he was personally able to answer, Lyle was inspired to build a museum and worked for 14 years to raise the funds. With the support of the Eighth Air Force Historical Society, the Chatham County leadership and numerous volunteers and staff, Lyle achieved his goal and the museum opened in 1996.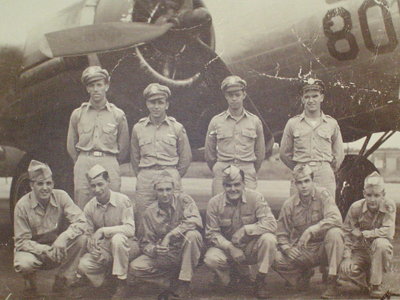 Among many accolades, the museum has been recognized for its educational programs. It was named a Center for Character Education by the State of Georgia in 2003. The museum prides itself on sharing the thousands of stories and archival materials that demonstrate the admirable character traits found within the Mighty Eighth.
***
Advances In War
The terrors of war—the great number of serious injuries and loss of life—have paradoxically led to advances in medical technology that heal and save people's lives. This was notably true for World War II, and the benefits continued to help citizens across the world after the war was over. Some of the developments between 1939 and 1945 included: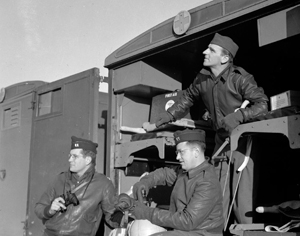 Mass production of sulphonamides, which fought a variety of infections (and which successfully treated Winston Churchill's pneumonia in 1943)
Increased efficiency in blood storage and distribution for blood transfusions
New techniques in plastic surgery for deep burn victims (who were often fighter pilots)
Studies of mosquito bites and malaria prevention
Mass production of penicillin (several strains were developed, and penicillin was twenty times more potent at the end of the war than at the beginning)
The bulk of these advances were significant for wound care and for the survival chances of soldiers who had been severely injured in combat. But the need for wound care has continued to grow even through times of peace.
Today there are approximately 8 million Americans suffering from chronic wounds. Many of these have developed from complications from diabetes or from poor blood circulation in the legs. Luckily, advances in wound care have grown as well, such as the availability of hyperbaric oxygen therapy for non-healing wounds. Learn more about this advanced technology in wound care by visiting www.sjchs.org/hyperbarics.