Nurses Can Help Ease Anxiety Of Parents With Children In Treatment
Diane Farr, RN
Candler Hospital
Smart Living: Parents whose children need to undergo a procedure or be treated in a hospital are focused on their child having a good experience and not suffering from anxiety. But don't they also need to care for themselves?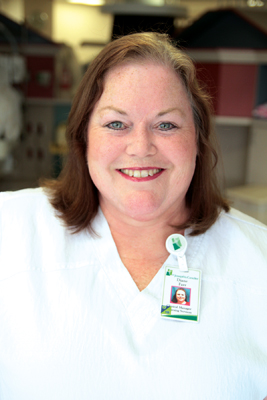 Diane Farr: Yes, and nurses do our part by always answering any questions the parent may have and by being honest. We acknowledge parents by name and keep them informed with status updates. Being aware of the process, and informed of any delays, helps parents to feel more at ease. Then they can help their child feel the same way.
We can help them in that process too—we advise parents to explain the process to the child in a language they can easily understand, and let the child ask questions. They can even bring their child to the hospital before surgery to become familiar with the surroundings. Here at St. Joseph's/Candler, children receive care in The Children's Place. The area is decorated with bright primary colors, the rooms are kid-friendly with age-appropriate toys and games, and the entire floor is warm and inviting.
SL: What about for the youngest, littlest patients in the Special Care Level II Neo-natal Intensive Care Unit? How do nurses also help those babies' parents?
DF: Our Special Nursery nurses are phenomenal. They always have anxious parents at the bedside and they do an excellent job explaining everything, providing updates, and giving parents time to process information or ask questions. Sometimes the neonatologist will explain the test or procedure. We always work together to reduce the level of anxiety for a parent. We know that when parents stay informed, see the physician on a regular basis, and are educated about the procedure, they can be assured that their child is in the best place for their care.