Faster Than The Beat
Advances in CT technology help radiologists get a clearer picture of the heart
For computerized tomography, the imaging technique known as CT, the more still the patient is, the better. Patients are asked to lie as still as they can be, and may be asked to hold their breath for a few seconds. Movement can cause images to blur.
But no matter how still you are, your heart still beats. So how do you get a clear image when the heart is your subject? With the advanced technology in the GE Revolution CT scanner, recently installed in St. Joseph's Hospital, you get the image of the whole heart within a single beat. The machine can scan just that fast, and it is a great help to physicians like Daniel M. O'Mara, a radiologist with Savannah Chatham Imaging.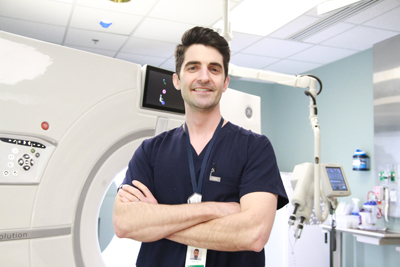 "Our goal is to use imaging to give our patients the most accurate picture of their health," Dr. O'Mara says. "One challenge in achieving this goal, particularly when we are evaluating small and continuously moving structures like the coronary arteries, is to minimize motion as much as possible. The new scanner allows us to essentially freeze motion, which results in exceptionally crisp images that are easy to interpret."
This advanced capability not only helps achieve high-definition images for heart patients, but also for trauma and stroke patients, as well as the very young, who aren't typically inclined to stay still no matter where they are. Delivering clear, sharp images in seconds helps physicians with diagnosis and treatment planning, but it also provides more convenience to patients. To begin with, in many instances, the contrast dose is lower and the appointment is often shorter.
"Because we are able to obtain images very quickly, our patients spend less time in the scanner," Dr. O'Mara says. "Because the images we obtain are high quality and motion free, fewer repeat scans are required."