Life Support Procedure Can Give Very Sick Patients A Chance At Survival
Amanda Norris, MSN, RN, FNP-C, CCRN
Smart Living: When more conventional forms of life support fail to help some of our sickest patients, we can provide extracorporeal membrane oxygenation, or ECMO. What is ECMO?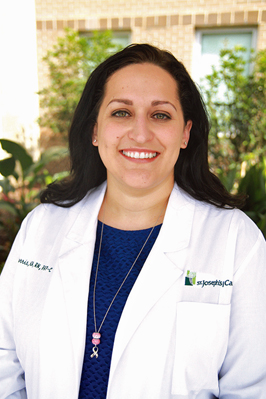 Amanda Norris: ECMO is a very complex therapy, but basically it supports the heart and lungs when they are not functioning properly to sustain life. Two cannulas, or tubes, are inserted into a patient's blood vessel. The patient's blood is removed while simultaneously being reintroduced on a continuous basis during ECMO therapy. The machine we use at St. Joseph's/Candler, the CardioHelp system, removes carbon dioxide and puts oxygen back into the patient's blood. This is generally the function of the lungs, and is used when patients have very severe pneumonia or other types of acute respiratory distress. It can be thought of as giving the patient IV oxygen. ECMO can also function as the pump when the heart muscle is weak from heart failure.
ECMO can support the patient until their organs have a chance to recover, which can be hours, days, weeks, or months if necessary.
SL: Is this a new development in life support?
AN: We have been using ECMO for patients here since at least 2014. But it is being used more frequently at St. Joseph's/Candler as well as throughout the U.S. and internationally. We recently had a large training course for many of our critical care nurses and respiratory therapists so that we can continuously improve the care we provide to our patients on ECMO.
SL: Why is the need for ECMO growing?
AN: One of the biggest reasons is adult patients who have contracted the influenza virus. We are still in flu season, so I'm asking everyone to please protect yourself and your loved ones by getting a flu shot every year.
Family members should know that ECMO is used for the very sickest of patients, and isn't always successful, nor is it a treatment to any specific disease. But it does allow us to support our patients while giving their organs time to recover. With ECMO, patients who wouldn't have survived on other forms of life support now have that chance.
---