Editor's Note (Jan. 8, 2020): This morning, Savannah lost a legend in Dr. Irving Victor. A beloved part of the St. Joseph's/Candler family, his years of dedicated work changed not only healthcare in Savannah, but the community itself.

"His achievements, both personally and professionally, are simply too great to mention," said Paul P. Hinchey, President & CEO of St. Joseph's/Candler. "He was loved by generations of Savannahians and will be greatly missed by our entire community."

We had just published this profile on Dr. Victor that attempted to reflect his huge impact, we invite you to take a read:
Party Of One
Dr. Irving Victor became a Savannah icon long before the restaurant that bears his name
He owns 5,000 cookbooks. But he'd never thought about opening a restaurant.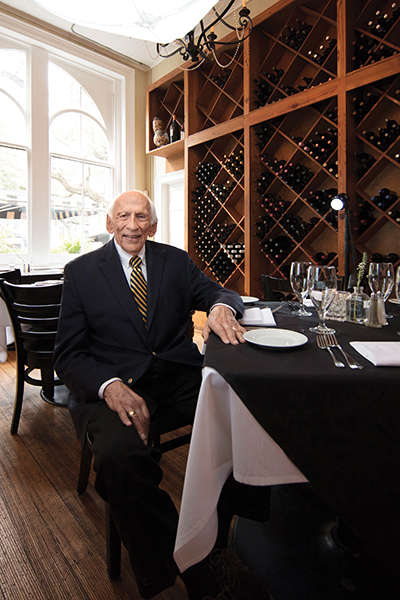 Dr. Irving Victor was, after all, a well-known and beloved urologist in Savannah, who had worked under another legendary physician and then returned to his hometown to begin a practice that would last for four decades. But people who weren't even born when Dr. Victor retired have experienced some of their most romantic moments—from first dates to engagement parties to weddings—at the restaurant Vic's On The River.
And that is only still about half the story.
Leaving And Coming Home
Dr. Victor grew up like many native Savannahians did, graduating from Savannah High School, spending two years at what was then known as Armstrong Junior College—where he was valedictorian—then getting his Bachelor's at the University of Georgia and his medical degree from the UGA School of Medicine, when he was elected to Alpha Omega Alpha, Honor Medical Society. He also served in the U.S. Navy for two years.
Then came the first twist of fate for Victor—he met Dr. Frederic Foley, a urologist who invented the Foley catheter in 1935. Dr. Foley encouraged Dr. Victor to apply for a residency with him in Minnesota. Dr. Victor got the job and spent three years working with Dr. Foley.
"It was a great experience from both a training standpoint, but also learning about a different way of life," Dr. Victor says. "I had to give up all the things I was used to in the South, and did my best to try to enjoy new things like skiing and ice skating."
Dr. Victor recalls that he came "within an inch" of staying in Minnesota permanently.
'But my brother, Dr. Jules Jr., and my mother and father were here," he says. He set up his practice in Savannah and made a home with his wife Terry and their four children, in a house that had previously belonged to his good friend, Ed Turner. Turner's son, Ted, would famously go on to found CNN.
"Ted was rambunctious and opinionated, even as a teenager," Dr. Victor recalls with a smile.
Once Dr. Victor's practice was established, he joined or chaired countless organizations, and served as Chief of Staff of three hospitals in Savannah. He also served as President of the Georgia Medical Society, and during that time began a project that would change the healthcare landscape in Savannah forever.
A First for First Responders
Some people reading this will remember a time in Savannah when, if one had a life-threatening emergency, the ambulance didn't come from EMS. It came from a funeral home.
"The ambulances from these funeral homes provided no pre-hospital care," Dr. Victor recalls. "People were getting to the hospital DOA—dead on arrival."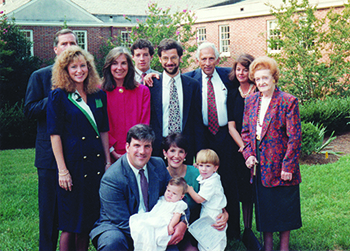 Though we often take it for granted now, EMS (which stands for Emergency Medical Services) is more than a fast ride to a hospital. Being ready at any moment to bring a rapid response to an emergency requires a well-coordinated system of many healthcare professionals as well as a seamless communication and transportation network. Dr. Victor tasked himself and the Georgia Medical Society with bringing that system to Chatham County.
"We met with so many people, the city and county police, fire department, the Red Cross, everyone," Dr. Victor says. "It was a great project, very needed and new at the time. Our EMS was actually only the third service in the U.S. to be approved by the federal government."
Dr. Victor saw the difference the EMS made not just in his community but also through his friends.
"I had two friends who had heart attacks and were treated and taken to the hospital by EMS," he says. "That is how they survived. Without EMS, they wouldn't have made it."
Dr. Victor considers the establishment of EMS in Chatham County as his legacy, but there were other big chapters in his story still to come, though he didn't know it.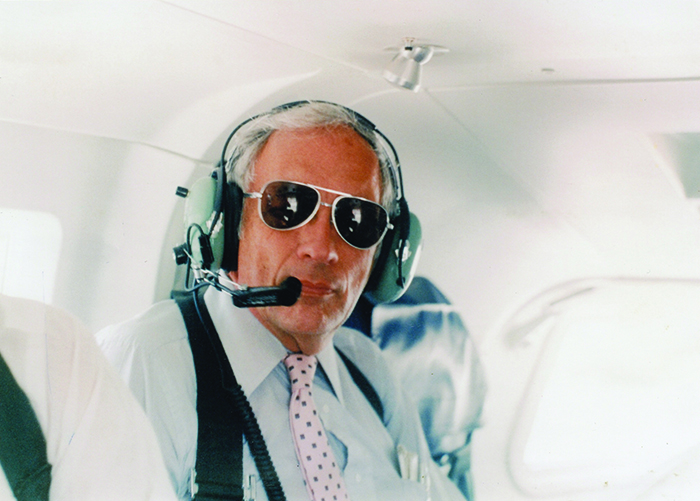 Love On The River
Dr. Victor practiced urology for 41 years. He welcomed two more sons into the world, and found himself raising his children alone after his wife died in a tragic accident. His love of travel would take him to Japan to teach physicians about a specific urologic procedure. His love of cooking and cookbooks would soon lead him to a collection in the thousands.
But once again, it was simply a twist of fate that brought him to his other claim to fame—Vic's On The River.
"I was walking my dog when I came upon my neighbors, Bob Isaacson and Bill Hall, who were worked up about something," he recalls. The two men were excited about a chance to open a new restaurant, but they couldn't secure a loan. When Dr. Victor agreed to step in as a co-signer, Billy Bob's was born. For his help, he was given a 10 percent interest in Billy Bob's.
"It did well as a bluegrass restaurant, but it was burgers and hot dogs," Dr. Victor says. "Guns on the wall, sawdust on the floor. I told them, 'This doesn't appeal to me.' And they asked, 'What does?' I said, 'Nice tablecloths, nice silver, beautiful furnishings, and consistently great cuisine."
Billy Bob's became the River Grille. Eventually Isaacson opted out and Hall and Victor became partners. When they learned that the lease wouldn't be renewed, they had to take a chance on a five-story historic building on River Street. When it came time to name this sizable new venture, there was a little bit of a debate.
"French is my second language, and I wanted the restaurant to have a French name," he recalls. "Bill said, 'Nah, we need to name it after you.'"
Vic's On The River has since become a favorite destination for tourists, foodies, families, and romantics. In fact, it was recently named as one of the "50 Best Restaurants in America for a Date" by OpenTable.
Eminent Savannahian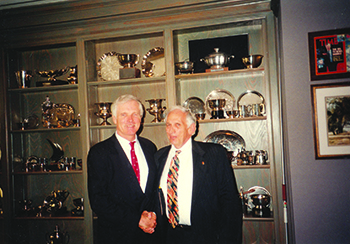 Dr. Victor lives with his lovely wife Cissie in the same house that he bought from Ed Turner decades ago. Somewhere in between his work and family life, he found the time to participate in field trial retriever competitions, having owned six Golden Retrievers in his life. His first Golden, Georgia Boy, was a Field Trial Champion. He remains active with many boards and organizations in Savannah, and has no intention of slowing down.
His record of achievement came full circle in a way when he was given the first honorary doctorate degree and the Eminent Scholar Award from Armstrong State University. The school did not give out this Eminent award annually, but rarely and in cases of great merit.
Having met his goals as a physician, and achieving more than he ever envisioned with his restaurant, Dr. Victor is simply content and thankful.
"I feel a deep gratitude for the life I've had," he says.