The Time To Ask
Having essential questions ready for your physician can optimize your appointment
When you visit with relatives or friends, it probably feels like the time passes quickly. You also may realize after they've left or hung up that you forgot to ask a certain question, maybe even the very question that made you call them up in the first place.
The same thing can happen with a doctor's visit.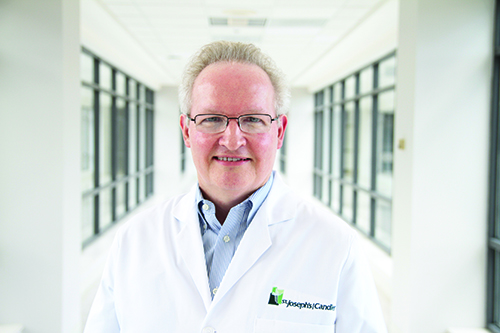 "I want to make my time with both new and established patients as productive as possible," explains Michael McNeely, MD, FACP, of St. Joseph's/Candler Primary Care on the Islands. "While I can learn the information I need to know with my own series of questions, I have found that having prepared patients helps us make the most of the time we have together."
Dr. McNeely suggests that patients write their concerns or questions down and bring that list with them to the appointment. This can help patients who may have a tendency to talk around a problem or who may not be comfortable initiating a discussion.
"I invite my patients to participate in the process," Dr. McNeely says. "This helps me to know quickly what their most important concerns are."
Though every patient is different, the average appointment allows for around three questions to help direct the discussion. Patients should volunteer any helpful information about symptoms as well.
Patients may feel that some questions are too small—or, in their opinion, dumb—to ask without somehow bothering their doctor. But participation is what helps a physician know what to look for and where to focus. On the other hand, patients won't benefit from bringing in a "laundry list" of general questions that take time away from their biggest concerns.
"Physicians can clear up many of the misconceptions about healthcare that have unfortunately been augmented by social media," Dr. McNeely says. "But it is best for us to use that time to address your needs."
Patients should not equate writing down questions with being forgetful, but rather with being prepared. Seeing multiple patients each day, Dr. McNeely sees the effect that those little reminder notes can have.
"Having prepared patients makes the day more productive," he says, "for everybody."
---
Getting The Most Out Of Your Visit
Along with having a few written questions, there are other things you can do to make sure your doctor's visit is as productive as possible, especially if you are a new patient:
Complete paperwork prior to your appointment. This will enable the physician's office to request medical records. It will also give your doctor an opportunity to review your medical history and healthcare needs.
Arrive on time. In fact, arrive 30 minutes early in order to complete the check-in process. Think of your appointment time as the time you should be in a room ready to be seen.
Bring a list of your medications. Your doctor needs to know what you are taking and it should be current. Even for established patients, a primary care doctor may not know if another doctor has prescribed a new medication. If a list with names and doses is too much homework, simply put all of your medication bottles into a plastic bag and bring them with you to the appointment.
Use a patient portal if your doctor's office offers one. Online patient portals allow patients access to their medical information, but they can help in more ways than that. Patients can request prescription refills, update insurance information, check lab results, or ask follow-up questions about their care. It is a great tool for an improved physician-patient relationship.
St. Joseph's/Candler Primary Care on the Islands offers a portal for its patients. Learn more here.