Your Life's Work
Occupational therapy focuses on a person's daily activities, whether on the job or at home
There's one question that Occupational Therapist Rosa Lee Aderhold gets all the time: What is the difference between occupational therapy and physical therapy?
"The way I try to explain it is that occupational therapy, or OT, focuses on getting a patient back to their prior level of function, so that they are as independent as they can be," Aderhold says. "OT is about the tasks of your everyday life. You can walk to your closet, but can you put on a shirt? That's where OT comes in."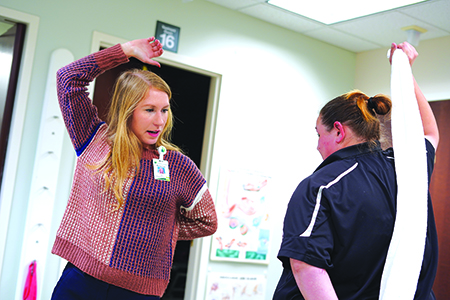 Aderhold treats patients that are overcoming a variety of conditions or injuries, everything from stroke recovery to tennis elbow.
"Anything that's hindering you from doing what you want or need to do," she says.
Despite its name, occupational therapy is not just for people who want to get back to their job. But that can be the focus for certain patients.
"Our treatments are very specific to each person," Aderhold says. "If someone was a chef for a living, we would focus on helping that person regain their fine motor skills, their hand-eye coordination, or whatever else they needed to successfully do that job again. But another kind of patient could be a retired person who lives alone and perhaps cooked for themselves before their stroke, for example. Our focus is to get them cooking again too."
Aderhold works with patients in an outpatient therapy setting, using tasks that can simulate those at home. She also helps patients with cognitive issues, such as memory loss, or difficulties with following steps in order or problem-solving.
She will provide exercises for patients to do at home as well and then assess their progress, with the ultimate goal of the patient returning to their previous level of independence and ability.
"If something you once enjoyed is now difficult, we will evaluate how to get you back to enjoying it again and help you reach that goal," Aderhold says. "Your quality of life is our focus."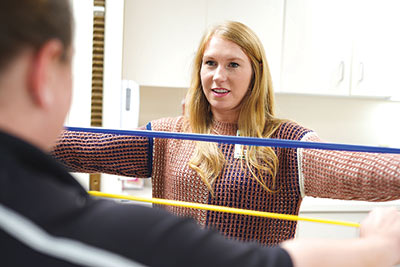 ---
St. Joseph's/Candler has several outpatient facilities to make occupational therapy as convenient as possible. Learn more here.