Savannah Fire – Live!
A&E's Live Rescue gives America a chance to see local heroes in action
"It's not like in the movies," says Savannah Fire Captain Wesley Stoneman (pictured below) about his life as a firefighter for the past 14 years. But the intensity of his job is being played out dramatically onscreen this year, thanks to the A&E Network series Live Rescue, which chose Savannah Fire as one of the departments the show follows for its third season. Hosted by Matt Iseman, Live Rescue captures the real-life moments of firefighters and EMT's right as it's all happening.
So how does it feel to have that small camera crew along on these life-saving calls?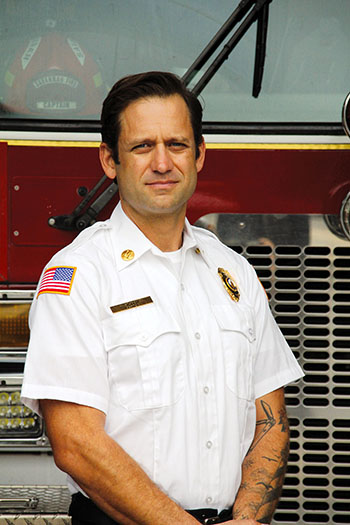 "Weird," says Advanced Firefighter Scott Boudreau. "It does feel weird having a camera there, but what we're doing is the same thing we do every day and night."
In addition to fires, there are rescue calls, hazardous conditions, smoke scare calls—and yes, false alarms—among the hundreds of calls Savannah Fire responds to every month.
"We had a guy in the river last week," Stoneman says. "We had a two-alarm fire a couple of days ago. That's very typical. We have a wide variety of calls."
Doors Always Open
"I was excited to be on the show, but also nervous," Stoneman says. "But we've found that with people watching, it keeps us sharp."
Advanced Firefighter Shawn Hartl agrees that while being filmed is a strange experience, it gives him and his fellow firefighters a chance to shine.
"I hope people can see the talent that's in Savannah Fire and the skills we have for a department our size," he says. "But I also want people to see how intertwined we are with the community."
Even though they're on TV, the department has been forced to do something it never thought it would do—keep their distance from the public due to COVD-19 precautions.
"It's weird for us to be distant from people," Stoneman says. "We are very social. Kids used to walk in the station. Tourists from all over the world would come see us. The doors were always open."
Hartl believes that openness created a bond between the department and the Savannah community, and that something as simple as checking a smoke detector can be as important as the bigger calls when it comes to making sure Savannah feels safe.
"They know that we'll be there," he says.
Second Family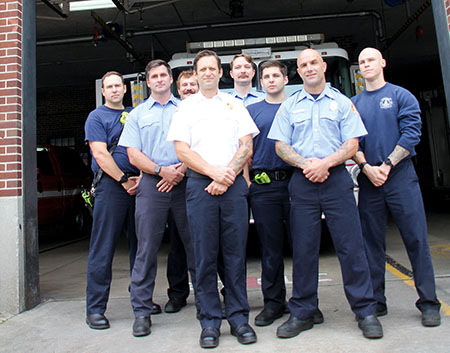 They'll be there for each other too. It's not just the dangerous demands of the work that bonds firefighters, but the time they spend together. A firefighter's shift is typically 24 hours at a time, where they eat, sleep, and also relax in the station.
"We spend a third of our year together," Hartl says.
"A third of our lives," Boudreau echoes. "It's like a second family."
The further they are into their career, firefighters notice that the small things they've come to know about each other can help with the big things that their job entails.
"I know who grinds their teeth at night; I know who snores; I know who doesn't like spicy food," Stoneman says. "But I also can listen to the two-way radio and know that person, that voice, and can hear it if they're upset or something's not right."
The Long Game
Stoneman also encourages his firefighters to express themselves when frustrated or upset about a call that doesn't go as well as they hoped. It's a new kind of openness that wasn't always seen in firefighting.
"I'm glad that people are talking more now," he says. "You give a little piece of yourself to every call, but over my career I've learned to see the long game. If someone needs to yell or pound the table, or the opposite—if they just need the rest of us to sit there quietly, we allow ourselves those moments."
Being on TV, however, has mostly been fun for the department. They hang out with the camera crew in much the same way they hang out with each other. Like most people, the one thing they want more than being seen on television is being seen again in the community when the COVID-19 pandemic is over. The department is also adding to the type of calls to which it can respond, including medical calls.
"As much as we offer now," Stoneman says, "we going to expand even further."
---
Wellness Data
Every year, each firefighter must complete a physical examination and wellness visit at St. Joseph's/Candler's Wellness Center. Because they are scored on ability, such as the number of push-ups a person can do, there is often some friendly rivalry involved.
"At one point it got so competitive that the staff had to monitor us very closely to make sure no numbers were skewed," Stoneman says with a laugh.
But beyond the physical tests, there is a bigger picture of each firefighter's health including blood analysis, pulmonary function, cancer screenings and more.
"I can look at the data collected from the physicals for the past 14 years and see any trends ," he says. Hartl agrees, noting that because of common dangers such smoke inhalation and chemical burns, many firefighters fear developing cancer.
"What if you're blood work is different this year than last year's?" he says. "You wouldn't know without the data they have."
Stoneman says the rigorous program analyzes his health with more depth than he would do for himself at home.
"And that's priceless," he says.