Saving Georgians Before They Were America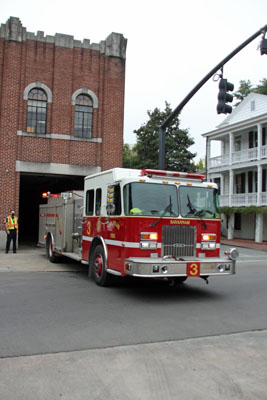 When audiences watch Savannah Fire on A&E's Live Rescue, the action is happening in real time. If someone sitting in their living room in Cincinnati watches Captain Stoneman get closer to a raging fire, they know the captain is feeling its deadly heat simultaneously in that moment.
Each of these immediate moments, however, is connected to a line of history that goes back a very long way. That rich history is part of what attracted the show's producers to Savannah Fire in the first place.
"In general, we look to ride with first responders in different parts of the country," said one of the producers of Live Rescue. "In terms of the South, we knew Savannah was beautiful, but were also really intrigued by the fact that Savannah Fire has been in existence since 1759, which means it was formed even before the country was."
Yes, it's true—Savannah's first fire department was formed when Georgia was still a British colony. There were only twelve city streets and six squares in the city at that time, but there was also a silk processing factory that lost 7,040 pounds of silk cocoons to a fire in 1758. A year later the city purchased a fire engine that was powered by hand (similar to the one pictured below) and recruited 15 volunteers to use it. One year after that, an ordinance was issued that every homeowner in Savannah was required to own a ladder that matched the height of their house in case of a fire.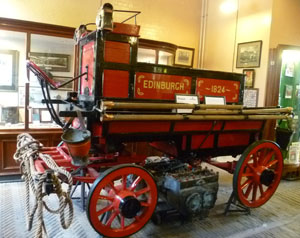 The department steadily grew but Savannah still experienced two devastating city-wide fires. The first one in 1796 destroyed more than 200 buildings including Christ Church. The second, in 1820, destroyed more than 400 buildings.
By 1890 the volunteer companies had been phased out and replaced with professional firefighters. Then in 1911 the city bought 12 motorized wagons to replace the horse-drawn engines, making Savannah Fire the first fully-mechanized department in the nation.
Today, aside from its excellence in firefighting and rescue, Savannah Fire is well-known for its friendliness and connection to the public. As Captain Stoneman has said, the COVID-19 pandemic has put a damper on their usual open-door policy, but all of the firefighters are eager to get up close with people again.
"This is the kind of place where the doors are always open," said another Live Rescue producer. "People want to stop by to meet the firefighters, take pictures, show their kids the fire trucks—all things that make Savannah Fire part of the social fabric of the city."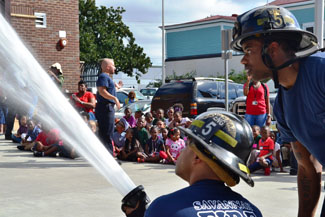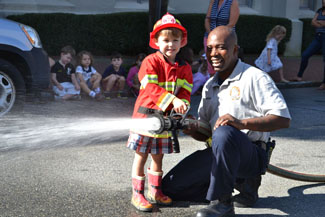 Museum photo of fire hand engine courtesy of Kim Traynor.
Children's event photos (pre-COVID) courtesy of Savannah Fire.