Hatha Heart
Some of yoga's side effects can benefit your cardiovascular health
You don't move fast. In fact, it may be among the slowest movements you ever make.
But yoga—a practice that has been around in some form for 5,000 years—can still help your heart.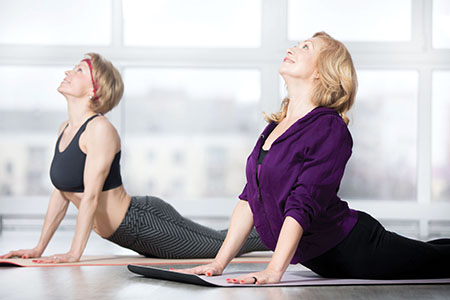 Typically, yoga involves a series of poses and stretches done with a certain concentration that can build flexibility and strength as well as reduce chronic pain. The practice also includes breathing and meditation to help relieve stress and bring calmness to the mind. General yoga that includes basic poses is known as Hatha Yoga. The ancient practice can:
Increase circulation
Increase blood flow
Lower cholesterol
Lower blood glucose levels
Lower blood pressure
Put together, all of these improvements can lower the risk for hypertension, stroke and heart disease.
These benefits are in addition to stress relief and improved flexibility, which are two of the major factors that bring people to try yoga in the first place.
Some simple poses can be done at home at any time, such as Child's Pose or Legs Up The Wall. Basic torso twists can also be done on a chair while you are at work. Even these small moments of yoga can help with stress management, which is important for your entire body including the heart.
---
St. Joseph's/Candler's Wellness Center currently offers Hatha Yoga instruction on Monday and Wednesday evenings. Beginners as well as regular practitioners who prefer guided instruction are welcome. For more information or to start a class membership, call 912-819-8800.