Just Right
Medication instructions are not only for safety but for your maximum benefit
Take with food. Don't take with food. Don't exceed this amount in a day. Don't skip a dose. And so on.
Medication, whether it's doctor-prescribed or over-the-counter, can come with a lot of rules. The pill you take in the morning could have a different rule than the one you take at night. It can make you wonder—is all this really necessary?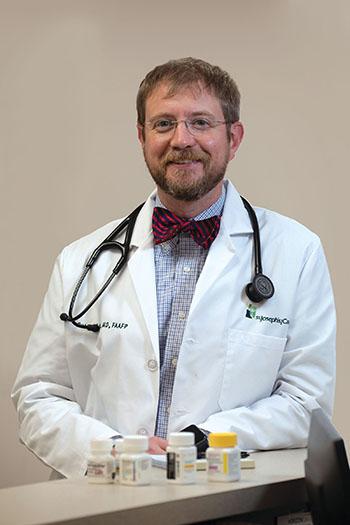 "How a medicine is prescribed is based on the characteristics of that medication—how quickly the body metabolizes it, how quickly it's eliminated, and how long the effects last," explains Russell Lake, MD, of St. Joseph's/Candler Primary Care in Richmond Hill. "We want it to maintain a steady state when we are talking about pharmacology—not too much, not too little, but just the right amount."
How a certain drug absorbs and is distributed through the body is crucial not just for safety but for efficacy. Many factors are involved; one of the most obvious is body weight. This is why children have their own specially-sized medications. Even then, the dosage instructions for a 2-year-old will be different than those for a 12-year-old.
Too much medication in the body, even with something as common as Tylenol, can cause problems of varying severity, from nausea to liver damage.
"On the other hand, if you skip doses, the medication can drop down to a level in the body where it can no longer do its job," Dr. Lake says. "Or if you are taking multiple medications, they may have to be taken at different times to maximize the absorption and work most effectively."

Don't Forget The Follow Through
Another area where people falter with their medications is when they stop taking them because they feel better even though their instructions tell them to continue. This happens often with antibiotics.
"We may feel like the problem is over, but in reality some of the bacteria that are tougher to kill are still there," Dr. Lake says. "So you may end up with a more severe infection as those resistant bacteria begin to reproduce."
Our perception of how our daily medications are working may also cause them to accidentally slip from our minds.
"If you get bad heartburn after forgetting your heartburn medication, you'll remember to take it next time," Dr. Lakes says. "But if your high blood pressure isn't causing you to feel bad, you may forget about your meds for that. It can sometimes depend on what we actually see or feel."
To help his patients stay on top of their medications, Dr. Lake reviews their prescriptions with them at every routine visit, making sure there are no issues with side effects, refills or even costs.
"We're all human; sometimes we just forget things," Dr. Lake says. "Or, we stop when we feel better and think we can save some for next time. But our prescriptions, as well as the instructions on over-the-counter medications, are designed to give you, as an individual patient, the biggest benefit possible. As doctors, we also try to keep it as simple as we can."