Center Forward
Physicians in the new Advanced Thoracic Oncology Center can find and treat lung cancer earlier
Many cancer centers are designed to have physicians from multiple disciplines under the same roof. But it's much rarer to find those specialists in the same room, talking directly with a patient. Yet that is what lung cancer patients will experience in the Advanced Thoracic Oncology Center (ATOC) at the Nancy N. and J.C. Lewis Cancer & Research Pavilion.
"The ATOC is the culmination of years of labor, love and cooperation," says M. Douglas Mullins, MD, a pulmonologist with Southeast Lung Associates and medical director of the ATOC. "The new space at the LCRP is beautiful and relaxing, and from the moment you walk in the door, you will receive coordinated, multidisciplinary care."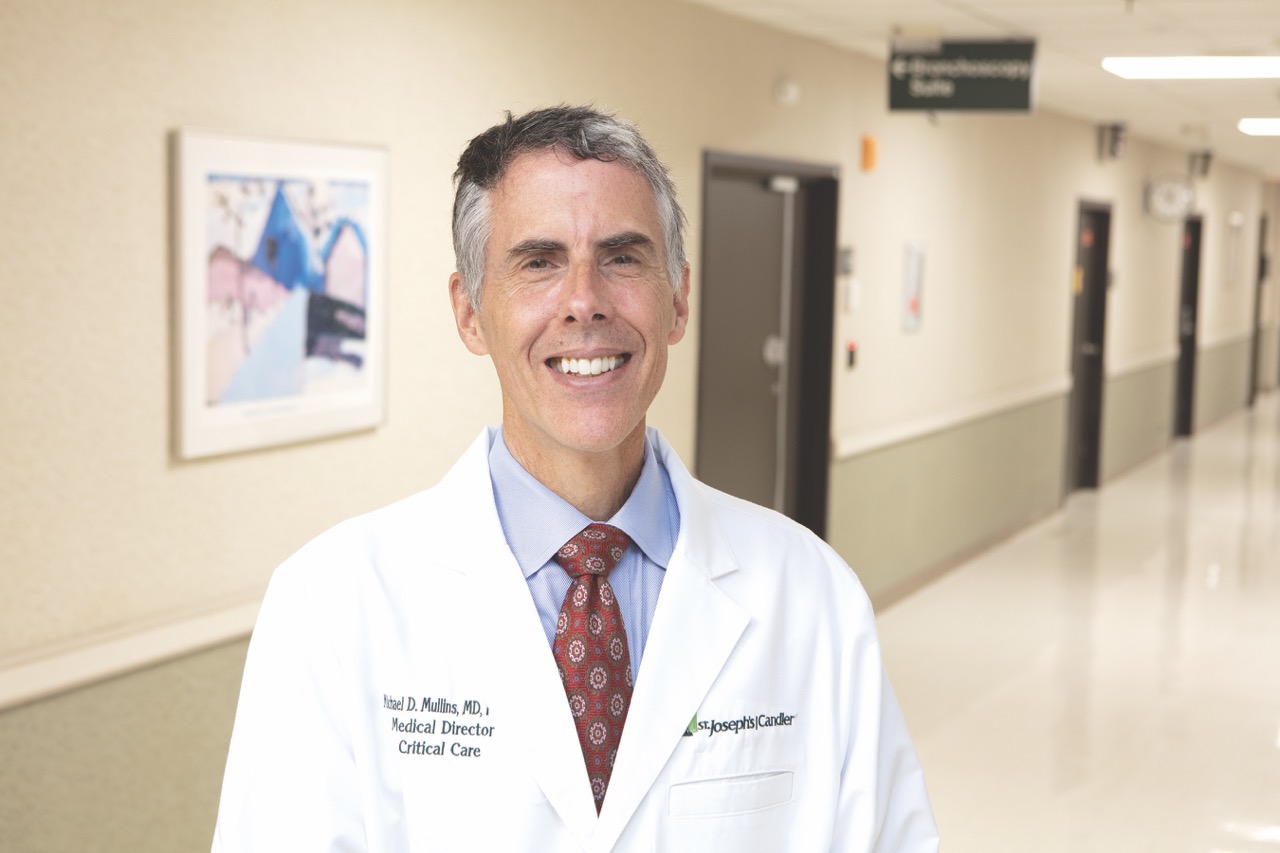 Collaboration between Dr. Mullins and other specialists—such as thoracic surgeons and radiation oncologists—for certain patients is nothing new. But advances in technology have created more options for patients, often in earlier stages of the disease.
Quantum Leap
A huge advance in lung cancer treatment is the Monarch Platform, which Dr. Mullins uses in Candler Hospital's Bronchosopy Suite. The Monarch technology integrates robotics and advanced visualization with endoscopy—the use of small cameras and tools through a scope that can enter the body. The precise, intricate design of the Monarch allows Dr. Mullins to investigate any area of the lungs.
"Now with the Monarch robot, there are no frontiers we can't reach," he says. "We can biopsy anywhere, anytime, any size."
This ability allows Dr. Mullins to diagnose and treat lung cancer earlier.
"We can diagnose things at seven to eight millimeters before it becomes dangerously metastatic," he says.
Meanwhile, robotic surgery and radiation technology has continued to evolve. More patients than ever before are candidates for the da Vinci Xi Surgical System, the fourth generation in da Vinci technology. And the CyberKnife® technology at the LCRP allows physicians to treat tumors anywhere in the body with phenomenal accuracy.
"We've taken a quantum leap forward," Dr. Mullins says. "It's exciting because it's the fulfillment of a shared vision, and now we want it to grow. We have the third-busiest Monarch program in the country. We want to build upon that reputation as the premier venue for the evaluation of lung nodules and minimally-invasive cancer surgeries of the lung."
In The Room
Patients may come to the ATOC through a variety of pathways. Some will be referred by the primary care physician, some through self-referral, or they may have participated in St. Joseph's/Candler's Lung Cancer Screening Program.
"The patient may just see me to start with, and I set up a diagnostic procedure," Dr. Mullins explains. "After that, I direct them to the next step in terms of appropriate treatment with another specialist."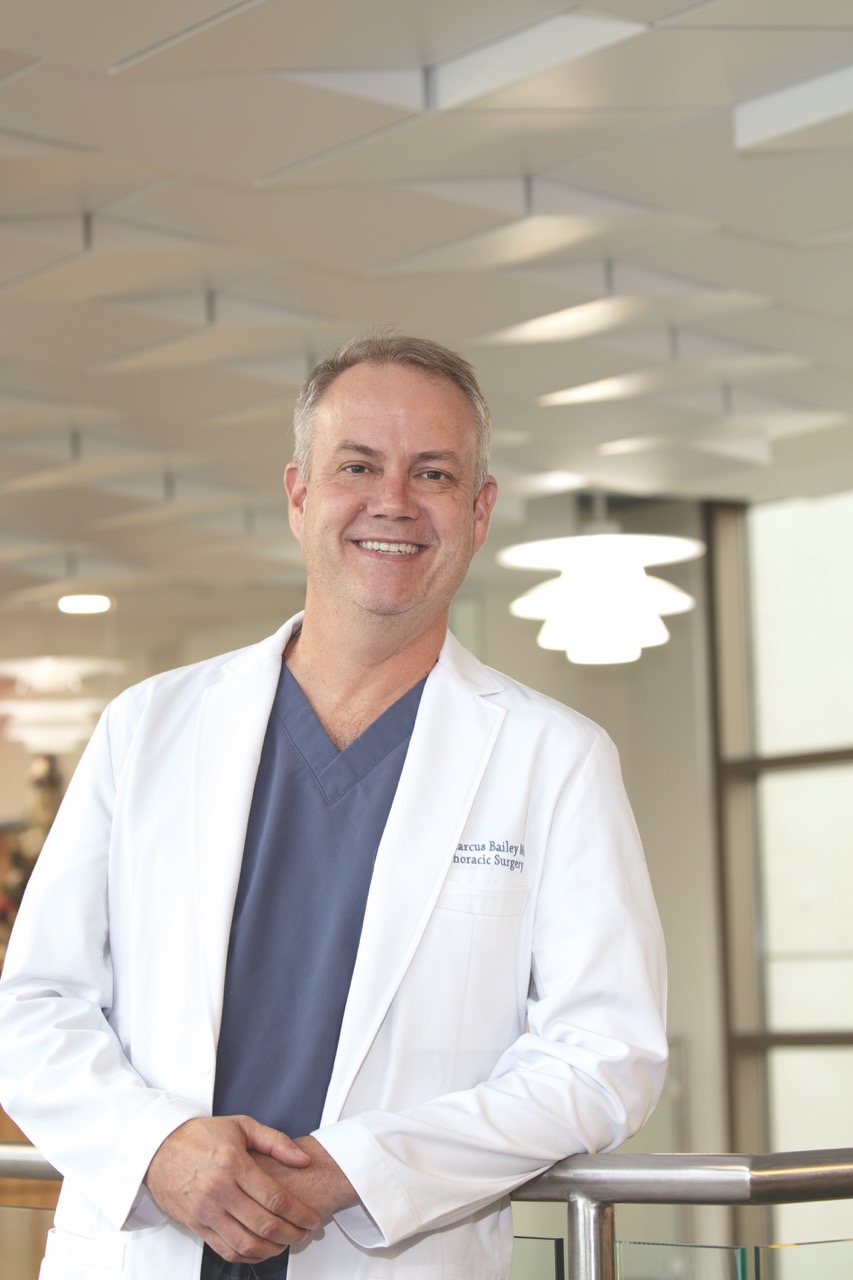 One of the specialists that Dr. Mullins works with often is cardiothoracic surgeon Marc Bailey, MD, FACS.
"I don't think I've been more excited about a local development in my field as I am with this center," Dr. Bailey says. "Our ability to diagnose and treat earlier is improving cure rates."
Dr. Bailey notes that there are a lot of moving parts to the ATOC, but there is also a framework for integrating all of the different facets.
"It's not just streamlined for the doctors, though," he says. "That framework also benefits the patients."
Before seeing a patient, Dr. Mullins and Dr. Bailey, and perhaps a radiation oncologist, will review all of their medical history, labs, pulmonary function tests and other information.
"Then we all go in the room together with the patient," Dr. Mullins says. "We sit down and discuss things in a relaxed way, often with the patient's family members present. We give the patients options for treatment, a kind of comprehensive road map for care."
Dr. Bailey says that even though it can be a lot of information, patients will know where they are headed in their treatment journey by the time they leave the room.
"They get an answer and the treatment options faster, which is better for peace of mind and leads to better outcomes," he says.
Fulfillment Of A Vision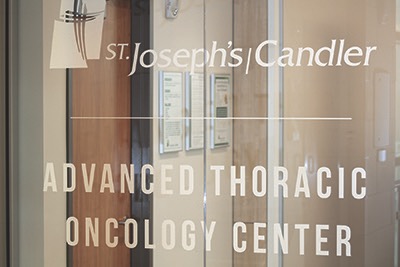 Another essential aspect for the ATOC is to provide support for patients in a holistic way, which could include palliative care, nutrition, genetic counseling or smoking cessation classes. And both physicians agree that one of the ATOC's more important assets is its nurse navigator, Kaitlyn Youmans.
"Our patients love her," says Dr. Bailey. "She has a great way with people and with guiding patients through this process. It's such a huge development for patient care that we can be under the same roof, in the same building as oncology, same building as imaging and with a nurse navigator like Kaitlyn. We're making it a more streamlined process for us and for the referring doctors, but most importantly for the patient."
Dr. Mullins agrees.
"What we have is immeasurably robust in terms of how we treat patients, how we support patients and how precise, safe and efficient we are in getting a diagnosis," he says. "Patients will find the highest level of technology, experience and expertise here that they can find anywhere in the country."
---
If a PET or CT scan shows a suspicious lung nodule, your physician may refer you to the ATOC, which is located on the second floor of the Lewis Cancer & Research Pavilion at 225 Candler Drive. For more information or questions about self-referral, please call oncology nurse navigator Kaitlyn Youmans at 912-657-7083.