Training and technology help Savannah neurosurgeon Dr. Davis Reames give patients their quality of life back
Davis Reames, MD
Specialty: Neurological Surgery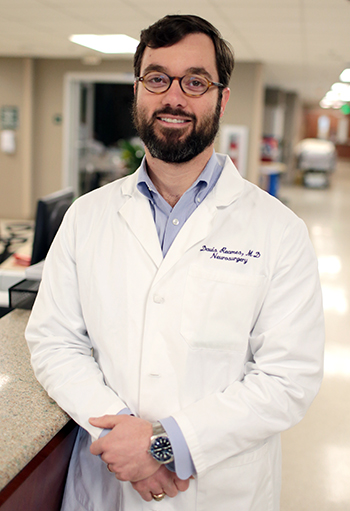 Office Location:
Neurological & Spine Institute
4 East Jackson Blvd.,
Savannah, Ga. 31405
912-355-1010

Education:
Undergraduate: The Citadel, magna cum laude
Medical School: Medical University of South Carolina, AOA
Residency: University of Virginia
General Intracranial Infolded Fellowship: Auckland City Hospital, New Zealand
Minimally Invasive and Complex Spine Fellowship: Semmes-Murphey Clinic, University of Tennessee

SJ/C: Why did you decide to become a neurosurgeon?
Choosing neurosurgery was actually very easy for me. My curiosity with the nervous system's control over our bodies began early in college. I developed an appreciation during medical school how people's lives could be improved with neurosurgery, and as a result, I never really considered anything else.
SJ/C: What are some common procedures you perform or conditions you treat?
The majority of my practice reflects my interest in treating spinal conditions. This includes focusing on quality-of-life outcomes through minimally-invasive outpatient surgeries to alleviate pain and improve weakness and more complex deformity corrections to treat structural instability.
SJ/C: As a neurosurgeon, how does technology help you do your job?
Technology is critical to the practice of medicine and especially within the field of neurosurgery. Even in the last 10 years, we have seen significant advances in surgical techniques and spinal implants resulting in more efficient, less invasive and more durable correction of spinal conditions. Areas we will continue to see the impact of technological advances will be biologics for improving bone healing, robotics, motion preserving surgeries and less invasive or even non-surgical means of combating the degenerative changes to the spine.
SJ/C: What do you see in the future of neurology and neurosurgery?
One of the most exciting things about the field of neurosurgery is the potential we have to continue to improve upon the options for treating pain through less invasive means and more quickly returning patients to what they enjoy about their lives, which is extremely gratifying as a surgeon.
SJ/C: Do you have a moment in your career where you thought, 'This is why I became a doctor?'
Neurosurgical training is a long process during which the focus is on surgical techniques and medical treatments. However, the most gratifying experience for me once I started my own practice is seeing a patient through the process from initial consultation, surgical treatment and recovery. Appreciating the gratitude they have for making a positive impact on their life is worth it for me.
SJ/C: What is some common advice you share with to patients?
The best 'advice' I can give patients is a better understanding of their condition, what they can expect with and without the treatment options available to them and to help them navigate often challenging decisions.
Family: Happily married for 12 years with two children
Hobbies/Interests: Spending time with family