Savannah native Dr. Andres Montes brings his OB/GYN services to his hometown
Andres Montes, M.D.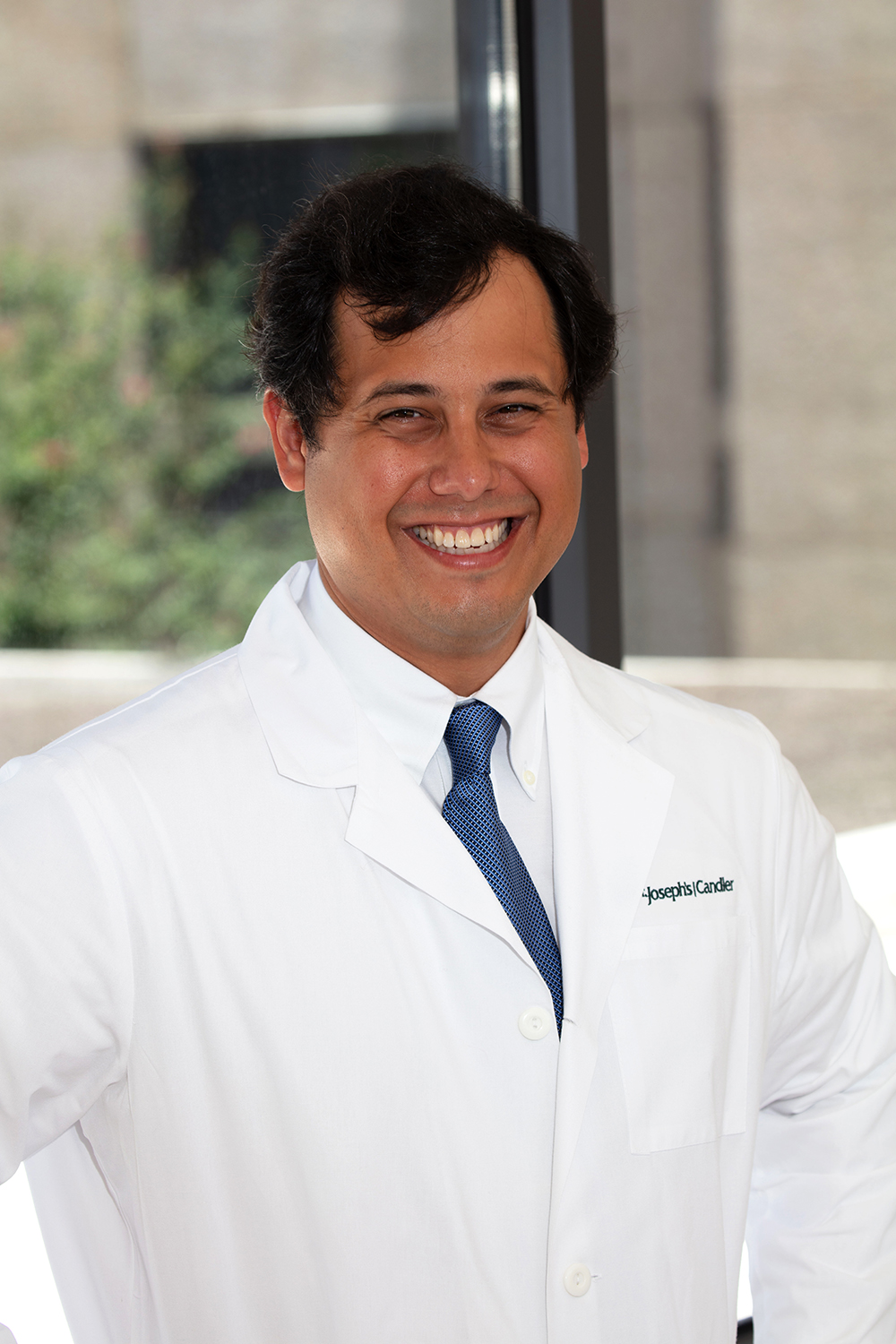 Specialty: Obstetrics and Gynecology
Sub-specialty: GYN surgery
Office Location:
Dr. Andres Montes, OB/GYN
5354 Reynolds Street, Suite 422
912-354-2634
Education:
Undergrad: Georgia Southern University
Medical School: Mercer University School of Medicine
Residency in OB/GYN: University of Virginia Medical Center
SJ/C: Why did you decide to become a doctor?

I grew up in a medical family. My father is a physician, and I've always been thankful because he never pressured me to go to medical school. It was something I was around growing up, and it was ultimately my decision, but I will never forget, he put a needle driver in my hand at 18, and said, 'I want to teach you how to suture to see if you like it.' I loved it. As I went to college and was contemplating what I wanted to do with my life, I felt that I would be most fulfilled if I were a physician. Any profession helps people, but to be able to be involved in a patient's life in such a way that we are in medicine would be very rewarding, and I would look back and realize I have no regrets.

SJ/C: How did you pick the OB/GYN specialty?
I never thought I was going to be an OB/GYN. I initially thought I wanted to do trauma surgery. Then in medical school I had the amazing opportunity to work on the trauma team starting my first year of med school. I realized that when I got to labor and delivery on my OB/GYN rotation that there were many similarities in the fact that when something goes wrong you have to act very quickly. When that moment happens, when you're dealing with life and death, you are intervening to not only save the life of the mom but also the baby. It was something so meaningful and incredible. Then I had the opportunity to deliver my first baby as a medical student and that was a feeling that I've never had before. I knew at that moment, this was it. And then seeing the surgical side of GYN and seeing all the pelvic surgery, knowing I wanted to do a surgical subspecialty, I realized that I enjoyed pelvic surgery much more than abdominal surgery.
SJ/C: You were born and raised in Savannah. Why did you want to come back here to offer your services?
I love Savannah. There is something special about Savannah. Also, it's really neat to be born at St. Joseph's. I am really thankful that this is the community that I grew up in, the community that's home, and to be able to go and train where I trained at one of the top 40 maternity hospitals in the country, to be able to bring back that knowledge to my hometown and serve, because that's what medicine is, it's service, and to be able to serve, it's humbling and it's an honor. I can't imagine doing it anywhere else but my hometown.
SJ/C: Being an OB/GYN is so much more than delivering babies. What are some common procedures you do?
What I love about OB/GYN is that OB and GYN are two really separate fields. Of course, delivering a baby is one thing, but on the GYN side of things, I do a lot of gynecological surgery and minimally-invasive gynecological surgery. One of my specialties is robotic-assisted surgery. We do multiple GYN surgeries from removing the ovaries or removing the uterus for any kind of medical condition, as well as vaginal reconstruction surgeries. Another thing I do is take care of vaginal prolapse surgery, as well as bladder prolapse.
SJ/C: How is today's technology, especially robotics, helping you as a physician, as well as your patients?
Robotics is truly an amazing surgical technology. It allows for better post-operative pain than other modalities of surgery. The visibility we get from robotic surgery of the pelvic area is magnified two to three times what it actually is like. On top of that, I'm able to control four robotic arms instead of my only two hands. We are able to do complex surgery that would traditionally have been done as an open surgery but now we are able to do it minimally-invasive, and the patient typically stays one night and goes home the next day. In two weeks, most are 95 percent themselves. In the past, it would take six to eight weeks to get to that point.
Robotics wasn't something I saw until medical school. I'm thankful for where I was trained that they put a huge emphasis on making sure we were robotic certified when we graduated. It's much better for the patients, especially post-operative healing.
SJ/C: Where do you see the future of women's healthcare going?
I see women's healthcare becoming even more prominent than it is now. One thing that I love about being an OB/GYN is advocating on my patients' behalf and making women's health issues and women's health rights as a forefront in society today and not put to the side.
SJ/C: For some, gynecological issues can be a sensitive or embarrassing conversation. What would you say to encourage women to be open and honest with their physician?
I'd encourage them to be open about it because a lot of times our patients think they are the only ones having that issue when in reality many women have it. It's just something that hasn't been talked about, but I encourage our patients that it's normal.
SJ/C: What is some common advice you share with your patients to maintain a healthy lifestyle?
One of the aspects that I personally love about the medical aspect of gynecological care is that each stage of life there are different things that we have to look out for that can affect our patient's life in the long run – be it the years of fertility and getting pregnant and making sure pap smears are up to date, your general health is up to date or helping with your pregnancy. It's very important at that stage to see your OB/GYN, especially if you are trying to get pregnant. And then there's the transition when you go into menopause and that's a whole other subset of GYN care. It's also important that we are making sure we are helping to prevent bone loss, making sure your cardiovascular health is at the forefront because it can be affected by menopause. It's recommended to see your gynecologist at least once a year to make sure you are on track so to speak.
Family: Dad and mom
Hobbies/Interests: Going to the beach, paddle boarding, kayaking