Cardiothoracic surgeon brings his expert surgery skills to Savannah region to care for heart patients
Dr. Andrew Papoy
Specialty: Cardiothoracic Surgery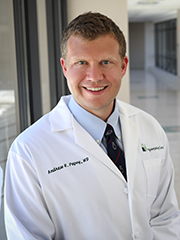 Office Location:
St. Joseph's/Candler Physician Network – Cardiothoracic Surgery
11700 Mercy Blvd., Plaza D, Suite 1B
Savannah, Ga. 31419
Education:
Bachelor's and Medical degrees: University of Kentucky
Surgical residency: University of Alabama at Birmingham
Cardiothoracic Surgery residency: Brigham and Women's Hospital (Harvard) in Boston
SJ/C: What made you decide to become a doctor?
My upbringing. My dad was an engineer, and I remember that he would always coach me up to do something that is productive and could help people. My mom also pushed that, "Be sure to use the skills and talents that God gave you;" that's what she said to me – make the most of what you've been given. I always had an aptitude for schooling and felt like I should be doing as much as I could with what I was given. I didn't know any doctors growing up, so it wasn't a situation where I had anyone to lean on for the idea, but it seemed like a romantic idea to give yourself to helping others and participate in some part of their life to make it better. As I grew older and older, it was always what I was going to do. When I was really young, I wanted to be a pediatrician, but I don't think I understood what all the different specialties meant. As I grew older and started to develop an aptitude with my hands and being creative, it seemed to lean towards me becoming a surgeon and then a cardiothoracic surgeon.
SJ/C: What made you really decide to become a cardiothoracic surgeon?
There are some specialties that I say choose you. I would say it's more of a vocation than an occupation. There were lots of time, actually every single step of the way, I tried not to be a heart surgeon. As a medical student, I tried to like anything besides surgery. I joined the clubs and tried to like things that were going to be less strenuous or required less of my time, and I just couldn't do it. I reached a point at the end of medical school where I knew I wanted to be a surgeon for sure, but even at that point, I did general surgery first because I still was trying to talk myself out of being a heart surgeon. At one point in time, I was operating with one of the senior kidney transplant surgeons at UAB, and he said that I need to do something with my hands, something that was difficult because you can do it and not a lot of people can, and you owe it to them to do it. It was kind of like what my mom said. And then, I love all the pathology and anatomy associated with the heart. It always captured my attention. It's an engineering marvel, and the fact that you really can, from top to bottom, reconstruct the whole thing and make it better is a romantic field.
SJ/C: How do you describe, especially to new patients, what a cardiothoracic surgeon is?
A cardiothoracic surgeon performs operative reconstruction or resection of the heart, lungs, esophagus and thoracic aorta, to repair any kind of congenital or developmental pathology that occurs with time or due to cancer. With cardiac problems, a lot of it is reconstruction or replacement, so dealing with pathologies that were either mom and dad's fault or something that you developed over the course of your life that is going to prevent you from making it to the next decade.
SJ/C: What are some common procedures you perform?
The most common procedure that I do is coronary artery bypass grafting where I take arteries and veins from other locations on the patients – whether inside the chest wall, arm or leg – and I use those to bypass blockages of arteries of the heart. That's actually the most common operation that most any heart surgeon performs. The way that we do it different here is we have the aptitude and aspiration to use more arteries than veins as bypass conduit. It's harder to take an artery out of the arm than it is to take a vein out of a thigh, and it's much harder to know how to use it once you have it, but it's one of things that both Dr. (Jeremy) London and I are trained to do. We do everything we can for our patients who are younger to gain as much utility and life expectancy out of the operation that we perform and multi-arterial revascularization has been shown to help people live longer than vein bypasses or stenting.
SJ/C: How do you use technology to help treat patients?
One of the things we do is TAVR, which has been a great advancement in our field. One of the things I'm really big into, in addition to multi-arterial, is aortic root reconstructions. In the past, it had always been a root replacement with a prosthetic valve where now a lot of the things that I trained to do are to reconstruct it to keep the patient's native tissue in its entirety, take out the weak parts and rebuild the parts that are falling apart or weak. One of the things that I do is the thoracic endovascular aorta repair, or TEVAR. We put a stent graft inside the aorta as it becomes dilated or aneurysmal or dissects. Through small incisions in the groin, we can place a graft that excludes and protects the weakened aorta. This helps speed recovery and decrease mortality. The endovascular repair is something I've always been passionate about and a lot of things that are coming through the pipe before I worked here, the hybrid approaches to managing ascending and transverse aortic pathology, are going to pay off as well. It's going to be a lot less involved operations to help people who have aneurysms but are too high risk for open surgery.
I think every patient fits into a different category. I'll never consider myself to be a minimally-invasive surgeon or an off-pump surgeon or anything like that. I think each patient has an optimal procedure for them and you should be able to mold your practice for each patient. There are certain things we don't need in southeast Georgia, but when we identify a specific need, we evolve our practice to meet it. I think it's important that people in southeast Georgia and South Carolina know they can get good heart surgery, get good care here. They don't have to drive two or three hours away to find somebody who cares and wants to take care of them and knows what they are doing. Dr. London, Dr. (Marc) Bailey, Dr. (Robert) Jones and myself are dedicated to making sure everyone here has what they need.
SJ/C: What is some heart health advice you often find yourself sharing with patients?
I think a lot of patients draw a line in the sand when they have heart surgery. I try to give whatever inspirational speeches that I can. Whatever has happened has gotten you here, and now we have a fresh start, and there's no second time around. This is not a situation where you get to hit reset and go back 20 years and do it right. You can do it right starting now. We encourage smoking cessation and weight loss. The co-morbidities that push you to needing an operation on your heart are typically things that can persist after we fix your heart so we do everything we can to try to abate those. The other thing is early screening. If you look at survival improvement for breast cancer and colon cancer it has a lot to do with screening. We don't do a good job of screening for coronary disease and heart failure. Anytime I have a patient that is younger, I push for them to make sure their children have a cardiologist and are screened at a much earlier age then when we are intervening. I have a fair amount of patients in their 40s and 50s and it's very important that their first intervention of their coronaries is the right one, and it's planned as opposed to being a surprise.

Family: Wife, Lauren, 3 sons
Hobbies/Interests: Exercise, golf, fishing and being outdoors