Endocrinologist brings her specialty in diabetes, hormones and metabolism treatment to Savannah region
"I can give advice, but at the end of the day, you are the person with the disease, so you are going to be your best advocate."
Dr. Carolyn Nelson, MD
Specialty: Endocrinology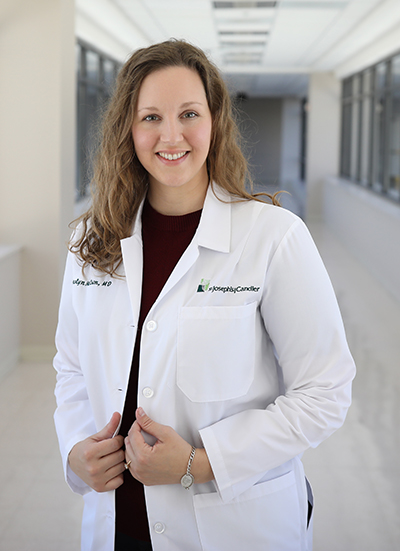 Office Location:
St. Joseph's/Candler Physician Network – Endocrinology
4849 Paulsen Street, Suite 105
Savannah, Ga. 31405
Education:
Bachelor: Louisiana State University
Medical School: Louisiana State University Health Science Center in Shreveport, LA
Internship and Residency: University of Alabama at Birmingham in Birmingham, AL Fellowship in Endocrinology and Metabolism: UT Southwestern in Dallas, Texas
SJ/C: What made you decide to become a doctor?

I really liked biology, human anatomy and physiology, and English. I was deciding between being an English teacher or a doctor, and my dad kept encouraging me to be a doctor. I really liked the human body and learning about all of the diseases and pathologies that could happen. I find all that interesting, but I mostly enjoy the aspect of being able to work directly with patients.
SJ/C: What made you choose endocrinology specifically?

I find endocrinology really interesting. It encompasses so much. It never gets boring. I like the complexities of it and all the hormone pathways that feedback on each other. It's a pretty objective field. There's a lot of lab work that is needed, and I enjoy the challenge involved in the interpretation of these labs.
Additionally, I have type 1 diabetes, so that gives me a deeper connection to my diabetic patients that I've never really felt in any other field. But mostly, I just really like endocrinology. Even the parts that aren't diabetes, I really enjoy.
SJ/C: How would you describe what endocrinology is, and what are some of the conditions that you help patients manage?
When I mention that I'm an endocrinologist, a lot of people don't know what that is. I follow that up with, 'I'm a hormone doctor.' I study hormones, the glands that produce them, and the diseases associated with those glands. Diabetes and thyroid disorders are probably the biggest ones that most people know about. I also study the adrenal and pituitary glands. Not all endocrine diseases deal with hormones, but also osteoporosis, calcium diseases, obesity, and lipids. It's a pretty broad field actually.
There's always something to learn. For example, I'll see someone for diabetes but also end up taking over their osteoporosis care. It's almost like primary care, but at the same time I don't do everything a primary care doctor does, so I still encourage my patients to see their primary care doctor.
SJ/C: Why do you think it's important to offer your specialty and services here in the Savannah region?
Primary care physicians do a very good job, but there's a reason why you have specialties. I've had two additional years of training in endocrinology. It just so happens, there aren't very many endocrinologists in this region, which attracted me to Savannah. In addition, there's a lot of misinformation on the Internet. A lot of my patients do their own research, which is great to an extent, but I also let them know that you have to be aware of where you look and to only take advice from trusted websites.
Personally, I wanted to go somewhere where I feel like I could make a difference. It was important to me to find a city that wasn't already saturated with this specialty.
SJ/C: What are two pieces of advice you commonly share with patients?
The first one I would say is to be honest with your doctors. For safety reasons, it's really important for me to know if you're not taking your insulin or something like that. Just be honest and up front. We are here to help you no matter what. No judgment. This is your life, and we're trying to make it as easy as possible to control the disease you have.
My second piece of advice for patients is to be proactive in your healthcare. I can give advice, but at the end of the day, you are the person with the disease, so you are going to be your best advocate. Take control of your health and ask questions. Don't be scared. There's really no dumb question. Like I said, there's a lot of information out there, and it can get overwhelming and confusing. The best person you can get those answers from is your doctor. Don't be shy or scared or think that you are bothering us. You need to know about your disease so you can take better care of yourself.
SJ/C: Do you have a moment where you thought, 'This is why I became an endocrinologist?'
There are so many. Since I've been here, just seeing someone's A1C go from greater than 12 percent to 7 percent within three months has been very exciting to be involved in. I have one patient who has lost 34 pounds in the past 3 months. That feels awesome! I think that the word non-compliant gets thrown around a lot, but it's really not about non-compliance. It's usually just a misunderstanding or not knowing what someone needs to do to try to get their disease under control.
I love being able to teach my patients, which I think is something I have a lot of positive feedback on. Patients say, 'Thank you for explaining that to me.' The more you know about a disease, the more you're going to be able to control it and the less scary it seems.
Family: Husband, Phillip, and two cats, Albert and George
Hobbies/Interests: Yoga, reading and listening to audio books, exploring and traveling different cities and watching movies