Dr. David Oliver
David Oliver, MD
Coastal Ear,Nose and Throat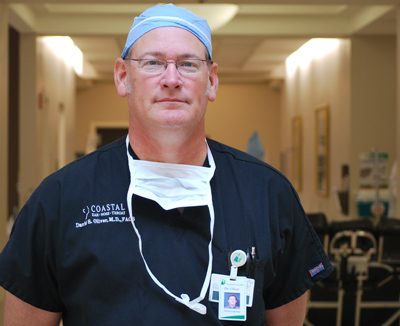 322 Commercial Drive
Savannah, GA 31406
912-355-2335
www.coastal-ent.com
Education
Medical Degree: Medical University of South Carolina
General Surgery Residency: Medical University of South Carolina and Medical College of Virginia
Otolaryngology Residency: Medical College of Virginia
SJ/C: What's the one piece of advice you wish your patients would follow and not ignore?
Dr. Oliver: Patients have difficulty following some of the most basic advice and that contributes to the most serious health problems in America- weight loss, smoking cessation, exercise, stress reduction and safety measures (seat belts, bike helmets, etc). This advice is obviously the right thing to do but human nature keeps us from following it because of many excuses. Certainly the first two -weight lost and smoking cessation - are the most important to ENT patients specifically
SJ/C: Why did you choose this specialty?
Dr. Oliver: When I was a grade school child I figured out that I wanted to practice medicine. I realized I had a concern for my friends and family and cared to make them feel better.
I also realized I was not squeamish and was confident when I was called upon to help someone that was sick or hurt.
After practicing pharmacy for several years and being unfulfilled by the limits of the profession, I went to medical school and became intrigued by the diversity of the ENT specialty. I treat every age group from newborns to the elderly, men and women, have a significant office practice and perform a variety of surgeries.
I was also attracted to the complexity of the ENT specialty.
The anatomy and physiology of ear, nose and throat are poorly understood by patients and other doctors and the management is intricate. There are many special sense (smell, taste, hearing, special, singing, etc.) and cosmetic concerns in the ear nose and throat.
SJ/C: What do you see on the horizon for ENT care?
Dr. Oliver: We are continually finding less invasive techniques to treat ENT problems. Endoscopic technology, image guided surgery, automated instrumentation and improved imaging techniques will improve care. Many routine procedures may not require anesthesia in the future.
SJ/C: What are the top two key pieces of advice you give your patients?
Dr. Oliver: Specifics depend on the problem they are having, but generally I try to have them take ownership of their disease and get them involved in the management. Many times a change in a patient's behavior will greatly improve their complaints. Natural interventions are important but many patients want more swift management such as medical or surgical interventions. Modern surgical and medical treatment can be more effective and with the latest advances can be much less scary than in the past.
SJ/C: Do you have a story where you thought, "this is why I chose to practice medicine?"
Dr. Oliver: I especially love treating children and patients that are less fortunate. They have a true, heart-felt appreciation that always encourages me to continue the struggle of caring for patients.
My bedside manner is that of someone there to help understand your problem, treat the patient as I would want to be treated and treat the problem with common sense but also with intellect and state of the art techniques.

Other details about Dr. Oliver:
Manages a thriving solo ENT practice with my wife Rhonda since 2009.
Manages our family and special interests (hunting, fishing, dancing, traveling, raising four children).
Past president of two of the nation's oldest societies that are right here in Savannah- the Georgia Medical Society and the Forest City Gun Club.