Spotlight on Our Experts
Edward Richards, MD, MBA
Gynecologic Oncology and Advanced Pelvic Surgery

Medical Director of the Lewis Cancer & Research Pavilion
Chair of Robotic Surgery for St. Joseph's/Candler
Principle Investigator for the Gynecologic Clinical Research Program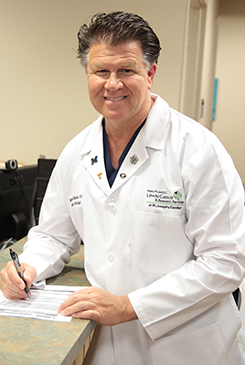 Office Location
St. Joseph's/Candler Gynecologic Oncology & Surgical Specialists
Candler Hospital
5353 Reynolds Street, Ste. 200
Savannah, GA 31405
912-819-5771
Education
B.S.: Psychology, Texas A & M University
M.D.: Texas Tech University Health Sciences Center School of Medicine
Residency: Obstetrics and Gynecology, Scott & White Memorial Hospital and Clinic Texas A&M University College of Medicine
Fellowship Training: Gynecologic Oncology, University of Kentucky

Subspecialty Board Certification in Gynecologic Oncology American Board of Obstetrics and Gynecology
Specialty Board Certification in Obstetrics and Gynecology American Board of Obstetrics and Gynecology
SJ/C: What's the one piece of advice you wish your patients would follow and not ignore?
Dr. Richards: By profession, I'm a Gynecologic Oncologist. In my private life, I'm a husband, son, and father of three daughters. If there is one common message I could share with both my patients and my family it is this: never dismiss the warning signs of cancer of the reproductive tract.
• Endometrial has a pre-cancerous state with an obvious warning sign: Irregular Vaginal Bleeding
• Don't put off being checked thinking you are going through menopause
• Routine pap tests rarely detect endometrial (uterine) cancer-most accurate diagnostic tool is biopsy which can be done in the office or an outpatient setting
Other warning signs of endometrial (uterine) cancer in premenopausal women are:
• Obesity
• Polycystic Ovary Syndrome
• Never having been pregnant
• Diabetes
• Hypertension
• Excessive Estrogen Usage without the use of Progesterone (known as "Unopposed Estrogen Usage")

If you look at all the cancers women are diagnosed with, 6 percent are endometrial (or uterine) and it's the most common cancer of the reproductive tract. The American Cancer Society estimates that a woman's chance of having this cancer during her lifetime is about 1-in-40. Endometrial cancer can affect women of all ages. Timely medical treatment can be life-saving.
SJ/C: Why did you choose this specialty?
Dr. Richards: Gynecologic oncology is the only subspecialty that allows me to serve as the attending physician as well as the ability to manage both surgical and chemotherapy services for my patients.

This provides the patient with a continuity of care. I decided I liked keeping my finger on the pulse of a patient's overall care.

Beyond medical school and a four-year residency in obstetrics and gynecology, gynecologic oncologists have an additional three years of advanced training in caring for women who have both malignant and pre-malignant conditions of the female reproductive tract.

We care for women who are in need of advanced surgical procedures of the pelvis. If a patient has any condition that is believed to be malignant or has the potential to be or become malignant then a referral to a gynecologic oncologist is certainly warranted.

Board certified gynecologic oncologists use extensive and up-to-date surgical procedures to provide care to our patients, including traditional open-abdominal techniques to remove disease, and minimally invasive robotic procedures.

We are also able to provide chemotherapy to patients who are in need of these services. Chemotherapy is usually well tolerated when it is given for gynecologic malignancies.
SJ/C: What do you see on the horizon for gynecological oncology?
Dr. Richards: Anti-aging technologies, from memory-enhancing drugs to joint replacements have led to better quality of life as we age; but as longevity increases so increases the number of those individuals contracting cancer. All areas of gynecologic oncology have come a long way since my fellowship days.

Due to the knowledge gained from Gynecologic Oncology Group and research protocols, we are now using more advanced chemotherapy and antiemetic drugs and in more useful combinations and regimens which in turn lessens the side effects of both, with better outcomes for patients. With a population of increased longevity the number of patients on chemotherapy and radiation will increase as well.

Technology has continued to improve for surgical intervention of gynecologic oncology. First was the use of laparoscopic procedures. These types of surgeries were great in some cases, but not optimal in the resection of larger malignant tumors. Those surgeries were still being done as open cases (meaning a large abdominal incision vs. the smaller laparoscopic port sites) to give the patient the best outcome possible. However, in 2004 came the minimally invasive robotic surgery and moved gynecologic oncology surgery forward by light-years. This newest surgical technique continues this advancement and improves the outcome for countless patients.

Finally, I look forward to the use of immunologic therapies and vaccines to elevate some forms of gynecologic precancerous and cancerous diagnosis. We are in an exciting age where we have access to treatments and technology that generations before us didn't have. This is an exciting time to be in Gynecologic Oncology.
SJ/C: How does the da Vinci Surgical System help with gynecologic oncology?
Dr. Richards: The da Vinci Surgical System, referred to as robotic surgery, has been a quantum leap for gynecologic oncology patients. I began training on the robotic surgical technique in 2004 before there were "codes" to bill for these surgeries, those didn't come until 2005 when the FDA approved the technique for gynecologic procedures.

Since then I have continued to develop and improve my robotic surgical skills. This has proved easier because Intuitive Surgical, who makes the da Vinci, has continued to improve and develop the equipment. The promise held when it was first introduced is the same promise it holds for patients today: the improvement of the quality of life of gynecologic cancer patients by reducing surgical morbidity.

One of these potential patient benefits is for the surgery to be done through smaller incisions for improved cosmesis. Instead of the much larger incision of an open laparotomy the robotic minimally invasive approach uses 5 small port sites. This helps the patient have less blood loss, meaning fewer transfusions, and significantly less pain.

The da Vinci approach provides the patient with less risk of wound infection and shorter hospital stays, especially for the morbidly obese patients. An open approach patient will remain in the hospital usually 5-7 days where a robotic approach surgical patient will go home usually within 1-2 days. The patient will experience a quicker recovery and return to normal daily activities. This approach and recovery time minimizes the interval between surgical intervention and initiation of adjuvant therapy, when it is required.

Benefits for the surgeon also exist with the da Vinci Surgical System. First, it is ergonomically easier. Secondly, I have unsurpassed visualization with this technique than with any other approach. The surgical field is viewed using a three-dimensional (3-D) camera. Third, in using this system, I am able to obtain more accurate sampling and removal of tissue. This helps with overall progression-free survival.
SJ/C: What are the top two key pieces of advice you give your patients?
Dr. Richards: First, Pay attention to your body and report anything that changes or is unusual.

Second: Keep my office number and my cell phone numbers close. I feel that if I don't hear from you, then all is well.