Dr. Howard Zaren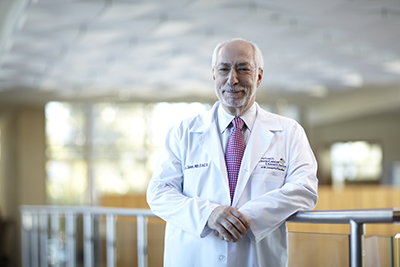 Surgical Oncologist
Nancy N. and J.C. Lewis Cancer & Research PavilionPrincipal Investigator: National Community Cancer Centers Program (NCCCP)
Education
Medical Degree
University of Manitoba Medical School, Manitoba, Canada
General Surgery Residency
Pennsylvania Hospital, Philadelphia, PA

Surgical Oncology Fellowship
MD Anderson Hospital, Houston, TX

Notable Achievements: Georgia Cancer Coalition Distinguished Cancer Scholar & Scientist Designate
SJ/C: What's the one piece of advice you wish your patients would follow and not ignore?
Dr. Zaren: Ask any and every question about treatment, diagnosis, the disease process, etc. I want patients to leave the office having all of their questions answered to be best of our ability at the time. A diagnosis with cancer is traumatic. Patients often can't focus on the questions they want answered or the information they are being provided. I always ask them to write down all of their questions so we can discuss them at their next visit. By answering patients' questions hopefully I can allay their fear of the unknown.
SJ/C: Why did you choose this specialty?
Dr. Zaren: I enjoy solving complex problems and I was looking for the most challenging area in surgical care.
SJ/C: What do you see on the horizon for cancer care?
Dr. Zaren: Cancer genomics which is looking at what is the nature of a cancer from the genomic point of view and comparing it to the genomic make-up of a patients healthy cells to allow us to develop targeted cancer therapy. This type of therapy has little or no collateral effect on the normal tissues of the patient unlike conventional chemo which affects cancer and non-cancerous cells.
SJ/C: What are the top two pieces of advice you give your patients with a cancer diagnosis to help them stay positive?
Dr. Zaren: First, they are not the only person with a cancer diagnosis and not to feel alone. St. Joseph's/Candler has a great deal of experience treating cancer and we will bring to bear in their treatment all of the latest technology and knowledge necessary to provide them with the best cancer care possible.
Secondly, cancer is a team effort. You have a great support system here at SJ/C for cancer care from the medical sense but please take advantage of the support system you have in your family and friends.
SJ/C: What is your vision for the Nancy N. and J.C. Lewis Cancer & Research Pavilion?
Dr. Zaren: We have many goals we are striving to achieve. We want to continue to use patient navigators, including professional and lay to reach out into the community as a resource for patients navigating into the system. After a diagnosis of cancer, it can be confusing about what to do next. That is how patient navigators can help.
We also want to continue to offer more and more clinical trials so that we serve all of the most commonly seen tumor sites.
We are always striving to expand our state of the art facilities for medical, radiation and surgical oncologist so they have the best tools science can provide to work with in diagnosing and treating patients.
And finally, as it relates to our national status as an NCI National Community Cancer Center Program site, we want to continue to develop relationships with communities that are a significant distance from the LCRP to provide care and support for patients and other hospital systems. Furthermore, we want to make sure that we have strong relationships with multiple NCI Comprehensive Cancer Centers so our center can be involved in cutting edge research that will benefit our community and our patients.