Savannah cardiothoracic surgeon uses latest technology to help patients recover faster
Dr. Jeremy E. London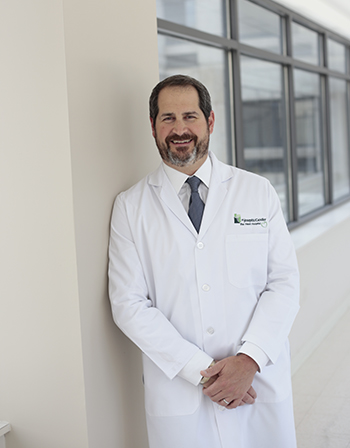 Specialty: Cardiovascular surgery
Sub-specialty: Vascular surgery
Board certifications: Thoracic, vascular and general surgery
Office Location:
St. Joseph's/Candler Physician Network - Cardiothoracic Surgery
11700 Mercy Blvd., Plaza D, Building 1, Suite A
Savannah, Ga. 31419
912-819-0500
Education:
Undergraduate: Washington University, St. Louis, Mo.
Medical School: Medical College of Georgia, Augusta
General Surgery Internship and Residency: St. Joseph's Hospital, Denver, Colo.
Thoracic and Vascular Surgery Fellowship: Carolinas Medical Center, Charlotte, N.C.
SJ/C: Why did you choose to practice cardiothoracic surgery?
Dr. London: I think that I was drawn to it because of the complexity of the operations, and I liked caring for the sickest of sickest patients in the hospital and the success I saw with all of that.
SJ/C: How would you explain this specialty to the average patient?
Dr. London: Specifically what I do is work on the heart and the blood vessels. That's my specialty. That includes structural heart disease, like valve disease and diseases of the aorta, the main blood vessel. We also do operations on the vessels in the neck for carotid artery, as well as for the legs. We also do bypass surgery for open heart surgery.
SJ/C: What types of surgeries do you perform?
Dr. London: I have a minimally-invasive, small-incision practice where I can do heart valve surgery through very small incisions, as well as hybrid atrial fibrillation procedures for patients that are either failed candidates from ablations or not candidates at all and turn them into candidates for ablations. Also, I perform endovascular approaches where it's all done with catheterizes and wires, and the TAVR procedure, which is the same with valve replacement.
SJ/C: How does technology, like TAVR, help assist you to help patients get better quicker?
Dr. London: I think it's two ways. No. 1, it allows us to offer valve replacements to patients who can't tolerate a big operation like open heart surgery. In addition, as the technology gets better and better, it allows many people to avoid open heart surgery and benefit from a less invasive approach.
SJ/C: What other technologies do you use that benefit patients?
Dr. London: I think one of the ones that really is on the forefront is something called Ecmo, which is Extracorporeal Membrane Oxygenation. Basically it is a support device that can be put in the groin, temporarily, to support patients, and we do that for patients who come into cardiac arrest, for patients that we can't ventilate on the ventilator with standard methods, for patients who have devastating heart attacks that are potential transplant candidates. It really is a technology that is going to become the standard of care in sicker patients.
SJ/C: How have technology advancements improved surgery and patient recovery?
Dr. London: The interesting thing about heart surgery is it stayed relatively the same for about 50 years. In the last 10 years, we've seen this dramatic explosion of technology, whether it's valve replacement with TAVR or whether it's a repair of complicated aneurysms or whether it's doing things through very limited incisions. We've really changed the nature of our ability to treat some really bad problems in a less invasive way. I think that it's been a direct patient benefit.
SJ/C: Do you have a story where you thought, 'This is why I became a surgeon?'
Dr. London: I was a third year medical student, and I assisted with a ruptured aneurysm at the VA hospital in Augusta, Georgia, with Dr. Charles Wray. Up to that point, I had planned on being a family practitioner, and when I saw and helped with that operation, I changed my mind that evening. I realized the patient was on the road to no longer being here and because of the intervention of this particular surgeon, it saved his life. It just totally changed my entire course.
SJ/C: What are two pieces of advice that you often find yourself giving patients?
Dr. London: One, to become as fully informed about the problems they have and to education themselves about the treatment options so they are making educational decisions. People tend to spend more time researching a car or refrigerator than their own health care. Number two would be that this process is a partnership. It's not, 'Doctor fixes me. I go back to my lifestyle.' When we accept risks, we are accepting risks together, and I am going to do my part and you also have to do your part.
Family: Married for 21 years with three boys
Hobbies/Interest: Spending time with my family