Dr. Jessica Mullinix brings OB/GYN services to Savannah
Jessica Mullinix, M.D.
Specialty: Obstetrics and Gynecology
Office Location: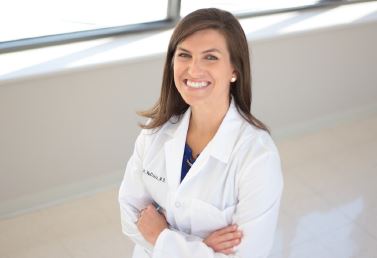 Dr. Jessica Mullinix, OB/GYN
5354 Reynolds Street, Suite 518
Savannah, Ga. 31405
912-819-9650
Education:
Undergrad: University of Georgia
Medical School: Mercer University School of Medicine
Residency: Eastern Virginia Medical School in Norfolk, Va.

SJ/C: Why did you decide to become an OB/GYN?
I originally thought I wanted to go into general surgery because I love operating, but after my OB/GYN rotation, I realized that women's health was the best fit for me. I specifically enjoy the continuity of care. As a GYN, I get to treat a woman holistically and address health in all areas of life. As an obstetrician, I have the privilege of journeying with my patient through pregnancy. Helping to bring a life into this world is an awesome experience.
SJ/C: What are some common services you offer as an OB/GYN?
We treat anything that deals with the uterus, cervix, fallopian tubes, ovaries, vagina or vulva. That includes: annual exams, including breast exams and pap smears; pregnancies from preconception through delivery and postpartum; cervical dysplasia/colposcopy; family planning/contraception, including IUDs; abnormal bleeding due to fibroids; management of endometriosis; basic infertility management; menopause; hormone replacement therapy; hysteroscopy; hysterectomy; and uterine ablation.
SJ/C: Do you have a particular area of interest and why?
My training was very heavy in high-risk pregnancy, known as Maternal Fetal Medicine, so I actually am very comfortable treating diabetes and hypertensive disease in pregnancy. I also have special interests in adolescent gynecology and endometriosis.
SJ/C: Why is it important for you to offer your services in Savannah?
My husband and I met in medical school here in Savannah. We fell in love with the area and were eager to return after training to begin our careers and family. Luckily, the timing has worked for us. Savannah and the surrounding areas have seen huge growth and the need for more primary care physicians, including obstetricians, is developing.
SJ/C: Where do you see the future of women's health care going?
Leadership in women's health continues to focus on advocating for equality in care for all women, across socioeconomic and racial divides. Additionally, there has been a focus on perinatal care and how that affects lifelong health. Currently, there is a big focus on preventative medicine and education. Of course, we will continue to expand our surgical and minimally-invasive techniques and continue to develop better treatments/medications with fewer side effects.
SJ/C: Do you have two pieces of advice that you often find yourself giving your patients for a healthy pregnancy?
Healthy pregnancies start prior to pregnancy. I always tell my patients who are planning pregnancy that now is the time to be 'the best versions of themselves.' To me that means achieve a healthy weight, focus on proper nutrition, exercise regularly, stop smoking, et cetera. It is even important for a patient's partner to do the same, as some epigenetic studies have shown male partner obesity affecting the child. Going to all prenatal appointments also is extremely important for a healthy pregnancy.
SJ/C: For some, gynecological issues can be sensitive or embarrassing to talk about. What words of advice do you have for women to be open and honest with their doctors?
Gynecologists have probably seen or heard it all. If there is one person that you should be comfortable discussing problems with, it should be your OB/GYN. Most embarrassing symptoms, such as bleeding, discharge or odor, are treatable, and likely more common than you would think. These symptoms could be signs of infection or cancer, which are other reasons that discussing changes with your physician are important. Sexual health is also important for women of all ages. Your gynecologist understands this and is here to help.
Family: Married
Hobbies/Interests: Boating, running and reading