Spotlight on Josh McKenzie, M.D.
Specialty: Radiation Oncology

The Radiation Oncology Center at the Nancy N. and J.C. Lewis Cancer & Research Pavilion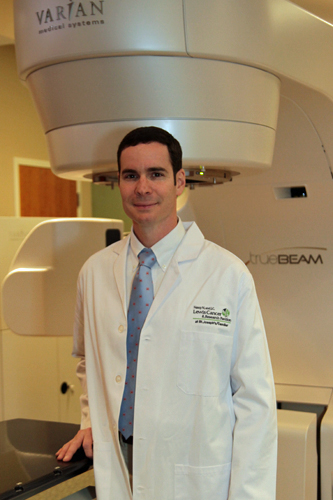 225 Candler Drive
Savannah, Ga. 31405
912-352-1700
Hours: 8 a.m. to 4:30 p.m.

Education

Medical degree: M.D from Mercer University School of Medicine
Residencies:
Internship – Internal Medicine, Memorial Health University Medical Center Radiation Oncology
Residency – University of Cincinnati Medical Center
SJ/C: What is the one piece of advice that you wish your patients would follow and not ignore?
Dr. McKenzie: Stay positive. The importance of maintaining a positive attitude and a healthy, active lifestyle cannot be understated. Sustaining normal activities of daily living and fortifying personal relationships is also extremely important. This mindset supports the preservation of quality of life and fosters improved outcomes during the course of cancer treatment, recovery and survivorship
SJ/C: Why did you choose this specialty?
Dr. McKenzie: I was initially interested in oncology after encountering the disease in many of the animals that my father cared for during his practice of veterinary medicine. I was more strongly drawn to human oncology following the loss of my grandmother, Lily Mae Cowart, to lung cancer. I chose radiation oncology because of the unique opportunity to provide the most technologically advanced, evidence-based care to patients, while utilizing a multi-disciplinary approach in order to optimize outcomes for my patients. I also feel that the outpatient setting in which the majority of radiation oncology is delivered allows patients to feel more comfortable during their therapy and fosters optimal development of physician-patient relationships, which are very important to me.
SJ/C: What do you see on the horizon for this specialty?
Dr. McKenzie: The horizon for radiation oncology is extremely bright. The technology advancements in radiation oncology are providing patients with new, effective treatment options that were not previously available. More importantly, this is being achieved while improving the safety of treatment delivery and reducing side effects of therapy. I only expect the delivery of radiation therapy to become more efficient, safer and more effective than we have seen in the past.
SJC: What are the top two key pieces of advice that you give your patients?
Dr. McKenzie: I try to encourage my patients to make the most informed decisions that they can. It is very important that patients fully understand their treatment options so that they can make the right decision for themselves. Everyone is different and should be approached as a unique person. The patient has to be comfortable with their providers, and their treatment path, in order to best progress through the journey of overcoming cancer.
I also try to encourage my patients to maintain faith throughout the course of their disease. This includes faith in themselves, their providers, their treatment, their family, and many other things. Those patients who do this are much more hopeful and find peace no matter what the ultimate outcome may be.
SJ/C: Do you have a story where you thought, "This is why I choose to practice medicine?"
Dr. McKenzie: I have been fortunate to have several moments like this throughout my practice thus far. The most recent experience involved a patient from a small community who did not feel like his providers could relate to his particular situation. He was scared and was unsure whether he should pursue treatment or "just give up." He was surprised that I knew exactly where he and his parents were from and the type of community that he lived and worked in. Thankfully, he was able to find comfort through my interactions with him and decided to pursue treatment. He was more optimistic about his long term quality of life and upcoming interactions with his wife, children and parents. It was extremely gratifying to be able to provide solace to a fearful patient during a very difficult time in his life.

Practice Details: Electron Beam Radiation Therapy, Three Dimensional Image Guided Brachytherapy, Intensity Modulated Radiation Therapy, Image Guided Radiation Therapy, Stereotactic Radiosurgery, Stereotactic Body Radiation Therapy, Radiopharmaceuticals

Family: Wife – Ellie McKenzie Children – Jack (6), June (4), & Lucy (15 mos) Dogs – Kinsey & Bandit

Interest/Hobbies: Hunting, Fishing, Spearfishing, Boating, Running, Farming, Spending time with my family
Church: Member of the Church of the Most Blessed Sacrament