Savannah OB/GYN, Dr. Katherine Bebeau, enjoys taking care of women throughout their lifetime
Katherine Bebeau, M.D.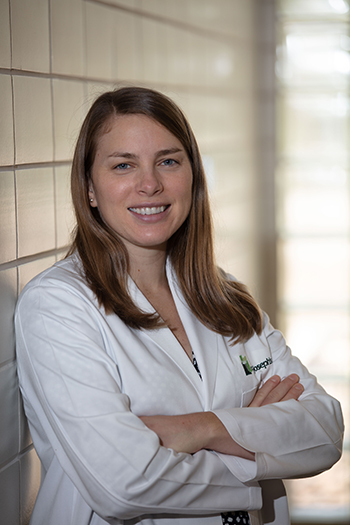 Specialty: Obstetrics and Gynecology
Sub-specialty: GYN surgery
Office Location:
Dr. Katherine Bebeau, OB/GYN
5354 Reynolds Street, Suite 518
Savannah, Ga. 31405
912-819-9650
Education:
Undergraduate: Clemson University
Medical School: Wake Forest School of Medicine in Winston-Salem, NC
Residency in obstetrics and gynecology: Medical University of South Carolina

SJ/C: Why did you decide to become a doctor?

I always knew I wanted a job where I could spend my days helping others. Growing up I was constantly reading, learning about other people and cultures and found science fascinating. This combination made me start to think about a career in healthcare. Ultimately, I knew being a doctor would allow me to help make the world a better place, and I never looked back.
SJ/C: How did you decide on the specialty of obstetrics and gynecology?
Being in a field where I could take care of people throughout their lifetime was always important to me. It is so special to grow relationships with others and really get to know them as we take care of their healthcare needs. Being an OB/GYN, I get to see women through some of their highest and lowest moments in life, supporting them through it. And in between, I get to practice preventative care – what is better? I know I will never forget the birth of my own children, and I understand how special of a moment and time this is for us. I want all women to have a good experience at such an important period in their life.

SJ/C: What are some common services you offer as an OB/GYN?
One reason I love being an OB/GYN is because I get to offer my patients a breadth of different services. I practice preventative medicine including pap smear management, help women manage abnormal and painful periods; I practice full obstetric care and offer a variety of surgical services related to GYN issues including endometrial ablation and myomectomy.
SJ/C: And is there anything you have a particular area of interest in and why?
I really find uterine fibroids fascinating. These benign outgrowths of the uterus can cause us so many problems, but also have so many different ways to be managed based on the patient's goals and needs.

SJ/C: How does technology help you do your job?
The most innovative technology I use at my job is the da Vinci Robotic Surgical System. It helps me perform less invasive surgery on more challenging cases and medically complicated patients.

SJ/C: How does this same technology help your patients?
Performing the same surgery in a less invasive way is always better for the patient. Prior to this technology, surgery required a large, open incision that led to longer hospital stays, longer time off work and required more pain medication. With robotic surgery, most women only need to stay in the hospital one night after a major surgery and are back to most of their daily habits within two to three weeks.

SJ/C: Where do you see the future of women's health care going?
Women's healthcare will always be changing. In general, obstetrics is not as well researched as many of the other fields in medicine. As more studies are carried out, we will find ways to help women get pregnant more effectively, maintain healthier pregnancies and deliver with fewer complications. Healthcare in general is also shifting to a more patient-centered model. This is where the patient is presented information, and together, the patient and provider have a conversation to determine the best course of action. I really enjoy this part of being a provider because it empowers patients to take control of their health.

SJ/C: For some, gynecological issues can be sensitive or embarrassing to talk about. What words of advice do you have for women to be open and honest with their doctors?
We have seen and heard it all. There isn't much you can say that surprises us.

SJ/C: Do you have two pieces of advice that you often find yourself giving your patients for a healthy lifestyle?
Be active. Get moving and find the exercise for you that makes you happy. This might be walking, running, yoga, pickle ball or dancing. Number two: Stay up-to-date on your screening exams, including pap smears, mammograms, colonoscopies or DEXAs. You can't take the best care of others until you take care of yourself first.