LCRP Surgical Oncologist and Medical Director Dr. Leonard Henry reflects on improvements in cancer care and is excited for even more to come

Leonard Henry, MD, MBA, FACS
Medical Director of the Nancy N. and J.C. Lewis Cancer & Research Pavilion
Specialty: Surgical oncology
Office Location:
Nancy N. and J.C. Lewis Cancer & Research Pavilion
225 Candler Drive
Savannah, Ga. 31405
Education:
Undergraduate: Notre Dame University
Doctor of Medicine: University of Michigan
Internship and residency in general surgery: National Naval Medical Center in Bethesda, MD
Fellowship in surgical oncology: Fox Chase Cancer Center in Philadelphia
Master's of Business Administration: Indiana University Kelley School of Business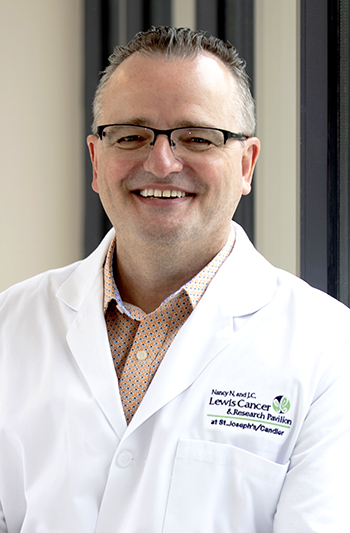 SJ/C: Why did you decide to become a doctor?
I remember the day very clearly. It wasn't even a thought until I was in college. I was walking across campus one day, and I was studying science at the time, and I was thinking, 'What am I going to do with this science degree?' I was doing pretty good in college, and it occurred to me that, 'You could be a doctor if you wanted to. You could probably get into medical school.' I never had a life-long desire. So, it started in college when I started to think about what am I going to do next. Am I going to get a PhD or become a scientist? I didn't really dig that. Did I want to go into business? Then here I was walking across campus at Notre Dame, and I was looking up at the Golden Dome with the statue Mary when that thought actually happened to become a doctor. I took it as Mary saying you're going to be a doctor. That's how I decided.
SJ/C: Why did you choose surgical oncology for your specialty?
That was more of a gradual process. Initially in medical school you decide if you like doing procedures or are you more of a medicine type. I knew very early that I was not a medicine type. I was someone who gravitated towards the surgical field. I started with a general surgery residency, and then people start to think about subspecialties in their surgical residency. It was probably three or four years into my residency when I decided I wanted to do surgical oncology. It was not a eureka. It was a longer developing thing.
During my residency, we had good surgical oncologists where I was. I saw that it was challenging and really tested your knowledge and skills. I also liked that it was multidisciplinary. I had some family members going through cancer at the time, so it all kind of fit together.
I finished my residency in surgery 20 years ago. I was in the Navy at the time. My first job as a general surgeon was in Guantanamo Bay right after 9/11 when terrorists were first there. Half the job was going out to the camps and taking care of detainees, as well as people on the base.
SJ/C: What are some improvements you've seen in cancer care in these last 20 years?
There's been a ton of improvements in cancer care. It's nothing like it was 20 years ago. If you think back 20 years ago, there were barely any targeted agents. There were no immunotherapies. Everybody pretty much got the same kind of radiation. Everything is way, way improved; surgery included. Today, especially when you think in terms of breast cancer, operations are much less invasive. Even for a lot of other cancers, there's a big minimally-invasive push. A lot of resections are done robotically. Even lung surgeries here are done robotically. Colorectal procedures are all minimally-invasive. So lots of cancer resections are minimally-invasive and less extensive as they used to be.
SJ/C: Where do you see the future of oncology care going?
We're almost there. I can picture a time in the not too far distance where someone will come in with a tumor, and we won't even call it a name like pancreas cancer or colorectal cancer. The treatment will all be determined based off the genomic profile of the tumor. The chemotherapy will be genomically driven. The operation that we do will probably be genomically driven.
We'll be using blood tests for screening people for cancer. There's a thing now called circulating tumor, CTDNA, where you can assign researchers or labs to detect DNA fragments in the blood of tumor cells. It's actually being used for monitoring cancer patients. It's not being done for screening but you can imagine how that would be next.
Plus, another big new thing is this transition towards big data. Now healthcare is starting to use more and more large data sets, machine learning, like artificial intelligence type things, to develop predictive analytics: what people will do well with what kind of treatment, things of that nature. Those in some small way are already happening. They will just grow bigger and bigger. It's an exciting time.
SJ/C: As medical director, what are some of your day to day responsibilities?
I developed an acronym for it. It's the PLEASE acronym. It stands for people and programs so you are always looking to try to grow your people and always looking to enhance your program. L is leadership, so trying to provide good leadership but also grow good leadership and identify future leaders. E is the environment, so team environment, collegial environment, trying to establish those things. A is alignment, so trying to make sure everybody has the same core purpose. That's a big thing between hospital administrators and physicians. S is strategy so developing strategy, and E is execution and accountability so you are following through and keeping track of everything. That's pretty much it. And, then I have my own practice.
SJ/C: Putting the doctor's hat back on, what is some general advice you find yourself giving to patients, especially someone going through cancer?
The best advice for anyone is stop smoking. It's the single best thing you can do. As far as cancer, it depends on the population. If you are talking to a group of people that don't have cancer, the best message is wellness. Don't smoke. You watch your weight. You don't eat too much red meat, that kind of stuff. If you are talking to people that have cancer, the message is always as hopeful as is reasonable, and day by day, because if you think about it in its entirety, it's overwhelming. For people really getting used to it, just focus on one day at a time, one treatment at a time.

Family: Wife, three kids and two dogs
Hobbies/interests: Reading military history, especially regarding WWII, and watching sports