Dr. Maria Mascolo
Maria Mascolo, MD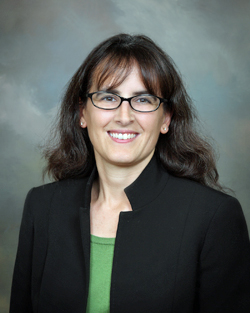 Southeast Lung Associates
131 Silverwood Centre Suite 100, Rincon, GA 31326
912-826-3927
www.selung.com

Education:
B.A. University of Virginia 1992
Medical Degree: University of Virginia 1996
Residencies: Internal Medicine 1996-1999 / Chief Residency 1999-2000
Fellowship: Pulmonary and Critical Care Medicine 2000-2003
Board Certifications: Internal Medicine / Pulmonary / Critical Care / Sleep Medicine
SJ/C: What is the one piece of advice that you wish your patients would follow and not ignore?
Dr. Mascolo: Make daily exercise a part of your routine. I see so many patients on a daily basis who could feel so much better by simply getting out there and getting moving. Pulmonary disorders are made so much worse by excess weight and inactivity. Something as simple as walking around the block once or twice a day can make a big difference in your energy level. You don't need to train for a marathon (unless you want to...in which case, I would support that too!). Physical exercise has so many other benefits as well. It is a great way to deal with stress and decrease anxiety.
SJ/C: Why did you choose this specialty?
Dr. Mascolo: I was first drawn to the excitement of critical care but now more than anything I enjoy working in the outpatient setting helping my patients to make healthier lifestyle choices. Pulmonary disorders can be challenging to treat and I enjoy that challenge. I also enjoy being able to educate my patients about their disease processes and to be able to help them become active participants in their own healthcare.

SJ/C: What do you see on the horizon for this specialty?
Dr. Mascolo: It is an exciting time to be a pulmonologist. There are new drugs for COPD and our ability to diagnose and treat lung cancer is improving by leaps and bounds with advances in molecular biopathology. As we understand more about how the things around us including foods we ingest, the air we breathe and other environmental factors that we are exposed to affect all sorts of body systems we will be able to make recommendations that I hope patients will be able to put into practice easily to improve their overall health, not just pulmonary health.

SJ/C: What are the two top key pieces of advice that you give your patients?
Dr. Mascolo: Smoking cessation is imperative for those who smoke. Quitting smoking will do more for patients with lung disease than any medication that I can prescribe. The second piece of advice goes back to what I said above. Daily exercise and a healthy diet are very effective and great ways to improve overall health. One of my favorite quotes is: "Food is one of the most widely abused antianxiety drugs in America and exercise is the most potent and underutilized antidepressants." We would all do well by improving our diets and getting more exercise.

SJ/C: Do you have a story where you thought, "This is why I choose to practice medicine?"
Dr. Mascolo: I recently saw a gentleman in my office who I thought had asthma. I was explaining the pathophysiology of asthma and how the inhalers that I wanted him to use would help him. I was gesturing with my hands and must have been very animated as I was speaking because when I finished he said, "You enjoy your job very much, don't you?". I thought for a moment and had to smile as I admitted that I really do enjoy what I do. This is so much more than a job to me; it is a vocation.

OTHER DETAILS:

Practice Details: General pulmonary and sleep medicine with a particular interest in COPD and the effects of cardiovascular exercise on pulmonary function

Family: Married with two daughters ages 12 and 11

Interests/Hobbies: Fitness / Soccer / Classical music / Reading (although I don't have much time to do it!)

Community/Church/Civic Involvement: TB consultant physician for the Coastal District Health Depts / Heavily involved in clinical research in the community with Southeast Regional Research Group / Parishioner at St. James Catholic Church in Savannah.