Spotlight on Savannah Cardiologist Dr. Mike Chisner
Mike Chisner, MD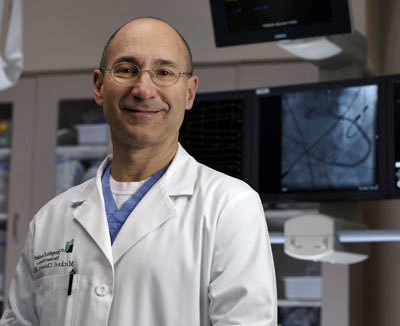 Cardiologist, Electrophysiologist
Director of SJ/C's Cardiac Catherization Lab
Cardiology Associates
1700 Mercy Blvd. #6
Savannah, GA 31406
912-927-3434
Education
Education: College University of Miami
Medical School: The University of Chicago - Pritzker School of Medicine
Residency: Internal Medicine at Emory University
Fellowship: Cardiology as well as Electrophysiology at Emory University
I am board certified in Internal Medicine, Cardiology and Cardiac Electrophysiology Specialty is Cardiology but with subspecialty in Electrophysiology
SJ/C: What's the one piece of advice you wish your patients would follow and not ignore?
Dr. Chisner: Would like to see patients take better care of themselves particularly follow a better diet. There are way too many morbidly obese people. Sometimes symptoms are purely from weighing way too much and body not being able to accommodate the weight.
SJ/C: Why did you choose this specialty?
Dr. Chisner: I chose cardiology because I like the critical nature of the problems heart patients have. In particular, I chose electrophysiology because it requires an enormous amount of thinking and visualization in one's mind. You have to be creative and think and respond quickly. It is a unique specialty. Helping eliminate frightening or debilitating symptoms or reducing a person's risk of dying is immensely rewarding emotionally.
SJ/C: What do you see on the horizon for cardiovascular care?
Dr. Chisner: There will be greater emphasis on primary prevention which means patients must take responsibility for their care. In electrophysiology we are approaching the point of being able to eliminate most heart rhythm problems except for the most life threatening ones. Hopefully we will be able to make advances there beyond just using a defibrillator.
SJ/C: What are the top two pieces of advice you give your patients to maintain a healthy heart after any kind of cardiac procedure?
Dr. Chisner: 1. Take care of yourself. You must diet, exercise/cardiac rehab, and take your medication faithfully and as prescribed by your doctor.
2. Depending on the problem a person may need to follow-up regularly and potentially FOREVER so keep your appointments.
SJ/C: Do you have a story where you thought "this is why I chose to practice medicine?"
Dr. Chisner: In electrophysiology it is not unusual to take care of people bothered by long term problem/symptoms. One lady had been bothered by a fast heart beat for over 30 years since a childhood surgery. It wouldn't respond to medicines. We did a series of 2 procedures that cured the rhythm problem. She immediately felt better once it was cured. She regained full activity and has remained active and well now for three years. Much of this is due to new technology available at St. Joseph's/Candler Heart Hospital and staying current with the latest, cutting edge treatments.