Savannah pulmonologist Dr. M. Douglas Mullins uses latest technology to allow a better life for his patients
M. Douglas Mullins, M.D.
Southeast Lung Associates
Lewis Cancer and Research Pavillion, 225 Reynolds St., Savannah, GA 31405
912-819-5757
www.selung.com
Specialties:

Pulmonology
Interventional Bronchoscopy
Multi-disciplinary Thoracic Cancer Care
Sleep Medicine
Education: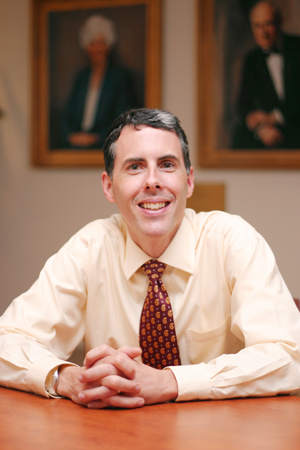 B.A. College of William and Mary in Virginia 1990
Medical Degree: M.D. Vanderbilt School of Medicine 1995
Residencies: Internal Medicine, University of Virginia, Charlottesville 1998
Fellowship: Pulmonary, Critical Care, and Sleep Medicine, University of Viginia, Charlottesville 2001
Board Certifications: Internal Medicine, Pulmonary Medicine, Sleep Medicine, Critical Care Medicine
Board Certifications:

Pulmonary Medicine
Sleep Medicine
Critical Care Medicine
Internal Medicine
SJ/C: What is the one piece of advice that you wish your patients would follow and not ignore?
Dr. Mullins: Life is precious, not only to you but to your family. When you make decisions about your health, be sure you take into account those who love you. Patients who decide that they are willing to take the risk of continued smoking sometimes forget that their decision affects everyone they love. My wife's father died of a smoking related illness 10 years ago at age 69, and we have felt the pain of that loss ever since.
SJ/C: Why did you choose this specialty?
Dr. Mullins: Pulmonary medicine allows me to stay up to date on every organ system, not just the lungs. Pulmonary doctors frequently find themselves caring for patients in the hospital with all types of life threatening illnesses. I get to take care of the sickest of the sick patients which gives me the opportunity to provide not only medical care but support and counselling to families who are anxious or grieving. The precious moments that occur in the setting of severe illness brings out great spiritual depth in patients, and I love being a part of that.
SJ/C: What do you see on the horizon for this specialty?
Dr. Mullins: Every day technology allows more and more to be done less invasively, and I believe that pulmonary doctors are on the front line in using technology to make lives better and longer.
(Click here to read about Dr. Mullins and the InReach bronchoscopy technology)
SJ/C: What are the two top key pieces of advice that you give your patients?
Dr. Mullins: 1. Be a good steward of your health. Some treatments are difficult or tiring, but your life is worth the effort. 2. Keep a positive attitude and trust that God knows what is best for you, even when dark times come along.
SJ/C: Do you have a story where you thought, "This is why I choose to practice medicine?"
Dr. Mullins: I recently had a patient who was extremely ill in the ICU. She had been through a lot and had a difficult time recovering from surgery for her lung cancer. Even though the surgery had cured her of cancer, she had other problems that took her to the brink. Almost everyone gave up on her and thought that it was hopeless to carry on. I felt that she would make it if we just kept fighting one day at a time. One doctor said, "You don't really believe she'll ever walk out of here do you?". My reply was, "Absolutely!". Well it took a while, but she did walk out of the hospital and returned home to a normal life with her husband and family. She had a big smile on her face and tears in her eyes when she thanked me for believing in her. At that moment I knew why I had chosen this most blessed and wonderful of professions.
Other details: I am interested in every aspect of pulmonary medicine but especially lung nodules and masses and lung cancer. My focus is on using the latest technology to help my patients live longer and live better.
Family: Wife Cyndi and 9 children ages 21 years down to 2 years. I have 7 boys and 2 girls.
Interests/Hobbies: Hiking, Photography, History
Community/Church/Civic Involvement: Kirk o' the Isles Presbyterian Church