Dr. Carmela Pettigrew
Carmela A. Pettigrew, MD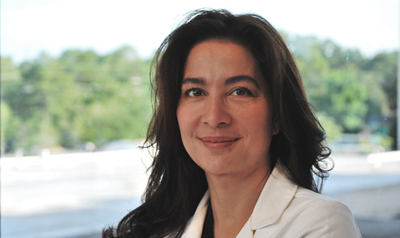 OB/GYN Center, P.C.
5311 Paulsen Street
Savannah, GA 31405
912-355-7766
www.savobgyn.com
Education
Medical Degree: University of South Carolina School of Medicine in Columbia, SC
General Residency: OB/BYN Residency at Memorial Medical Center, Savannah
SJ/C: What's the one piece of advice you wish your patients would follow and not ignore?
Dr. Pettigrew: I wish more of my patients would stop putting themselves last on their list. They are so busy taking care of everyone else they neglect themselves until their wheels fall off. They run themselves down and make themselves so stressed until they are no longer able to take care of anyone. I try to tell them that you can take better care of your loved ones if you take better care of yourself.
SJ/C: Why did you choose this specialty?
Dr. Pettigrew: I originally wanted to become a Plastic Surgeon, but when I did my OB/GYN rotation in medical school, I fell in love with the specialty and ironically fell in love with my husband who became a Plastic Surgeon.
SJ/C: What do you see on the horizon for women's GYN care?
Dr. Pettigrew: There are so many things on the horizon of women's health. Hopefully, there will be a screening test for ovarian cancer soon, greater improvements in diagnosing and treating breast cancer and more minimally invasive procedures for women.

SJ/C: What are the top two pieces of advice you give your patients for a healthy pregnancy?
Dr. Pettigrew: The two most important things for a healthy pregnancy happen before you even get pregnant. The first is to start your pregnancy at a healthy weight. This will automatically reduce the risk of diabetes and preclampsia. The second is to start on pre-natal vitamins or folic acid a year before attempting pregnancy, this is known to reduce the risk of neural tube defects and there are new studies showing it may also reduce cardiac defects and preterm labor.
SJ/C: Do you have a story where you thought, "This is why I chose to practice medicine?"
Dr. Pettigrew: A few years ago a woman about 48 years old was sent to me for her uncontrollable periods. She was very anemic, weak and tired all of the time and nothing had worked. The other problem was that she was very depressed. She was on medication but it wasn't working well. She was weak and tired all of the time and was too scared to have surgery and her daughter was scared too. Her life had gotten more out of her control since her husband died. She finally agreed to having a laparoscopic hysterectomy. She recovered beautifully and bit by bit gained her energy and control of her life back. About a year and a half later, she met a wonderful man and got married and is happy as can be. I see her every year and she is so happy now. I think back to how low she was when I first met her but she didn't know then the many blessings that were in store for her.
That is one of the best things about my job is to see how the chapters in a woman's life unfold and it is always so amazing how life can change.
SJ/C: Do you have any other funny story, or piece of advice that you want to add?
Dr. Pettigrew: One of the things that always makes me laugh is this: After I finish with surgery I go out to the waiting room to talk to the husband or boyfriend to let them know how their wife or girlfriend's surgery went and the two top questions I get asked after letting them know are:
1. "Do I have time to go get something to eat at McDonald's?"
2. "When can she have sex?"