Savannah cardiothoracic surgeon treats diseases, cancers of the heart and lungs using the latest technology
Robert E. Jones, M.D.
Specialty: Cardiovascular and Thoracic Surgery
Board certifications: American Board of Thoracic Surgery and American Board of Surgery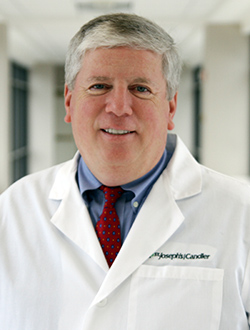 Office Location:
St. Joseph's/Candler Physician Network – Cardiothoracic Surgery
11700 Mercy Blvd., Plaza D, Building 1, Suite A
Savannah, Ga. 31419
912-819-0500
Education:
Undergrad: University of Mississippi, Oxford, MS
Medical School: University of Mississippi School of Medicine, Jackson, MS
General Surgical Residency: University of Virginia Medical Center, Charlottesville, Va.
Cardiothoracic Surgical Fellowship: University of Virginia Medical School, Charlottesville, Va.
Advanced Cardiothoracic Surgical Fellowship: Harvard Medical School, Brigham & Women's Hospital, Boston, Mass.
SJ/C: Why did you choose to practice Cardiothoracic Surgery?
When I was growing up in Mississippi, heart and lung transplantations were just beginning, and I was fascinated by it. I realized that cardiothoracic surgeons were a combination of plumbers, electricians, mechanics, and occasionally, carpenters of the body with the operations they perform. I have always enjoyed the challenge of finding a solution to problems and being able to actually fix them with my hands. It is very rewarding to see a patient with a heart or lung problem and know that I can help them with an operation.
SJ/C: How would you explain this specialty to the surgical patient?
Cardiothoracic surgeons operate on the chest; that is the heart, lung, esophagus, tumors in the chest and large vessels in the body. We also can perform operations on the heart for some rhythm disorders like atrial fibrillation.
SJ/C: What type of surgery do you perform?
I perform heart valve repairs/replacements; coronary artery bypass (CABG); and robotic and minimally-invasive operations for diagnosis and treatment of lung and esophageal cancers and removal of masses, cysts and the thymus gland in the chest. I also perform thoracic aortic aneurysm operations; atrial fibrillation ablation operations; and placement of heart and lung devices (ECMO – extracorporeal membrane oxygenation) for temporary support of sick lungs and hearts until they recover.
SJ/C: How does technology, such as the da Vinci Surgical System and TAVR, assist you to help patients recover quicker?
The da Vinci Robotic surgery allows better visualization during operations and smaller incisions so the patient can recover quicker. Ribs are not spread or cut, so there is less pain. TAVR operations for aortic stenosis or narrowed aortic valves allows the placement of a new aortic valve through small incisions in the groin in many patients, and therefore avoiding open heart operations that require dividing the breastbone which takes several months to heal. Patients usually have almost immediate relief of their symptoms and can leave the hospital much quicker.
SJ/C: Where do you see the future of cardiothoracic surgery going?
There will be more minimally-invasive techniques for repair/replacement of the other heart valves, especially mitral valve disorders. The increasing use of lung cancer screening chest CAT scans, just like routine screening with mammogram and colonoscopy, will lead to the earlier diagnosis and treatment of lung cancer. Once patients realize there is a good screening test for finding early lung cancer, the easier it will be to treat.
SJ/C: Do you have a story where you thought, 'This is why I became a heart surgeon?'
I have many stories from the time I did my first heart transplant during residency to operating on patients and seeing them return to their family and friends, job and celebrating a special occasion in their life such as seeing their children graduate, get married or an anniversary.
SJ/C: What are two pieces of advice you often find yourself sharing with your patients?
One, do not smoke! This is a leading cause of lung cancer and cardiovascular disease. Encourage your family and friends not to smoke. Two, although cardiothoracic operations are routine to me, I understand that it is usually a very emotional event in a patient's life and their family's life. The better they understand what to expect before, during and after an operation, allows for a more positive mental attitude going into it, so the quicker they will recover and return to their activities of daily living.
Family: Wife, Mimi, married for 31 years; one son and one daughter
Hobbies/Interests: Activities with my family, sporting events and travel