Spotlight on Dr. J. Ryon Poston, M.D.
Specialty: Neurology
Sub-specialty: Nerve and muscle disorders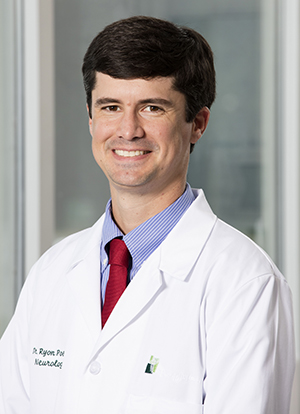 Office Location
11706 Mercy Blvd., Plaza A, Bldg 10
Savannah, Ga. 31419
912-819-4949
St. Joseph's/Candler Physician Network - Neurology

Education:
Undergraduate: University of Georgia, 2000-2004
Medical School: Medical College of Georgia, 2006-2010
Neurology Residency: University of Virginia, 2010-2014
Neurophysiology Fellowship: University of Virginia, 2014-2015

SJ/C: What does a neurologist do?
Dr. Poston: Neurologists see patients both in the hospital and also in the outpatient setting to diagnose and treat conditions of the brain, spinal cord, peripheral nerves, and muscles.
SJ/C: Who should see a neurologist?
Dr. Poston: Patients that need evaluation and treatment for neurological diseases such as epilepsy, stroke, peripheral neuropathy, Parkinsons disease, types of tremor, multiple sclerosis, dementia, headaches, spinal cord disorders, myopathy.
SJ/C: Why did you choose neurology?
Dr. Poston: I always enjoyed studying the nervous system in undergraduate and medical school. It seemed to come easier to me than many of my colleagues. I also understand that we have a long way to go in fully understanding the brain and nervous system as a whole with many discoveries hopefully to come in the coming years.
SJ/C: You have a sub-specialty in neuromuscular disorders. Can you explain what that is and the patients you work with?
Dr. Poston: Neuromuscular disorders include conditions that affect the peripheral nerves in the arms and legs as well as conditions of the muscles. Examples of such conditions includes peripheral neuropathy, myasthenia gravis, carpal tunnel and cubital tunnel syndromes, myopathy.
SJ/C: What are two pieces of advice you give to your patients?
Dr. Poston: 1. Know what medications and dosages you're currently taking and also very important to keep track of what you've taken in the past so that this is not repeated.
2. Prepare questions before you're appointment and write things down during your encounter.
SJ/C: Are there common misconceptions about neurology that you wish more patients understood?
Dr. Poston: Neurologists are not surgeons; however, we can be helpful in diagnosis and conservative treatment of neurological diseases.
Family: Married with 2 children