Dr. Sarah Gill specializes in treating cancers of the female reproductive system and non-cancerous complex conditions
Sarah Gill, MD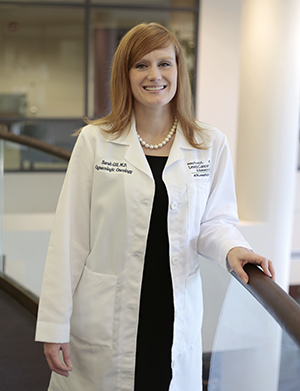 Specialty: Gynecologic Oncology
Office Location:
St. Joseph's/Candler Gynecologic Oncology & Surgical Specialists
Candler Hospital
5353 Reynolds Street, Ste. 200
Savannah, Ga. 31405
912-819-5771
Education:
Undergrad – Middle Tennessee State University
Medical School – University of Tennessee in Memphis
Residency – Greenville Health System, Greenville, SC
Fellowship in Gynecologic Oncology – Mayo Clinic in Rochester, Minn.
SJ/C: What is gynecologic oncology?
It's a specialty field in medicine that concentrates on the diagnosis and treatment of cancers of the female reproductive system. Those cancers are ovarian, uterine, cervix, vulva and vaginal cancers.
SJ/C: What does a gynecologic oncologist do?
There are two big categories of treatments or services that we offer. We are primarily surgeons. We offer advanced, highly-technical surgical procedures for cancer patients, which include minimally-invasive surgery and techniques like robotic surgery. We also do open abdominal surgery and vulva resections depending on the diagnosis.
We also offer the same techniques for some complex non-cancerous gynecological conditions requiring an advanced surgical technique that the referring provider doesn't feel is in their scope of practice or not comfortable doing.
The second service we offer is chemotherapy. We treat our cancer patients with chemotherapy when it's indicated. We are the only sub-specialty that does that, so that's cool. We work with the radiation oncologists a lot, but we actually order the chemotherapy.
SJ/C: Why did you choose this specialty?
During residency and medical school, we rotated with GYN oncologists and I found myself really enjoying the practice. I really bonded with the patients and their families and felt motivated to take good care of them. Not that I didn't feel motivated for other types of patients but I felt needed and felt good in that practice.
We have the best job in the world. We get to go through this journey with our patients that is, more than likely, the most difficult event they've ever experienced in their lives. We are able to diagnosis them at times, treat them with surgery, treat them with chemotherapy and hopefully cure their cancers. You can't get much better than that. Even when we don't cure their cancers, we are able to go through this journey with them and really focus on prolonging their life, treating their symptoms and making them have the best quality of life possible. I love the patients.
I also like the challenge of treating gynecologic cancers, especially when they recurred. I like the art of sitting down and thinking about what the best medication is and what best treatment modality is. I also like the challenging surgeries. We do some very advanced surgical techniques for these patients, and it's challenging and very fulfilling.
SJ/C: How does the minimally-invasive da Vinci robotic system benefit your patients?
The da Vinci robotic system has revolutionized our practice. A lot of the surgeries that we used to do open, we can now do robotically. That's big because the recovery with the robotic surgery is so much easier on the patient. They are able to go home after one night in the hospital where they would stay four to five days after an open surgery. They are able to pretty much get back to their lives in sometimes as few as two to three weeks where it's six to eight weeks for an open surgery. The recovery time is shorter and the recovery itself is easier. It takes some extra skill in training to be able to do (robotic surgery), butI have been trained to do that.
SJ/C: Do you treat more than just cancer patients?
We do. We treat a lot of pre-malignant lesions as well, like high-grade vulva dysplasia or high-grade cervical dysplasia. There's also a pre-malignant lesions of the ovary called borderline tumor that we will follow. A lot of times OBGYNs will send us patients who have a suspicious ovarian mass even before they have a diagnosis. It is better for the patient if an oncologist performs the surgery and is able to complete the staging procedure all at once instead of making them have to have multiple surgeries. Also patients who have a lot of adhesions from multiple previous abdominal surgeries that need a major surgery performed. We operate sometimes on endometriosis. Those surgeries can be very difficult too.
SJ/C: For some, gynecologic issues can be sensitive or embarrassing to talk about. What words of advice do you have for women to be open and honest with their doctors?
A lot of times the symptoms that clue us into a problem that patients have with a gynecologic organ are embarrassing – abnormal bleeding, foul smelling vaginal discharge or brown vaginal discharge, pelvic pain, pain with sex – those are things that can be symptoms of something serious. Now most of the time, it's something that is treatable and just a common problem. I would say it's extremely important for women to notify their physicians of anything that is different with them or anything new that is not right. There's no need to live in pain or wonder about what is going on because you are having this problem that is not like you.
SJ/C: Do you have a story where you thought, 'This is why I became a doctor?'
I have that thought every day. Whether it's a patient that you've operated on and/or treated with chemotherapy or treated in whatever way and they feel better, that's why you do this. Whether it's a lady who is having abnormal bleeding because she has a large fibroid uterus, or someone who has a cancer and she hasn't recurred and has gotten her life back, that's why we do this. Every day we have something like that. Even when you have a patient that's not doing well and has had a recurrence, you are able to offer them a treatment or give them some kind of hope for better things to come. It's very rewarding.