Spotlight on Timothy Minton, M.D.
Specialty: Facial Plastic Surgery and Reconstruction

Savannah Facial Plastic Surgery
Georgia Ear, Nose & Throat Specialists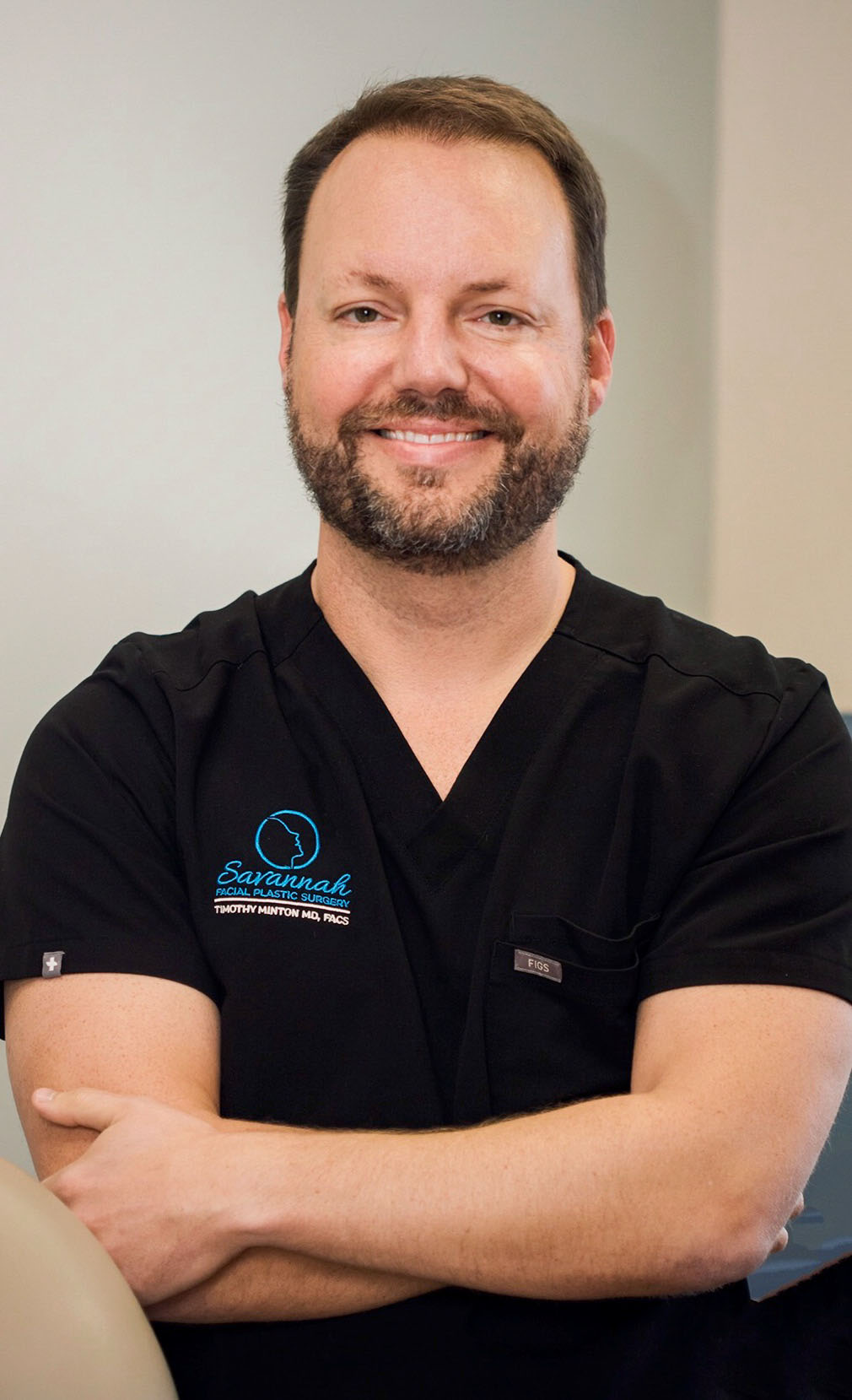 Candler Hospital Campus, Heart & Lung Building
5356 Reynolds Street
Suite 510
Savannah, Georgia 31406
Phone: 912-644-0744
www.savannahfacialplasticsurgery.com
www.gaentspecialists.com/

Education

Medical School: State University of New York, Upstate Medical University
Residency: Otolaryngology Head & Neck Surgery - State University of New York, Upstate Medical University
Fellowship: Facial Plastic & Reconstructive Surgery – Williams Plastic Surgery/Albany Medical Center
Board Certifications:
American Board of Otolaryngology Head & Neck Surgery
American Board of Facial Plastic & Reconstructive Surgery
SJ/C: Why did you choose this specialty?
Dr. Minton: From early on in medical school I knew I wanted to be a surgeon as I really enjoyed working with my hands to fix problems that I could visualize. The complex anatomy of the head and neck really intrigued me and I decided to train in Otolaryngology and Head & Neck Surgery. While in my training I found the facial plastic and reconstructive cases to be the most challenging and rewarding so I decided to pursue additional fellowship training and certification in facial plastic surgery.
SJ/C: What do you see on the horizon for this specialty?
Dr. Minton: As with other surgical specialties there is a trend and push toward less invasive procedures and surgeries. We are seeing this especially with cosmetic facial procedures as results from non-surgical procedures such as injectable and laser treatments have improved. In the reconstructive world, advances in tissue engineering and regeneration will most likely improve our outcomes for patients needing reconstruction after removal of large skin cancers and other head and neck tumors.
SJ/C: What are the top two key pieces of advice that you give your patients?
Dr. Minton: First, I encourage my patients to have a positive attitude. I know it is a cliché but I tell every patient who receives a new negative diagnosis that it could always be worse, and in reality it always could be. I find patients that have more positive attitudes have better outcomes and quality of life. Second, I recommend they commit to a healthy lifestyle (diet, exercise, and no smoking) as no matter what type of medical problem they face their overall health will be a powerful force for recovery.
SJ/C: Do you have a story where you thought, "this is why I choose to practice medicine?"
Dr. Minton: There are many but one comes to mind…Several years ago I performed nasal reconstruction on a 14 year old girl who had a severely deformed nose due to an injury as a toddler. When she first came to see me it was clear that she had significant self-esteem problems related to her deformity and appearance. When I saw her several months after her reconstructive surgery she was like a different person – her posture, energy, and attitude had completely improved. It was very rewarding to know that surgery could have both a significant functional and psychological impact on someone's life.
Practice Details:
Savannah Facial Plastic Surgery is part of the Georgia ENT Specialists practice, which provides comprehensive ENT/Head & Neck Surgery Care.

I focus my individual practice on Functional and Cosmetic Nasal Surgery, Sinus Problems, Skin Cancer Management & Reconstruction, Pediatric and Adult Ear Reconstruction, and Surgical and Non-Surgical Facial Cosmetic Treatments.

Family: Married with a daughter and son

Interest/Hobbies: Cycling, swimming, running, competing in triathlons, spending time with my family

Other Involvement: Committee Member & Volunteer Surgeon, AAFPRS Faces of Honor Program which provides facial plastic and reconstructive services to active duty and veteran service men and women.