The Children's House Child Development Center
Savannah childcare center serves both St. Joseph's/Candler co-workers and the general public
It's not unusual to walk into a classroom at The Children's House and instantly know the theme of that week's lesson plan. Whether it's ocean life with a sandbox right in the class or jungle life with zebras and rhinos lining the walls, the St. Joseph's/Candler child development center's focus on hands-on, creative learning is obvious.
Located on the Candler Hospital campus, The Children's House Child Development Center is an early education and childcare program for children ages 6-weeks through pre-kindergarten. The center serves St. Joseph's/Candler co-workers and the general public.
Why The Children's House
The Children's House is a 3-Star Quality Rated Center. Quality Rated is a voluntary rating system used to determine the quality of centers in Georgia. Quality Rated evaluates all aspects of a program – teacher qualifications, learning environment, individualized instruction, curriculum, family engagement and teacher-student ratios.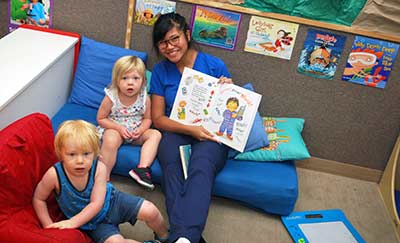 Stars are assigned to programs that meet or exceed the state's minimum requirements. Three stars indicate the highest level of quality.
The focus of The Children's House program is to promote developmentally-appropriate learning through respect, diversity, self-esteem and equality in order to prepare our children for success. This is accomplished through cooperation among highly-trained staff members, children's families and the community in a safe, nurturing environment.
The Children's House believes that young children learn best through creative, hands-on learning experiences in an environment that fosters curiosity. Physical, cognitive, social, emotional and language and literacy activities occur daily to help foster children's growth. At The Children's House, our staff helps children learn to think independently, to problem solve and to user their words to communicate their feelings.
The Children's House has five main goals:
To foster a positive self-image within each child by providing a wide range of opportunities for individual growth in the areas of social, cognitive, emotional and physical development.
To provide opportunities for the children to relate positively and cooperatively with other children and adults.
To nurture the children's sense of wonder in the world and assist children in understanding and accepting individual differences in a diverse society.
To allow each child to grow as an individual.
To serve as a support for families.
The Classrooms
The Children's House offers childcare for children 6-weeks to 5-years of age. This includes two Georgia Lottery funded Pre-K classrooms. All childcare classrooms are stimulating, inviting and well-equipped with age-appropriate furnishings and materials.
The Children's House offers low teacher-child ratios in each classroom because we believe that lower ratios improve child outcomes by increasing the individual interactions and instruction between teacher and child. Our ratios are: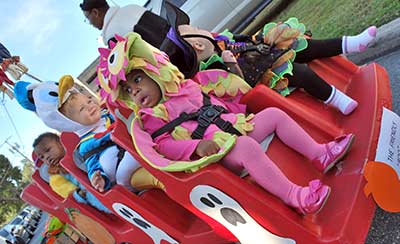 Infants – Teacher/Child Ratio of 1 to 4
Toddlers – Teacher/Child Ratio of 1 to 4
PreSchool A – Teacher/Child Ration of 1 to 5
PreSchool B – Teacher/Child Ratio of 1 to 6
PreSchool C – Teacher/Child Ratio of 1 to 7
Georgia Pre-K – Teacher/Child Ratio of 1 to 11
Instruction
Curriculum at The Children's House aligns with Georgia Early Learning and Developmental Standards (GELDS). GELDS are high-quality, research-based early learning standards for young children, ages birth through 5. We believe that children learn best through play and therefore offer play experiences that provide our students endless opportunities for learning.
We also believe that the best curriculum for young children is one that provides for growth in all areas of development:
Social – interactions with peers and adults
Emotional – affirmation, expression and understanding of a child's own feelings and others' feelings
Physical – large and small muscle skills, awareness of his or her body's capabilities
Cognitive – intellectual and creative, basic concepts and problem-solving skills that will play the foundation for future learning
Teaching Staff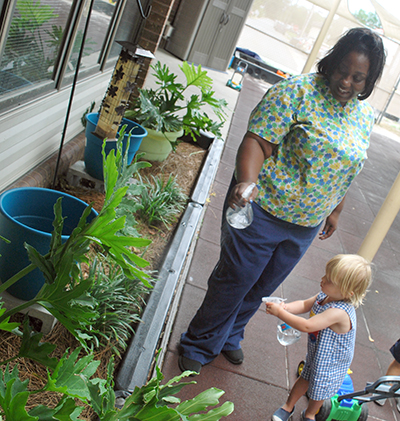 Each of The Children's House classrooms has at least two full-time teachers. Many of the teachers have bachelor's degrees, associate degrees, Child Development Associate (CDA) or Technical Certificate of Credit (TCC). All teachers have previous experience working in a child development center and are current in CPR and First Aid training. Additionally, all teachers attend training annually that exceeds the recommendations by the state licensing agency.
Cost
The Children's House Child Development Center serves co-workers of St. Joseph's/Candler and the general public. Prices vary. Please call us at 912-819-7200 for pricing information.
Hours of Operation
The Children's House is open from 6 a.m. to 6 p.m. Monday through Friday. We do not offer half days and ask that all children are at the center no later than 10 a.m.
Scheduling a tour
Interested in enrolling your child at The Children's House? We'd love to schedule a tour of our facility so you can see in person the wonderful environment at our child development center.
To schedule a tour, please call us at 912-819-7200. Tours typically last 20 to 30 minutes. You will be required to fill out some brief paperwork prior to the tour.
Location
The Children's House is located at 600 East 71 Street, Savannah, Ga. 31405, at the back side of the Candler Hospital campus.
Contact Us
For more information about The Children House, please call us at 912-819-7200. We look forward to serving your family.