3D Biplane Imaging at St. Joseph's/Candler
Physicians at St. Joseph's Hospital are using 3D technology to create highly detailed images of a patient's blood vessels with the 3D Biplane system.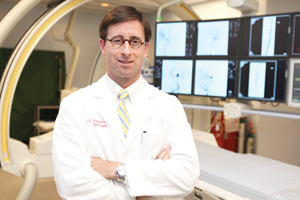 The Artis Zee biplane system, built by Siemens Medical Solutions, enables physicians to obtain three-dimensional views of the patient's anatomy, from any direction, during minimally invasive neuroradiology procedures.

The system features two advanced x-ray detectors-called flat-panel detectors-that provide high-resolution images without the distortion common with conventional x-ray techniques. The detectors also help physicians visualize interventional devices such as catheters in precise detail and from almost any angle.
Improving Angiograms with 3D Biplane imaging Technology
During angiography, a physician inserts a catheter into one of the patient's arteries and guides it to the desired position using a video screen. Once the catheter is in position, the physician injects contrast dye, which makes the blood within the arteries or veins visible through x-ray. Angiography is often used to determine whether blood vessels are narrowed or blocked, and makes it possible to combine diagnosis and treatment in a single procedure, as in patients who undergo surgery, angioplasty or stent placement. The biplane technology takes this process further into the realm of 3D.
The biplane imaging system features an advanced software technology that creates detailed images of soft tissue similar to those generated by a CT scan. These details help detect hemorrhages, visualize brain tissue and support quick and accurate decision-making for the physician. This saves critical time for some stroke patients by providing physicians anatomical images directly in the interventional suite, reducing the need to move a patient out of the sterile environment for evaluation prior to proceeding with the intervention. But the benefits of this new technology for the patient don't end there.
Previously, certain patients could become disoriented if a large amount of their blood volume was replaced with contrast dye. Now that risk is virtually eliminated. In addition, the ergonomic design of the system eliminates the time-consuming and uncomfortable repositioning of the patient, making the procedure faster and less stressful.