St. Joseph's/Candler adds da Vinci Xi Surgical System to its arsenal of robotic technology
St. Joseph's/Candler – already the region's leader in robotic technology – has added the latest da Vinci robot to our arsenal of advanced minimally-invasive machines.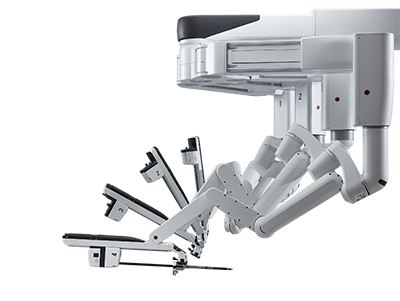 The da Vinci Xi Surgical System is the fourth generation in da Vinci technology. St. Joseph's/Candler currently has three Xi systems along with the da Vinci X robot and the da Vinci Si Surgical System.
As with all da Vinci Surgical Systems, the Xi's immersive 3D-HD vision system provides surgeons a highly magnified view, virtually extending their eyes and hands into the patient.
The da Vinci Xi System's key features include:
A new overhead instrument arm architecture designed to facilitate anatomical access from virtually any position.
A new endoscope digital architecture that creates a simpler, more compact design with improved visual definition and clarity.
An ability to attach the endoscope to any arm, providing flexibility for visualizing the surgical site.
Smaller, thinner arms with newly designed joints that offer a greater range of motion than ever before.
Longer instrument shafts designed to give surgeons greater operative reach.
The da Vinci Xi Surgical System can be used across a wide spectrum of minimally invasive surgical procedures and has been optimized for complex, multi-quadrant surgeries. Its primary use will be for complex colorectal procedures due to the multi-quadrant capability of the robotic arms and added stapling technique.
The system includes a surgical cart that can be placed at any position around the patient – allowing for four (multi)-quadrant access. Four thin arms allow for a greater range of motion. Surgery with the da Vinci Surgical Systems allows patients a minimally-invasive alternative to open surgery that reduces many of the costs and complications associated with open procedures.