Adult Day Health Center at the Georgia Infirmary
Georgia Infirmary is recognized as the first hospital for African-Americans in the nation. In 1975, Georgia Infirmary opened Georgia's first day center for stroke rehabilitation patients. Shortly thereafter, Georgia Infirmary became the first licensed Adult Day Health Center outside of Atlanta.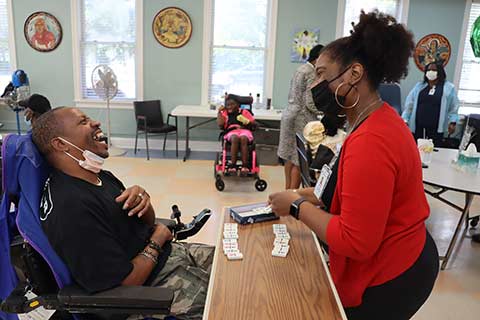 Today, our Adult Day Health (ADH) Center continues to serve our communities as one of the main Day Centers in Savannah. Our Adult Day Health Center provides a coordinated program of professional and compassionate services for adults (18 years and over) in a community-based group setting. Services are designed to provide social and some health services to adults who need supervised care in a safe place outside the home during the day Monday through Friday. Our ADH Center offers respite care to caregivers from the demanding responsibilities of care giving, allowing them to work or attend to other priorities.
Services offered at our Adult Day Health Center include the following:
Social activities: Interaction with other participants in planned activities appropriate for their conditions
Meals and Snacks: Participants are provided with meals and snacks, those with special dietary needs are offered special meals
Personal Care: Help with toileting, grooming, eating, ambulating and other personal activities of daily living
Therapeutic Activities: Exercise and mental interaction for all participants
Nursing Services: Our center has a nurse on staff at all times to provide a variety of preventive and rehabilitative nursing services
Transportation Coordination: We do not provide transportation but will assist with the coordination of transportation services to and from the center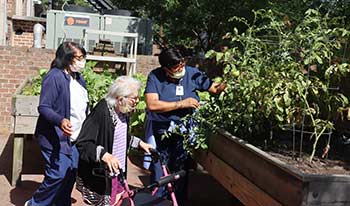 Who is eligible to be an Adult Day Health member?
Must be 18 years of age or older
Individuals capable of being served by our ADH center who need physical assistance and a more structured environment who could be at risk for institutional placement if appropriate intervention is not provided
Individuals that have a primary mental health diagnosis or diagnosed behavior disorder are not included in our target population
Enrolled in the Elderly and Disabled Waiver Programs (SOURCE or CCSP) or with the Veteran's Administration Care Coordination Program
Private paying individuals are welcome as long as the member is capable of being served by our ADH center
Why choose our Adult Day Health Center at Georgia Infirmary?
As a member at our ADH Center, you will be a part of our integrated health system. Onsite at Georgia Infirmary you will have direct access to your case manager if you are enrolled with SOURCE or CCSP. In addition, we have a primary care clinic onsite at Georgia Infirmary that is open two days per week.

For more information, feel free to visit us at 1900 Abercorn St., Savannah, Ga. 31401 or give us a call at 912-819-1500 and ask to speak with our Adult Day Health manager.