Georgia Infirmary provides historic community support in Savannah
One of the historical treasures of Savannah, the Georgia Infirmary has a rich tradition of serving our communities and enhancing lives for nearly 200 years. Established on December 24, 1832, the Georgia Infirmary was the first hospital in the nation established to provide healthcare services to African-Americans.
Originally built on the Bethesda tract of land, Georgia Infirmary moved to its permanent home at 1900 Abercorn Street in 1838. After surviving the Civil War, in 1904 the Georgia Infirmary also served as one of the first African-American nursing schools in the nation and continued to operate as a hospital until 1974.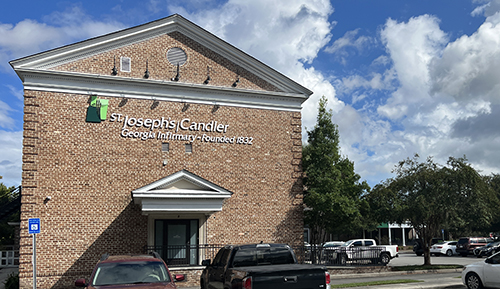 In an effort to continue to serve the community, the first day center in Georgia for stroke rehabilitation was opened in 1975. This led to Georgia Infirmary becoming the first Medicare certified Comprehensive Outpatient Rehab Facility in the nation, which was featured in TIME magazine. From here, the rehab facility transitioned into the first licensed Adult Day Health Center outside of Atlanta and is still operating today.

In 1997, the Georgia Infirmary team was integral in creating and implementing the pilot project called SOURCE. Of the original 3 SOURCE sites across the state of Georgia, Georgia Infirmary is the only original site still providing SOURCE case management services. Later in 2018, the CCSP case management program was established and allowed Georgia Infirmary to continue to expand its reach and ability to serve the community.

Fast forward to present day, the Georgia Infirmary continues to operate an Adult Day Health Center, SOURCE/CCSP case management services, and also has a Primary Care Clinic onsite at the Savannah campus. With the addition of our office located in Baxley, our CCSP and SOURCE services extend to cover 27 counties in Southeast Georgia.

At Georgia Infirmary, we pride ourselves in serving the most vulnerable populations in our communities. Unlike any other healthcare facility in Georgia, we can offer a variety of services and resources at one location while being conveniently located across the street from Williams Court Apartments, Savannah's premier low income HUD apartment complex that has 151 units.

Interested in learning more, visit the links below or contact us today (see below):
Contact us
Georgia Infirmary 912-819-1500
SOURCE Management 912-819-1520
E-mail Georgia Infirmary