In 2007, the Good Samaritan Clinic opened to serve the growing numbers of those without health insurance. Recognizing that all people deserve quality healthcare, St. Joseph's/Candler in partnership with Our Lady of Lourdes Catholic Church and many, many volunteers from the medical profession and others, open the Good Samaritan Clinic to ensure wellness is at the forefront of west Chatham County and outlying counties. Though the majority of our patients are Hispanic/Latino, the Clinic is open to ALL.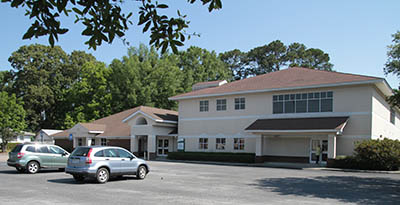 Caring of the Community
We offer a FREE Primary Care Medical Home staffed by nurse practitioners, medical assistants, administrative staff and volunteers. Many of our staff are bilingual which immediately offers a comfort level. People listening to you and explaining information in your own language makes a noticeable and warm difference. Together, with the resources of SJ/C, we work to control chronic diseases, offer cancer screenings, free and reduced medicines and some specialty care. You receive QUALITY & COMPASSIONATE CARE at an affordable price, FREE!

To qualify as a patient, you must be uninsured and your annual income must be less than 200% of the Federal Poverty Level. We welcome patients over 18. We welcome ALL who meet these two criteria.
Our hours of operation are:
Monday - Thursday: 7:30 a.m. to 5 p.m.
Friday: 7:30 a.m. to 11:30 a.m.
To receive a New Patient Packet in Spanish or English or to ask your questions, please call or visit:
Good Samaritan Clinic
4704 Augusta Rd
Garden City, GA 31408
912-964-4326