SOURCE and CCSP at St. Joseph's/Candler
St. Joseph's/Candler is proud to offer both the SOURCE and CCSP program at the Georgia Infirmary. SOURCE/CCSP are case management programs under the Elderly and Disabled Waiver Program (EDWP) administered by the Department of Community Health. Our main goal at SOURCE/CCSP is to serve the elderly and frail in our communities to assist them with remaining at home as long as possible and preventing institutional placement.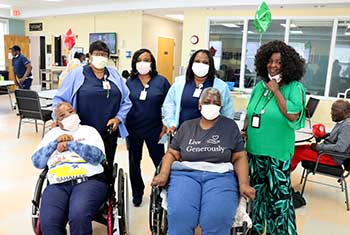 We have two offices, Savannah and Baxley, that offer SOURCE and CCSP case management services to residents in 27 counties of southeast Georgia (see map below). Our Savannah campus at the Georgia Infirmary (located at 1900 Abercorn St., Savannah, Ga. 31410) offers not only SOURCE/CCSP case management services, but also Adult Day Health and primary care services onsite. We are also conveniently located across the street from Williams Court Apartments, one of the premier HUD approved low-income apartment complexes in Savannah.
Case Management Services
St. Joseph's/Candler offers traditional and enhanced case management services to individuals that qualify under the Elderly and Disabled Waiver Program. The programs are called Community Care Services Program (CCSP) and Service Options Using Resources in Community Environments (SOURCE). Residents in 27 counties in southeast Georgia are served by our offices in Savannah and Baxley.
What are CCSP and Source?
CCSP and SOURCE are case management programs that serve and help frail, elderly and disabled Georgians who are appropriate for nursing home level of care. Through case management and service coordination, individuals are able to remain in the community instead of being placed in long-term care institution. Both programs also are available to individuals under hospice care.
Enhanced case management is available for individuals who require coordination and oversight through a primary care physician. Your case manager will work closely with a primary care physician to monitor and treat chronic conditions such as diabetes, CHF or COPD.
Services available include:
Adult Day Health (nursing, recreational activities and lunch provided in a day center)
Alternative Learning Services (provides a residence, such as a personal care home, for individuals who need 24-hour supervision and support)
Case Management Services (includes assessments, care coordination, service monitoring, education and resource management)
Emergency Response System (call button worn in case of medical emergencies)
Home Delivered Meals (meals delivered to your door)
Home Health Services (nursing and/or therapy in the home)
Personal Support Services (assistance with bathing, dressing, light housekeeping, meal prep, shopping, errands and respite care)
Structured Family Caregiving (support, education and oversight of family caregivers that live in the home with the member)
Eligibility
In order to qualify for assistance through CCSP and SOURCE, the individual must meet the following:
Deemed appropriate for nursing home level of care by a physician and have a need for the services
Medicaid eligible or potentially eligible based on a financial screening
Able to safely live in the community with supporting services
Is there a fee for CCSP or SOURCE?
For individuals receiving supplemental security income benefits, there is no fee for services. For the other participants who qualify for Medical Assistance Only Medicaid, there may be a monthly fee for certain services. You will be notified of your potential cost share once the assessment is complete.
Why choose St. Joseph's/Candler CCSP and SOURCE?
We are part of an integrated health care system that allows us to successfully coordinate, monitor and manage your care seamlessly on a variety of different levels.
Your care team has access to all medical records from any SJ/C service.
You have access to a case manager 24 hours a day, 7 days a week.
SJ/C has an established network of physicians and other care providers.
The onsite primary care clinic in Savannah provides direct access to a physician.
How do I apply?
Call 912-819-1520 to speak to an intake specialist. A brief telephone screening is conducted to determine if you qualify. If deemed potentially eligible, you will be scheduled for an in-home nursing assessment. Once the nursing assessment is complete, your application will be completed and submitted to the Department of Community Health for approval.
For further information or to apply, please call 912-819-1520 or 866-218-2259 or fill out the referral request online.
Coverage area we currently serve