St. Mary's Health Center is a lesson in tackling a serious need because the community trusted us. The facility began as a small room, not the large center it is now.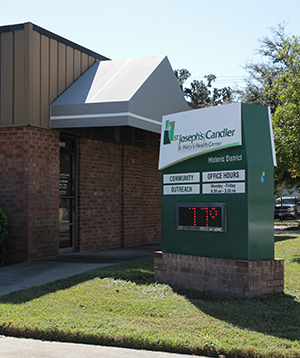 In 2000, St. Joseph's/Candler started giving simple health screens like blood-pressure checks at the St. Mary's Community Center in the Cuyler-Brownville neighborhood. We wanted to help people in the predominantly African-American neighborhood take on health issues unique to them.
More and more people came. We moved across the street to a bigger space. Then in 2008 we moved to a more central location on Drayton Street with 3,600 square feet.
Caring for All Parts of the Community
St. Mary's treats people who fall into the uncomfortable space between not having insurance and not qualifying for Medicaid. We give them a medical home where SJ/C physicians volunteer their time and the nurses work to find affordable or free medications.
If you believe your family income is less than 400% of the federal poverty level, there may be incentives for you in the Health Insurance Marketplace. Please call this center for more information.
Location: 1302 Drayton Street
Primary care for uninsured adults ages 19-64
Non-emergency care
Hours: Monday & Wednesday - 8 a.m. to 3:30 p.m.; Tuesday & Thursday - 7 a.m. to 3:30 p.m.; Friday - 8 a.m. to noon
Women's services available
Please call for an appointment 912-443-9409
Advanced Record Keeping
In 2009, St. Mary's became the first free medical office in Georgia to implement Electronic Health Record technology, funded in part by a grant from Armstrong Atlantic State University.
It allows the center to share records with different entities without making copies. The change to electronic text from sometimes illegible handwriting has made a huge difference in patient flow management.
These records also alert providers to duplicate or incompatible drug orders, cutting down on calls from pharmacies for clarification. In addition, the record provides a protocol for each patient's needs, such as a reminder to give a certain diabetic patient a foot check every sixth months. Providers can even see a record from home if needed for a follow-up with a patient.