Williams Court Apartments
Convenient, Comfortable Housing for the Elderly and Disabled
Georgia Infirmary Non-Profit Housing Corporation, a part of St. Joseph's/Candler Health System, manages Williams Court Apartments, a 151-unit HUD 202/Section 8 apartment complex for seniors 62 and over and physically disabled adults 61 years and younger. Williams Court Apartments is located across from the Georgia Infirmary campus.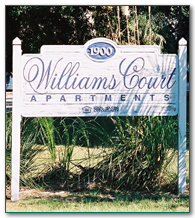 Williams Court Apartments strives to improve the quality of life for each of its residents. Apartments feature emergency pull cords and residents can opt to participate in a daily check-in system. The community is staffed 24/7 with safety and security in mind, giving residents the peaceful enjoyment they deserve. Free Wi-Fi is offered in every apartment and throughout the building so residents stay can connected. Williams Court residents also receive assistance with coordinating resources within their home that enhance their ability to age safely in place.
For more information, please contact the Williams Court team at 912-233-9344.