Williams Court Apartments
Georgia Infirmary, a part of St. Joseph's/Candler healthcare system, manages Williams Court Apartments, a 151-unit HUD 202/Section Eight apartment complex for elderly and disabled adults. Williams Court is located across from the Georgia Infirmary Day Center for Rehabilitation.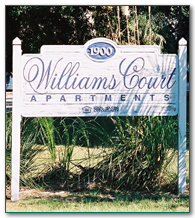 Convenient, Comfortable Housing for the Elderly and Disabled
In 1996, Williams Court Apartments received national recognition with a "Best Practices in Housing" award from the U. S. Department of Housing and Urban Development and the Administration on Aging. The award recognized the work of Williams Court and Georgia Infirmary staff members as an exceptional example of successfully linking residents with local providers of supportive services for the elderly.
The award cited the program for excellence in efforts to successfully integrate residents into the communities where they live. Williams Court was among only 13 housing project owners and 10 public housing authorities that received the award.
Contact Us
912-233-9344