Certified, experienced massage therapists offer a variety of massage types for relaxation and therapy
Massage Therapy at St. Joseph's/Candler in Savannah provides a variety of massage types to suit your body's unique needs. The application of soft-tissue manipulation techniques to the body reduces stress and fatigue while improving circulation. Different techniques can provide different forms of relief and relaxation. Our massage therapists are happy to consult with you to determine which variety of massage will be most beneficial for you.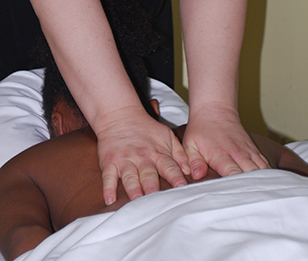 To make an appointment, call 912-819-8800.
For insurance verification, please call 912-819-8840.
Massages Offered at St. Joseph's/Candler
Relaxation: Traditional Swedish emphasizing long, gliding strokes and kneading massage techniques emphasizing relaxation and increased circulation.
Deep Tissue: Therapeutic massage that targets the deeper layers of the muscles, using slow movements and deep trigger point pressure to release chronic tightness and tension.
Prenatal: Therapeutic bodywork which focuses on the special needs of the mother-to-be as her body goes through the dramatic changes of pregnancy. Our Massage Therapy Center has two Pre-Natal Massage Tables which makes it possible for the mother-to-be to relax comfortably.
Therapeutic Massage: This type of treatment blends techniques from both relaxation and deep tissue. Utilizing aspects fo stretching, resistance work, traction to relieve tired muscles, increase flexibility, eliminate cramps and that "sore next day" feeling and bring healthy fluids to overworked or achy joints.
Onsite Corporate Chair Massage: A certified massage therapist will come directly to your office or business, based on per hour.
Inpatient Massage Therapy: Massage therapy provided in the privacy of the hospital room by a licensed massage therapist. A physician order is needed.
Benefits of Massage Therapy
Alleviate low-back pain and improve range of motion.
Assist with shorter, easier labor for expectant mothers and shorten maternity hospital stays.
Ease medication dependence.
Enhance immunity by stimulating lymph flow-the body's natural defense system.
Exercise and stretch weak, tight, or atrophied muscles.
Help athletes of any level prepare for and recover from, strenuous workouts.
Improve the condition of the body's largest organ-the skin.
Increase joint flexibility.
Lessen depression and anxiety.
Improve circulation.
Reduce post-surgery swelling.
Reduce spasms and cramping.
Relax and soften injured, tired and overused muscles.
Release endorphins-amino acids that work as the body's natural painkiller.
Relieve migraine pain.
Massage Therapy Fees
| | | | | |
| --- | --- | --- | --- | --- |
| | Member | Non-Member | Package of 5 (member) | Package of 5 (non-member) |
| 30 minutes | $40 | $45 | $190 | $215 |
| 60 minutes | $65 | $75 | $315 | $365 |
| 90 minutes | $90 | $100 | $440 | $490 |

Add Hot Stone Therapy to any massage service and experience warm, smoothing stones that are applied to the body using the traditional Swedish massage movements.